Binance.com is currently one of the popular cryptocurrency exchanges not just in China but also around the world and sits at the top 15 exchanges by volume.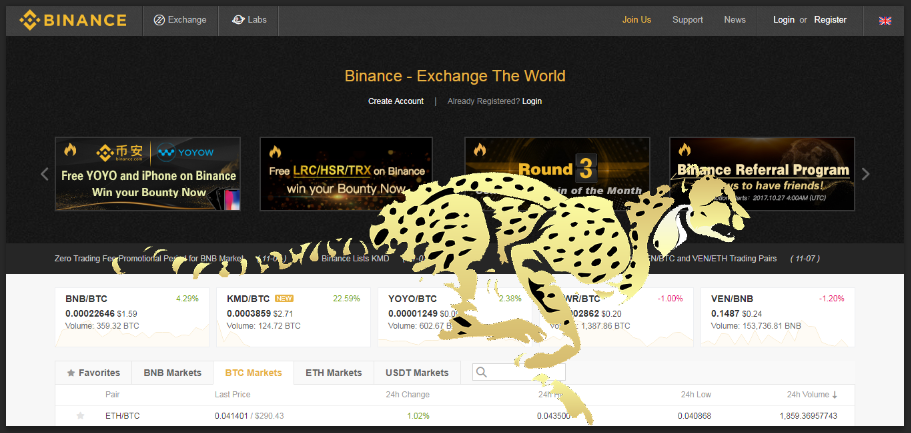 Binance was launched in China and is based in Shanghai. Its name was taken from the two words "Binary" and "Finance". The exchange is led by its CEO Changpeng Zhao with his company Beiji Technology. The exchange is best known for its fast processing speeds and low transaction fees. It is also currently one of the fastest growing exchange around.
All of its markets only revolve around cryptocurrencies and digital assets as they do not support crypto-to-fiat trading as of today. Without CNY support, the exchange is exempted from the current regulatory troubles in China.
Binance Coin
The exchange has its own cryptocurrency, Binance Coin which is one of the most popular markets in the platform. BNC can be traded with BTC and ETH.
Binance coin holders can opt to have fees deducted using Binance coin. If a user opts for this, he is entitled to have 50% discount on trading fees.
Features
The exchange features multi-level and multi-cluster system architecture which makes it safe and stable to use. It currently is capable of processing 1.4 million orders per second regardless of traffic and currently supports 99 cryptocurrencies.
High liquidity is assured with its abundant resources and business partners such as Morgan Stanley, SBI Group, Nomura and Accenture. It was also backed by well-known investors Roger Ver, Matt Roszak and many other more during its initial coin offering.
It is accessible to almost all platforms via web, android, iOS, windows, mobile HTML5 and WeChat, and supports languages such as Chinese, Japanese, English, Korean, Russian and Spanish. It also provides REST API for third party platform integration.

What are the fees involved?
Deposit fees are at 0% while trading has a 0.1% fee in place. Withdrawal fees vary to different coins which range from free to $3.6 as of this time of writing.
Safety and Security Community Recommendations
Binance receives a lot of positive feedback from its users and they continue to grow even more every day.
There have been no bad experiences reported from the users unlike Bittrex deleting some accounts.
The exchange is also able to cater a wide base of users from countries including United States and Australia
Issues Faced
The recent China crackdown on ICOs and Bitcoin were one the issues faced by Binance.
Many ICOs were canceled in the platform and users were refunded 100% of their investments.
This shows how Binance provides importance to the welfare of their customers.
However, according to the team, they were not much affected during the Chinese regulations since most of their clients are Westeners.

Overall, Binance is very recommendable and one of our most favorite exchanges. With its interesting features and professional platform, Binance appears to be a legitimate cryptocurrency exchange. It was even tagged by the community as the next Bittrex in the industry as it supports multiple cryptocurrencies.
Also, one of the best things we like about the exchange is that it supports a number of new coins such as the recent POWR, EOS, CTR and a lot more which attracts more ICO investors to adopt to its platform. This is a bold and smart marketing move as people are generally gearing towards ICOs and new coins in the market. The faster you are on adding these coins, the better it is for your company.
---
---

---

---