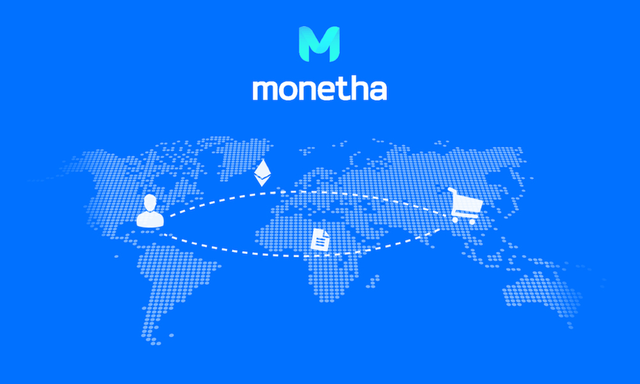 What is Monetha?
Monetha is a decentralised payment system on the Ethereum blockchain for people to make purchases on supported services with crypto. The system is incredibly user friendly, even cryptocurrency white belts will have no problems using the service. Let's say you are at the payment screen of a supported online retailer, you will be able to choose Monetha as a payment option. This will show you a wallet address to send the crypto to and in under a minute the payment will be converted to the desired fiat currency and completed. Once the transaction is complete, both parties will be able to rate each other, which is a very important feature because it reinforces the trust needed to make a safe unregulated transaction. Any scams, chargebacks, faulty items or any other malpractice will quickly reflect on the company or individual. This system will help bridge the gap between cryptocurrency and online purchasing. I am a huge fan of any service that makes cryptocurrency usable in the real world, be it Monetha, TenX, Monaco etc.
Why would a retailer use Monetha if they are not cryptocurrency enthusiasts?
Well that is a simple answer: fees! Monetha only charges the retailer 1.5% fees for their services, which is lower than other financial services used by retailers. To understand more fully what is offered by Monetha, here is a video explaining it by the Monetha themselves:
What about their tokens?
I must admit I am very excited for this one! I can easily see this one going in the same direction as OmiseGo. Like many of these types of tokens, holding them will entitle the user to a percentage of the company profits, although most people sell tokens before that plays a factor. The token ticker is MTH and ICO prices are 2400 MTH per Ethereum until 28,000 Ethereum has been collected and 2000 MTH for the remainder. The total crowdsale is for 95,000 Ethereum and is available RIGHT NOW. The sale started only a few minutes ago and quite frankly I can't Imagine it lasting long. Usually I air caution on all things ICO but for this one I am excited for it's future. Of course, like all ICO's there is risk involved but I believe in the project. I just got in on the ICO, so I consider myself lucky. If you have missed out on this potential opportunity don't worry the token will be available soon on the exchanges.
Conclusion
I believe this token could easily hit 5 dollars and I recommend people consider buying in while it's cheap. Please let me know in the comments what you think about this ICO. Also let me know if you would like me to start covering ICOs, which is something I haven't really done until now. I am more than happy to write about anything that my followers find interesting!
Happy Investing
Cryptoviking