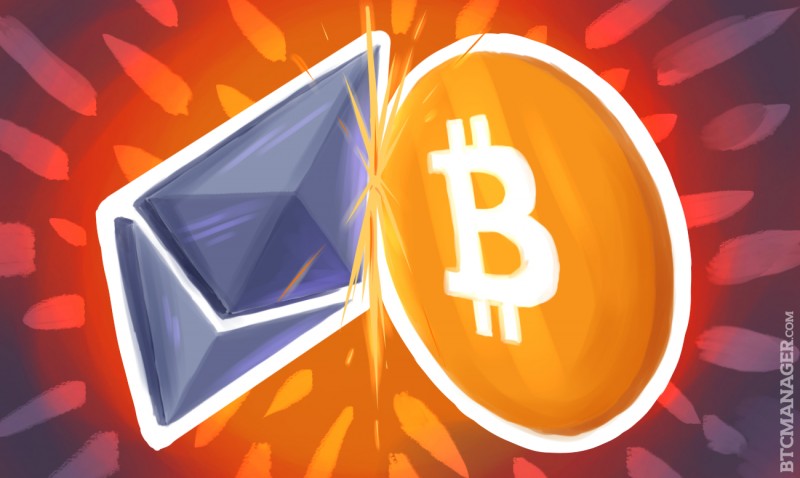 Hi Steemians, crypto traders and holders. I would like to share with you my ideas on crypto currency market and also create my first topic post here on SteemIt. Please let me know your feedback.
I have split this post to three "fronts" for Bitcoin, Ethereum and Neo as I see them as good mid/long term opportunity to hold/use them.
Bitcoin front
Bitcoin is undergoing some quite volatile times in second half of the year and it seems it won't stop till year end. First BCC (Bitcoin cash) prices was hyped by trading exchanges when they allow only trading with BCC which has been "born" on exchange (limiting its supply and therefore keep prices settle very high) and Korean speculators buying BCC all way from 0.068 BTC to 0.243 making it in highest peak +230% in like 2 days.
We can expect these turbulences to continue as BCC is very good speculative material short term (gains wise). Price volatility fundament might be connected with higher transaction times at BTC as some miners switched (probably temporarily) to BCC which is more profitable for them as its price is spiking.
New FUD around Segwit2x is just emerging. Segwit2x second split article is here at Cointelegraph https://cointelegraph.com/news/bitcoin-is-splitting-once-again-are-you-ready .
We can expect good short term gains/falls on BCC and new Bitcoin-splits. We can also see bigger price volatility on BTC alternative coins like Litecoin, Monero or Dash (especially when BCC price will go down).
We can also expect bigger price volatility on BTC itself till Nov end. Mid and long term BTC outlook is bright.
Ethereum front
Markets are not recognizing any price news coming to Ethereum last more than month. Traders are too busy with BCC probably. So:
We can expect till end of November rise of ETH value as unrecognized good news takes effect with bigger volatility around late September. EHT is very correlated to BTC price so volatility on both pairs can go together. More BTC vs. BCC fight, more potential for ETH price to grow.
Neo front
Neo is waiting for its first trial by fire at September 10th – ICO of Red Pulse (RPX). RPX cap for ICO is quite low, so we can expect that demand will be much bigger than supply and risk bonus for buyers will be high (as anything can go wrong). You can see ICO countdown here - https://coin.red-pulse.com/ .
If ICO will go smooth (which is more probable) we can expect price of NEO spike and find new highs. NEO is awaiting also other ICOs (e.g. Japanese Steem version named Alis - https://alismedia.jp) and if it establishes itself market cap can be as high as Ripple is (which means 5x higher than now) in mid-term.
All wrapped with fact that you are gaining GAS by simple holding NEO (you don't need to have your wallet open, you just need to have some NEO on your private-key address you own) NEO has very good potential for rise this year as well as mid-term.
Questions for you Steemians
What big news and connected price actions you foresee?
What analysis you think might help with decision what to buy/sell mid/long term and you haven't seen it yet?
Let me know in comments please.
---
Disclaimer
Information provided on this post does not constitute investment advice, financial advice, trading advice or any other sort of advice and you should not treat any of my posts content as such. I do not recommend that any cryptocurrency should be bought, sold or held by you and nothing on this post should be taken as an offer to buy, sell or hold a cryptocurrency. Do conduct your own due diligence and consult your financial advisory before making any investment decision.
There is big risk you lose all your money by trading crypto's so DO NOT INVEST ALL YOUR MONEY IN CRYPTOCURRENCIES.
Used materials
I have overtaken and change this disclaimer from https://www.coingecko.com/en/disclaimer
Image is taken from https://btcmanager.com/much-ado-about-nothing-the-rivalry-between-ethereum-and-bitcoin/