More details!
That is the theme of this update about my cryptocurrency portfolio. Not only did I include buys and sells within the short-term segment, this time I also included some extra pie charts to show more details about the current distribution.
I hope you enjoy these updates and you find them valuable. The main goal of these updates is to spark a discussion on what might be the ideal cryptocurrency target distribution within a long-term focused portfolio. Please share your thoughts with me and others :-)
Current target distribution long-term segment
The cryptocurrencies below make up at least 70% of all the coins that I hold at the moment of writing. They are the 'Core' segment of my portfolio as described in my post about the 70% Core / 30% Play Money approach to cryptocurrency investing.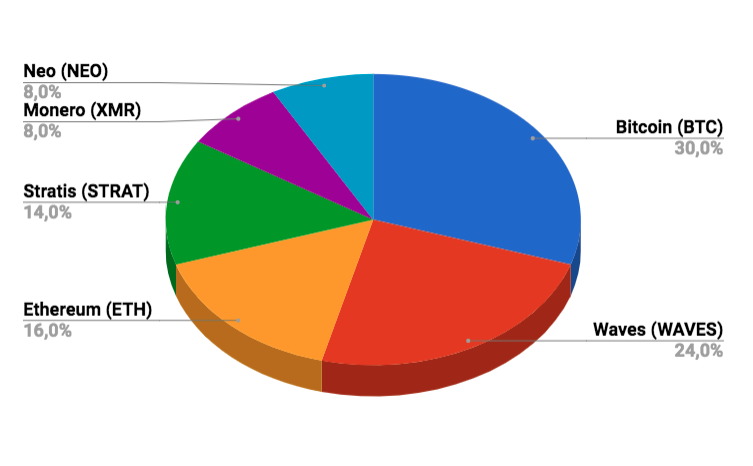 Changes in the long-term segment (Core)
I've again reduced the number of coins in my long-term portfolio by one. I notice it still remains difficult for me to keep up to speed with everything, so I decided to narrow my focus. Also, I included some slight changes in the respective weights of the coins.
I decided to sell all my Ripple given it has risen to enormous heights and it remains too centralized and closed for my taste.
| Name | Symbol | Current | Change (Δ) |
| --- | --- | --- | --- |
| Bitcoin | BTC | 30% | +0% |
| Waves | WAVES | 24% | +4% |
| Ethereum | ETH | 16% | -4% |
| Stratis | STRAT | 14% | +6% |
| Monero | XMR | 8% | +2% |
| Neo | NEO | 8% | +0% |
Changes in the short-term segment (Play Money)
A brief overview of the buys and sells since the last update:
Sold
Ripple (XRP)
Civic (CVC)
Gridcoin (GRC)
Metal (MTL)
Factom (FCT)
Monaco (MCO)
Verge (XVG)
Melon (MLN)
Bought
Icon (ICX)
Ubiq (UBQ)
Digibyte (DGB)
Vertcoin (VTC)
Pivx (PIVX)
Current token vs coin distribution
I prefer to bet on the house rather than the player. Therefore I want to keep an eye on the token vs coin distribution in the short-term segment.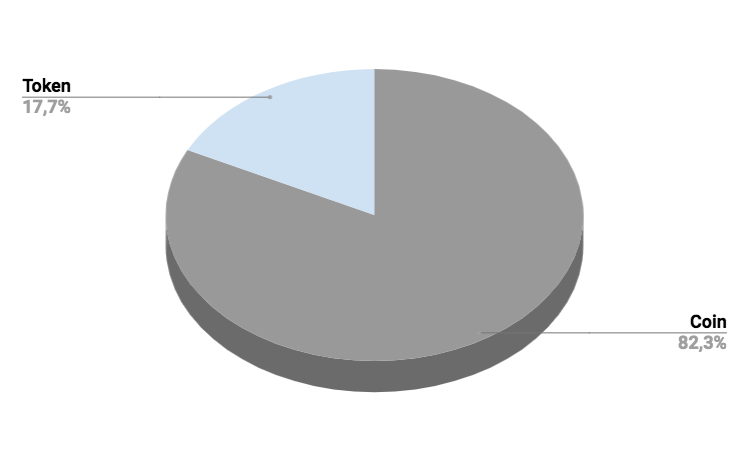 Current consensus mechanism distribution
Since I don't want to bet all my investments on just one method of reaching consensus, I also keep an eye on the current consensus mechanism distribution within the short-term segment.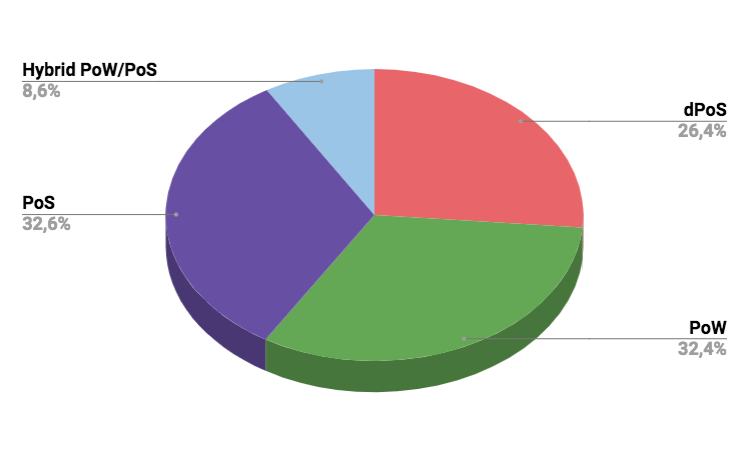 What do you think of my portfolio? What are you paying attention to? Please share your thoughts and let's discuss!
---
---> 👍🏼 Follow me for regular updates on my cryptocurrency portfolio, investments and crypto related articles.
---> 👍🏼 Resteems and Upvotes are appreciated ;-)
---
Disclaimer: I am not a financial advisor, trader or developer. I am just a crypto/blockchain enthusiast. Please do your own research, draw your own conclusions and do not invest any money that you cannot afford to lose.