Minergate - easiest way to setup mining for noobs on a pc
Hey everyone, if you are anything like me you find the whole process of doing the mining thing on a PC using your CPU and GPU extremely confusing. I originally tried doing it using some of the scripts and things available but because a lot of it is in technical jargon it makes it very hard to get up and running. Luckily I found Minergate to be a pretty good solution because the interface is easy to understand and they have a few coins available that I was interested in mining.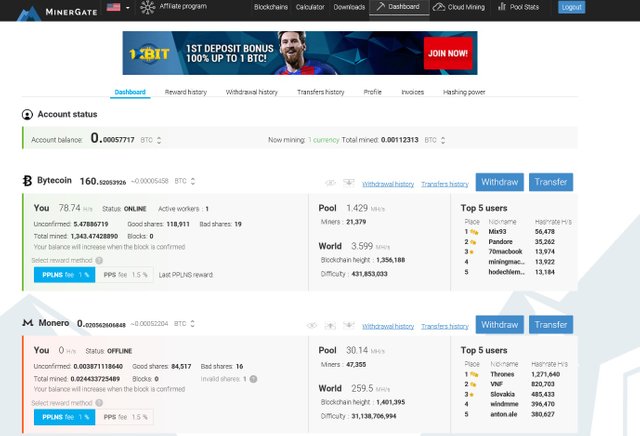 With a simple download of their software you can create an account and effectively just click a button and begin mining free coins from your desktop. The program is enhanced further if you have multiple PC's, Laptops and even your mobile phone to mine for you. While it wont yield substantial profits without a good setup you can see some good returns if you effectively have it running in the background especially if you are interested in building up a collection of some of the smaller coins.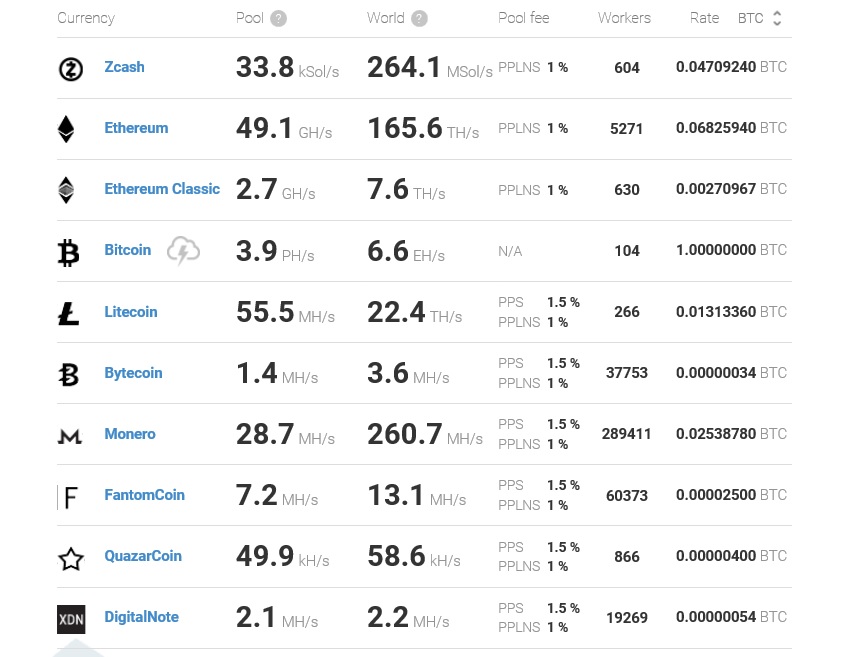 The system also has a built in function which allows you to smart profit from your PC and will work out the math as to what is the most profitable coin to be mining at the moment. If you select this option it will work out the best speed and efficiency to mine that particular coin and it will run in the background for you. I find the UI very easy to use and I don't really have any criticisms of the product. The only thing I would say is if I was nit picking apparently the returns generated are slightly lower than other pools as Minergate takes more of a share but given the ease of the product and the simplistic features it works for me.
I have posted a screenshot of how the UI looks below to give you a bit of an idea but you can see it will display the hash rate you are getting on a coin along with your balance on the right hand side. Some of the coins also allow joint mining such as Monero for instance where you can effectively mine Monero and another coin (Fantom Coin, Digital Note) which can also be beneficial.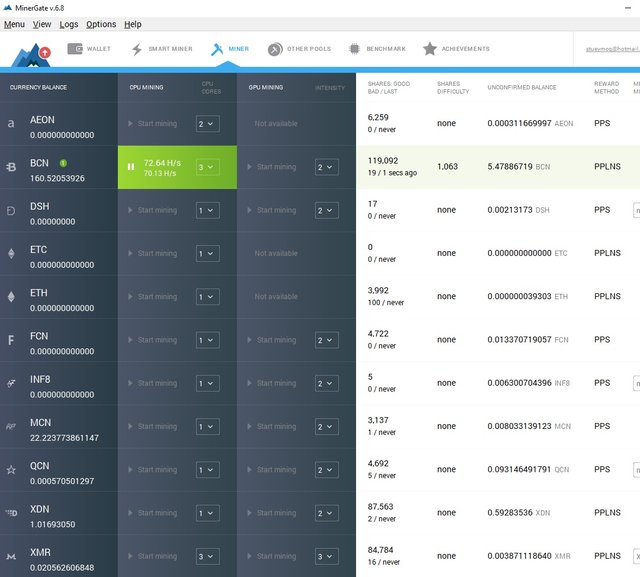 To start testing it out and download Minergate today Download Minergate Here! https://minergate.com/a/6af814fa1a8656039c8b1601
The other points I should make are that withdrawals to your wallets for the various coins are pretty much instant and at worst you might wait half an hour or so before they arrive. They also offer Cloud Mining Services which I am yet to try but they do look costly compared to alternatives.
For any gamers out there with good graphics cards I have found this to be the most profitable when not using your GFX the latest cards such as the 1080 tend to have the best performance and a lot of the people using this system have found they get very high hash rates when using their GPU.
Their is also an inbuilt chat system from the dashboard where you can discuss the software and mining with others utilising the program. Best of all its all free and I have found it to be a good way to get my PC working for me even while I'm not there.
Let me know if you have any questions about it all or any issues with getting it setup but I think I covered the main points. It is the easiest mining platform to setup I have found on the net and so far I have been very happy with the results.