Bidooh: Making decentralised digital billboards a reality, a truly impressive platform in the blockchain space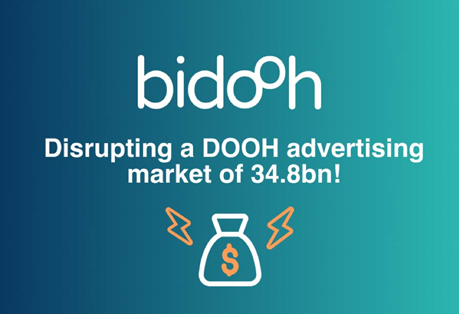 Source: Dunn, (2018)
Introduction
Hey Guys/Gals, so today I am going to be speaking about Bidooh. This is slightly different from most projects I have been writing about over the last few months, but I think it has a unique target market which places it quite well in this market. I would not be too concerned with the market in general; yes, it is making it very hard for these new projects, but this should not keep us from researching new projects. It will be interesting to see what happens over the coming months. I will try and bring some regular updates on the markets in up-coming articles, I have just been quite busy with work lately and my writing has taken a backseat.
So, to begin, Bidooh will bring "Decentralised Facial Recognition Digital Billboards" to this space. I really do believe this is the future of advertising. What is interesting is that they will target the already popular "Digital out of Home" (DOOH) screen advertising industry and bring blockchain technology to it. For those of you who are unaware, billboard advertising is still one of the most popular means of advertising in the world, they are all around us, from the sides of roads to shopping malls.
This article is going to give you an in-depth look into the Bidooh whitepaper, as with all my articles, this has been put together by me from the already published data within the white paper, with information drawn from other sources along the way. My style is in-depth research, but I urge you all to follow the "further reading" section at the end of this article and do your own research before considering any investment.
What is Bidooh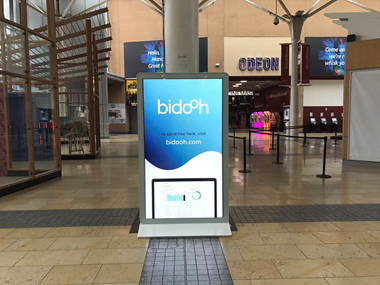 Source: (Alim, 2018)
Bidooh is an exciting new platform from which you can publish adverts to digital billboards, according to Bidooh, (2018). They state you can publish adds in a mere 60 seconds which opens users to a decentralised economy operated via their utility token (DOOH). This is what you call targeted advertising, which is the way the industry is going. They have designed this platform to scale globally, allowing advertisers to break down borders and access adverts in any country from anywhere.
Bidooh, state in their whitepaper that the DOOH industry is increasing drastically still. Their vision, as stated in the whitepaper is to turn this 34.8 billion USD "DOOH out of home advertising industry" on its head and bring decentralisation to it.
Pain point
Bidooh, (2018) state that the pain point, as with any centralised industry is the huge costs of operating within it; these costs being the middlemen costs, slow speeds and inefficiency.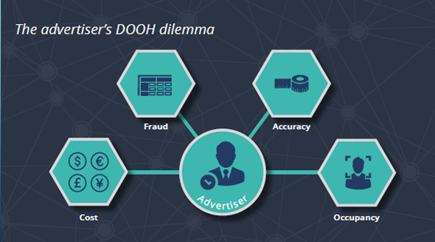 Source: Bidooh, (2018)
The chart above taken from the whitepaper sums up the pain point in the industry quite well. What I found to be interesting about this industry, is that it suffers from the old "labour intensive" approach to work. Bidooh tell us that this industry is driven by relationships/phone calls and emails, to ensure adds get the space they require on certain billboards. This all takes a lot of time and is very expensive. It also requires the need for minimum term contracts, according to Bidooh, (2018).
If we consider an advertiser in the traditional sense, spending money and man hours creating the advertisement in the first place. They then need to find an agent to distribute the advertisement. These agents, in turn, hire sub-contractors to do the work, who in turn hire publishers to actually host the work via their own or often rented billboard space. The time from advertisement creation to the billboard is often a long and expensive process, simply because of the number of people involved in the process. Bidooh claim this process has caused the shift to other forms of digital advertising. Bidooh further claims that these contracts are too long and often put off advertisers, which in turn leads to billboards becoming "unoccupied".
Another problem with the "traditional billboard industry "is the fact that it is next to impossible to know who has viewed the advertisements. Bidooh, (2018) state that screen views are called "play out reports". These are not real-time figures and are often put together by somebody sampling the billboard and recording "first hand" people viewing it. When you compare this to other digital advertisement channels, which offer "dashboard reporting in real time" then you can see the problem for yourself.
Solution
The Bidooh ecosystem is the solution. They will open themselves to this huge market by utilising the power of blockchain technology, this digital billboard platform will give users access to a truly decentralised, global market. They state in their whitepaper that the online advertising industry is 269.85 billion USD per year. They will try to disrupt this industry and take a share of this spend. It is the advantages of billboard/screen advertising which will draw advertisers from these "normal" online advertisement channels, which today are subject to their own problems.
What I really like about this platform is that they already have a minimal viable product available to test on their website (Linked in the further reading section below).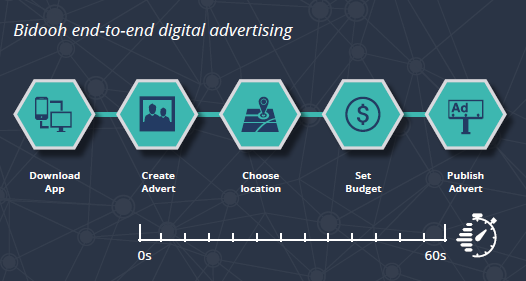 Source: Bidooh, (2018)
The chart above sums up the Bidooh platform, which is the solution to the problems mentioned above. If you compare this image to the above image in the "pain point section" you can see how this will solve all the issues the industry faces at present. What I really admire about Bidooh is that they will provide the full "end-end platform" needed for this space and it will be open to anyone. The advertisements can then be uploaded to "Bidooh screens installed by publishers in any location" or on existing screens which have upgraded with "Bidooh boxes" (simple HDMI connections), according to Bidooh, (2018).
Bidooh goes a step further, not only will they make this platform open source, but they will go the extra mile and provide templates for people to make advertisements. Let us not forget that the physical creation of advertisements, typical incurs huge costs across various phases, such as graphic design and creation. Bidooh, in their own words, will "do what Google AdWords and Facebook ads did for the world", they will remove that layer of centralisation further and open this space to those who typically cannot afford it.
Users can buy a minimum 10-second slot on a screen, which ensures absolutely everybody can avail of the service. I am actually quite excited about this platform. This is what true decentralisation is. Bidooh says that their aim is to be all-inclusive, allowing anyone to participate from anywhere in the world. Essentially Bidooh will eliminate the middlemen to the process and drive costs down by a huge amount. This will all be possible via "Bidooh's AdPaaS advertising platform as a service", according to the whitepaper.
They further solve the problem with advertisement analytics. We all know blockchain allows for recording of information, which is always 100% accurate and secure. Bidooh, further exclaims in their whitepaper that digital cameras with AI functionality on display units will play a pivotal role in identifying people looking at the screens. This will all be done via facial recognition technology. This is a touchy subject for many, it is the subject of huge debate all over the world. Some people suggest it leads to loss of privacy, but the other argument is that this is what progress looks like, technology is a part of our lives so we need to embrace it.
Bidooh will go the extra mile with the security of this data, stating "all info analysed is made anonymous or deleted to avoid future misuse or loss" (Bidooh, 2018). This capability is amazing, advertisers will then be able to see in real time if the demography of their target audiences are being met, and adjustments made as needed. All of this will aid in calculating the return on investment of advertisements. I further believe that SDKs and other "software units" will be rolled out to aid adoption of this platform in retailers.
Opportunity
Bidooh, (2018) state that initially they will be trying to attract new businesses, who typically cannot utilise "traditional outdoor advertising" (billboards) channels, due to cost. They also aim to entice online advertisers to this decentralised platform and hope to gain the business of current outdoor advertisers, at a fraction of the cost.

Source: Bidooh, (2018)
As per the above chart, Bidooh is already signing contracts with partners across the world. They aim to have 8 partners by May 2019 covering 14 territories. They then aim to continue rolling out 1 further partner per quarter. They ultimately aim to attract advertisers to the platform; in the whitepaper Bidooh, (2018) state that they will attract users by:
On-boarding and retention: All advertisers go through an onboarding process to maximise ROI. The team will then monitor their content to ensure it is of top quality.
Direct Telesales: Will be used to onboard users also.
Field sales: A more personal touch will be brought to large advertisers and require visits to try onboard them.
Media agencies: These are the large organisations with large client bases, these will be a core target and Bidooh even suggest 50% of their "ad-spend" will go into on-boarding of this cohort.
How it works (The platform)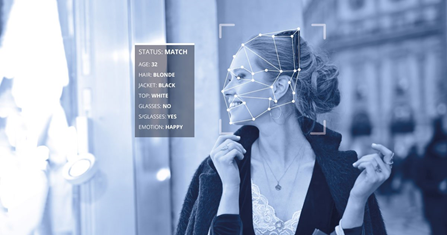 Source: (Alim, 2018)
As stated by Bidooh, (2018) themselves in the whitepaper, this platform is already in operation offering a "turnkey advertising management platform". This gives advertisers access to screens for advertising content. Their ADPaaS platform connects players in the advertisement content area to additional hardware such as cameras and sensors, essentially enabling transmissions to the screens. These "screens" as stated in the white paper, can be purchased by publishers and placed in locations of their choosing. You have all seen similar screen dotted around malls etc… Bidooh will also allow the utilisation of existing screens, which can be fitted with "low-cost Bidooh boxes". This removes the need for middlemen in the process, as users can then directly interact with these screens via the platform.
As shown in the image posted in the "solution section" above, the process is as simple as:
Ad creation: which can allow images and text in portrait or landscape form. There will be templates to use for ease of use.
Ad Upload. An advertiser simply uploads to the platform.
Ad Preview: An advertiser simply stipulates the screens in the areas they want, choose the daily budget (dictates times of advertisement etc…). A member of the Bidooh team can then approve the content and your ad is live within a few mins and the advertisers get analytics back from the screens. What I really like is that options are available to target certain people at the screens via the AI/tech on the screens (as per the image at the start of this section). I could, for instance, dictate that my advertisement can only run when "men with beards" appear in front of the screen if I was advertising beard products.
Once a user buys an advert space with the DOOH token, all data related to that "transaction" is stored on the Ethereum blockchain. Every event which springs from this transaction, such as viewing, display etc data points, and metrics are stored against the transaction on the blockchain, according to Bidooh, (2018). All of this is enabled via "vision cameras" on the screens, according to Bidooh, (2018). All data is then recorded in real time and displayed on interactive dashboards for advertisers. You can check out the whitepaper (linked in the further reading section below) to see the data these screens can record, they are quite comprehensive and allow great management of advertisement campaigns.
Bidooh aims to purchase and install their own screens across various locations, such as malls and football stadiums. They will also try to partner with existing screen providers to bring them into the network and act as partners to Bidooh. What is more, Bidooh will give token holders the opportunity to buy their own screens and obtain revenue from them, all within the platform.
Bidooh will further, try to obtain partnerships with channel partners and country level partners. Screen manufactures will also be targeted by Bidooh to ensure their software is part of the package on offer. This would mean they can be an out of the box option for purchasers of these screens. Likewise, they state they will target screen casing manufactures to preinstall hardware. They will also offer their Bidooh boxes to existing screen owners to bring them into the network, Bidooh will offer the software for free to entice them. Bidooh will also acquire smaller screen owners in primary locations to push their service.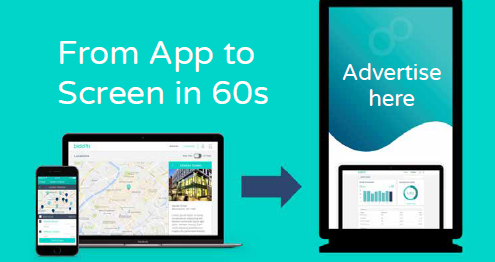 Source: Bidooh, (2018)
Bidooh also offers a mobile app which will allow all of the above. This is needed in the digital age, people will need the capability of uploading content from phones or cloud storage on the go. All of the functions of this platform will be fully secure also, according to the whitepaper.
Token Economics
The Bidooh token (DOOH) allows for advertising and engagement on the platform, a true "utility token".

Source: Bidooh, (2018)
Bidooh state in their whitepaper that 1 DOOH token will the equivalent of "10 seconds of advertising", the price of this 10 second period has been established at 1p (1.4 cents) according to the whitepaper.
The DOOH token has real utility on the platform, according to Bidooh, (2018) these are:
Access: Allowing purchase of advertising space. The standard is 10 seconds but this alters with location.
Reward: You can quality check ads, for which you are rewarded with DOOH tokens. This will be a "controlled crowdsourced community" according to Bidooh, (2018). This process will be a consensus process, and if this cant be reached manual review will be done.
Engagement: You gain tokens for viewing and engaging with adverts on the platform. Users need to have the "Bidooh consumer app" to do so, this will tell the platform you are in the proximity of a screen, you gain more if you click into info about the add. I believe advertisers will be free to offer tailored rewards here.
Spend: You will eventually be able to spend DOOH tokens in retail stores. The stores, in turn, can buy more ads with the DOOH tokens.
Social media integration: They plan to link this platform to social media channels and the tokens will be needed.
Brand scan: This platform will integrate with APIs of brands which will allow the screen to alter advertisements depending on brands of clothes. I would love to learn more about this feature. Brands need to buy this with tokens.
App SDK: This will allow retailers to offer better products by monitoring shopper habits. Checkouts will be enabled at screens down the line according to the whitepaper, to further enhance the shopping experience and bring further utility to the DOOH token.
Earn: Freelancers are free to use the platform to offer services such as graphic design, copy-writing, and translation. This will reduce costs for small businesses and bring a real economy to the platform.
Billboard app store. The token can be used to buy apps in this store. This will also allow app developers to enhance their own advertisements, adding to the appeal of the platform.
The platform will be paid for in 2 main ways: as described by Bidooh, (2018)
Impression based billing: Will charge the advertiser only if somebody is actually looking at the advertisement, in front of the screen.
Display-based billing: This will charge the advertiser based on the number of times the advertisement is played on the screen.
I believe this dynamic approach to billing will draw a lot of types of users to the platform. This will allow certain locations to be utilised during peak times, such as holiday destinations, and allow target marketing in high demand areas all year around such as malls. I also think this will bring a culture change to advertising, allowing more accurate budgets. Bidooh state each screen should generate roughly 1k Pounds per month.
Token sale stats

Source: Bidooh, (2018)
Bidooh, (2018) is marketing this token as "28 times cheaper to buy during ICO than buying advertising space in the traditional manner". This is staggering.

Source: Bidooh, (2018)
The token distribution is very good in my opinion, it is nice to see 70% of tokens allocated to the token sale. The team plans to use the funds to buy and install at least 5000 screens, according to the whitepaper. They will also develop the smart contracts on the platform with these funds.
Roadmap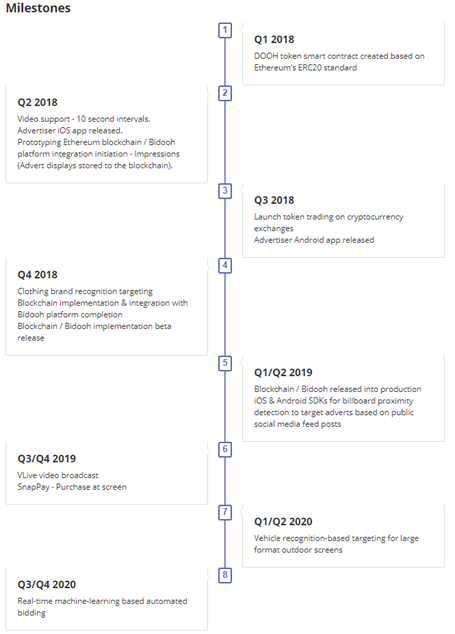 Source: ICO Bench, (2018)
As can be seen above this project is well into their roadmap. As I have mentioned already this platform is already in operation and working with an MVP. The project will develop over the next two years and offer an amazing platform. This is a project which has great long-term milestones, which is great for investors.
Team
There are 19 amazing team members in this project, backed by 5 great advisors. You can check out a great write up on the team members within the whitepaper. I would urge you all to check it out in the "further reading "section below.
As described by Bidooh, (2018), this platform was first conceptualised and developed by Abdul Alim and Shaz Mughal. They presented their platform to Michael Edelson, who if you may not be familiar is a huge angel investor and a director of Manchester United FC and now sits as chairman of Bidooh. They are causing quite the storm in the tech space, even winning the "pitch at the palace" award.
Other info
This project is currently on trial on 16 screens across 4 locations in the UK. In the whitepaper, it is stated that 500 users of all backgrounds have signed up.
Bidooh is open to switching blockchains in the future and are currently looking at EOS, Stellar, Cardano, RSK, Tezos and hashgraph, according to the whitepaper.
Unsold tokens will be sent to a reserve pool. I would rather see these burnt but in these rocky times in the market, I suppose we cannot expect projects to reach full allocation of tokens. This project has surpassed its soft cap already and I know they will reach the hard cap due to the popularity in the space.
Also, as can be seen in the image below they have already reached their soft cap, so this will be a success, even in a turbulent market. There is also a nice 10% bonus being offered currently. This is accurate from the time of writing this article.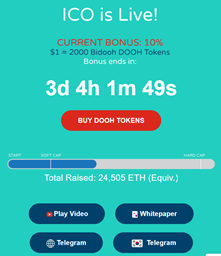 Source: Bidooh, (2018)
Conclusion
The Bidooh platform/ecosystem has won me over in terms of innovation and potential, the market potential for such an advertisement channel cannot be ignored. I feel this platform is a revolution in the space. The technology Bidooh will bring to the billboard advertising space is amazing, advertisers for the first time can get real, tangible data on the viewers of their advertisements, via smart screens located around the world.
The days of "middlemen" are ending thanks to blockchain technology. Why should we pay large fees for others to create and publish advertisement content for us, when the technology exists to bypass them? The Bidooh platform will provide this much-needed decentralisation factor in the advertisement space, and in my mind compete quite well with an already established digital/online media advertisement space. Billboard advertisement brings content to the open spaces people walk around every day; the streets, the malls, the entrainment centres, the stadiums etc…Bidooh goes the extra mile and provides the means for real "target marketing", via AI and smart screens.
I really love this platform, you may know if you are a regular reader of my work, that I am a full on "future freak". I see a world operated within the blockchain space, in a truly decentralised fashion. This is yet another niche area of that space, who does not like the idea of walking up to a smart screen which can identify you, and show you adverts which actually conform to your interests? This is what the future is going to entail and I for one am excited about it.
Bidooh will attract advertisers, both large and small, new and old; this will bring the world's first truly decentralised billboards advertisement platform into the reach of all. It is the smart tech/AI features which have rendered this project an all-star in my mind. I believe this will be a hugely popular platform in the years to come and feel this is an amazing opportunity.
Final word
Lastly guys, I just want to stipulate to you that you should not take any of this as investment advice. I am not a financial advisor and urge you all to do your own research when considering any investment, this space can be very unforgiving and is very speculative in nature. Never follow somebody blindly; my job is to showcase projects I see with real potential, that is all. I hope you enjoyed this article and I will aim to find the next amazing project in due course. I thank you all for your support and ask for you to share my work. I would be more than happy to discuss any questions you may have in the comments section.
Further reading
References