IOTA - Is this a Sleeping Giant?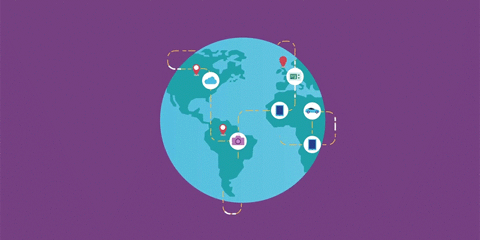 Hi Everybody, MS aka cryptogem here. Today we are going to be talking about the cryptocurrency called IOTA. The 'IOT' in IOTA stands for the Internet of Things, which is something that I'm going to get to later. What is different from other coins is that, there is no mining involved, meaning it is pre-mined. There are no keys, no blocks and they do not use a blockchain. This is very different from all the other coins that are popular. They don't use blockchain because they use something that was developed by them called the Tangle. It is a kind of intricate activity between all the networks, that is connected to every other computer in the network.
When you want to perform a transaction on the IOTA network, you confirm two other transactions, that are happening at the exact same time on the network. The main advantage of this is that, there are no fees. In simple layman terms, the central thing behind IOTA, is that there are zero transaction fees which is significantly different than other cryptocurrencies. For example, If you want to send 1 cent to someone, especially in the form of a Bitcoin or especially on the Ethereum network, this is impossible because of network fees.
IOTA gets around this completely by having zero transaction fees and they project themselves as the micro transaction payment system. It is difficult to estimate how effective this technology will be as the currency for the 'Internet of Things'. I believe that a lot of the coins that are developed are conscious copies of other coins already in existence. They tweak some functionality and make a tiny new improvement, that makes them slightly different.
Zero transaction fees on the tangle system is miraculous as it assists in micro-transactions. IOTA wants to be the currency that is used for all internet of things applications. This is pretty much the interconnectivity of things around us. For example, when you go home, your phone being able to tell your oven, that you are there, being able to tell your television to turn on and telling your car that you're getting ready to go somewhere. Then your car turns on. It is widely believed that, by 2020 around 40 billion devices around the world will use the Internet of Things. So as to speak, everything will be inter-connected, and IOTA wants to be the currency, that enables any micro or even nano transactions.
IOTA, I believe is a revolutionary second-generation technology, that is highly scalable and builds on inefficiencies of the Blockchain Technology. However, there is a significant drawback that I foresee. Even Blockchain technology has not meaningfully been adopted widely in real life use cases, although it has now started being used in many industries, more prominently the banking and financial system. Therefore, IOTA which is more revolutionary tech than even the Blockchain will take decidedly longer for wider adoption. In short, it is a cryptocurrency for very long-term investment, i.e. more than 5 years.
Technical Analysis & Price prediction
IOTA currently has a Market Cap of 2.1 Bn Dollars and is trading at around 80 cents. It nearly touched its all time high recently, but has seen some selling and is now trading at 80 cents. IOTA has a circulating supply of 2.7 Billion coins and its maximum supply is the same as there is no mining in IOTA.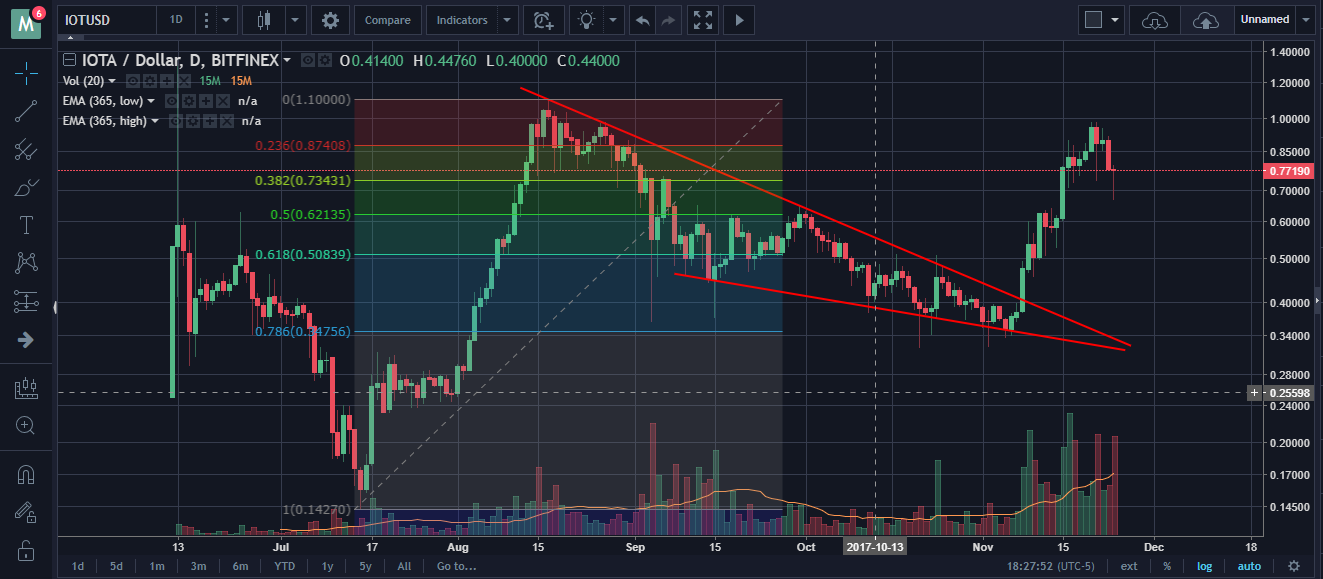 The chart above is the Daily chart of IOTA. It broke out from a descending wedge pattern and that saw some rapid buying. Now we have to wait and see, whether this is a spurious pump and dump operation because there has been no positive news that should see such huge price action. In the short-term, the descending wedge break-out has a pattern price target of roughly 1.4 Dollars.
Price Prediction
Since the price history of IOTA is very new, we analyze the market cap of other comparable cryptocurrencies to arrive at an estimated projection. The market cap of Ethereum is 40 Billion Dollars. I believe that IOTA has the potential to reach those valuations by 2020. Since currently the market cap is 2 Billion Dollars, we are talking about 20 X returns or a price of $16 per coin.
Alternatively, lets try to have a fundamental estimate looking at the IOT market , it is intending to serve. According to Accenture, the IOT industry is projected to reach 4 trillion dollars by 2020. Let us assume that IOTA sees a conservative adoption of 1% of this 4 trillion market by 2020. That gets IOTA a valuation of 40 Billion dollars. This shows the immense potential of this cryptocurrency. Even at an assumption of 1%, which is very conservative by any stretch of imagination, we arrive at 40 Billion Dollars.
I am very excited by the prospects of this cryptocurrency and this is the coin I am most bullish on out of all my holdings.