The Best and The Safest Way to Buy Crypto For Canadians! Einstein Exchange

Einstein exchange is a Canadian cryptocurrency exchange based in Vancouver, BC. Einstein exchange has launched in 2017 and since then it has been growing rapidly here are a few reasons;
Credibility
Available Payment Options
Customer Support
Security 
Credibility
Credibility and trust are 2 major concerns when it comes to cryptocurrency exchanges. Einstein is fully transparent and goes above and beyond to build trust in the community. They have a top notch team behind the platform. They have a physical office in Vancouver Downtown where customers can go in person to purchase cryptocurrency. They do have a "meet the team" page where you can look up every single employee.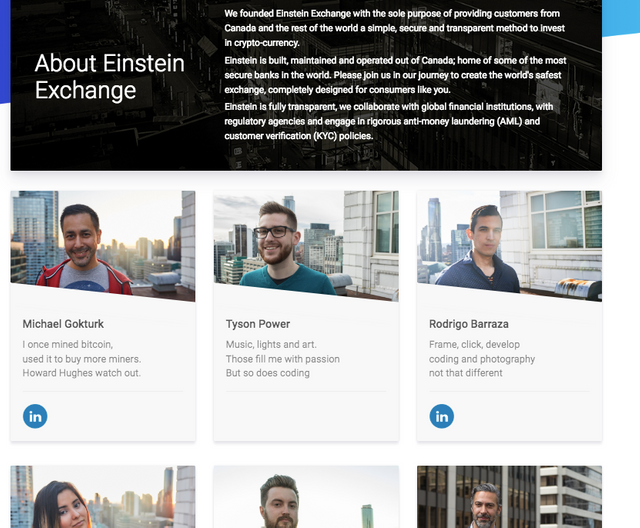 Available Payment Options
They do offer a plenty of different ways to fund your account. You can go in in person and do over the counter purchase at the office. You can purchase cryptocurrency with Credit Card. You can e-transfer money. You can wire transfer to fund your account. They also offer institutional accounts.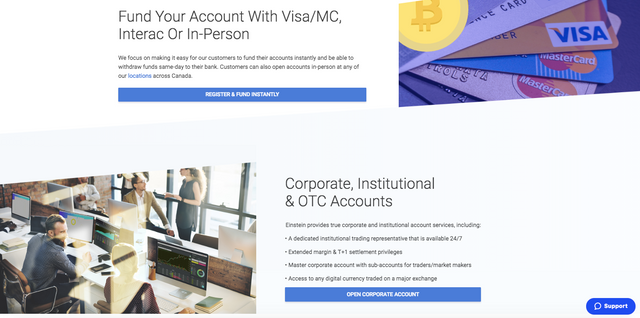 Customer Support
Customer support is the most neglected service by most exchanges. You send an e-mail and wait for weeks to get a reply and sometimes months to get your issue resolved. In Einstein, they have 24/7 support that you can CALL in. They also have a support chat box on their website where you can chat with a customer support if you do not want to call in. I have never had to wait more than 1 hour to hear back from them. There has not been a single time that I called them and they did not answer. Customer support is quick to respond and very eager to help you.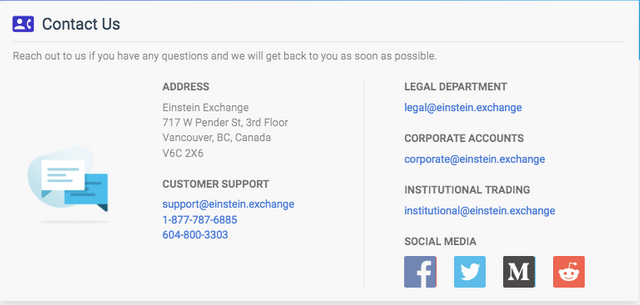 Security
They do have cold and hot wallets to store funds. They do have a special team just focuses on security. Einstein is the ONLY exchange that has a blacklist of wallets to minimize malicious transactions. They have a license from BC securities exchange. They are fully complied by the law and they have KYC and AML processes in place to make sure everything is done according to the law.
Here is a link to Einstein: https://einstein.exchange/