I am using a trading bot on Binance and I wanted to share my success story with everyone here. I have started using the bot about 6 months ago. To be honest, the first 4 months I took a lot of losses and it was an expensive learning lesson on how to use to bot, what are the parameters that I need get right and so on. For the past 2 months, I have been making constant profits with NO losing trade over 671 trades currently. You do NOT lend or send out any BTC. It works on YOUR computer, on YOUR Binance account.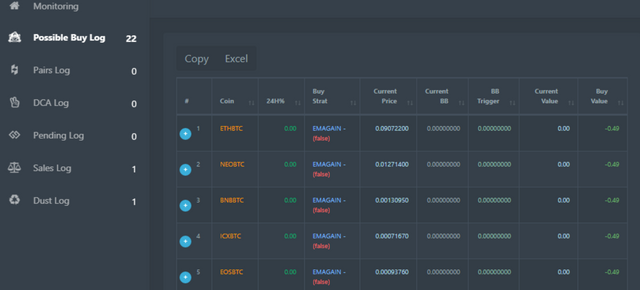 How does the bot work?
It is very simple. The bot does what you tell it to do. So, you chose the coins that you want to trade and avoid. For example, I personally do not like to trade TRX because my indicators do not work well on it. On the other hand, ZRX behaves in line with my indicators and allows me to trade more than any other coin. Once you select the coins you want to trade, you set up your parameters or indicators that you believe works. For example, you might want to combine LOWBB, SMA and RSI and you set the values. Once all the conditions you set are "true" or correct, the bot initiates a buy with the amount of BTC you set. Buying strategy is the most complicated and the important part. Sell strategy is very simple. You set your desired profit, 1%, 2%,5% whatever you feel is consistent for you. Once, the coin you bought reaches the desired profit the bot will sell it for you. The bot trades on 5min chart to have a lot of trades and quick in and outs.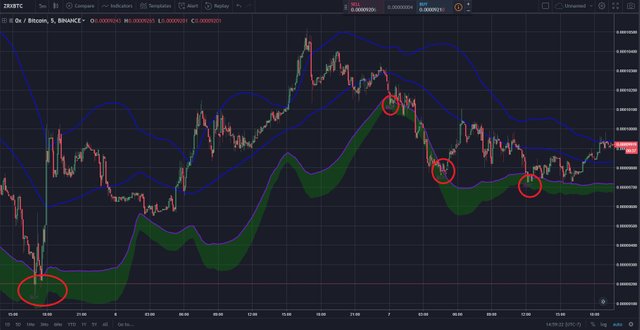 My Buy Signals
I have set the same values on TradingView so I could see where my conditions are met and where my bots initiates buys for me. I will share a couple of screen shot of my signals. If you want to try how consistent my bot is leave a coin name that is on Binance with a day that you want me to look and I will post screen shots of my buy signals below your comment.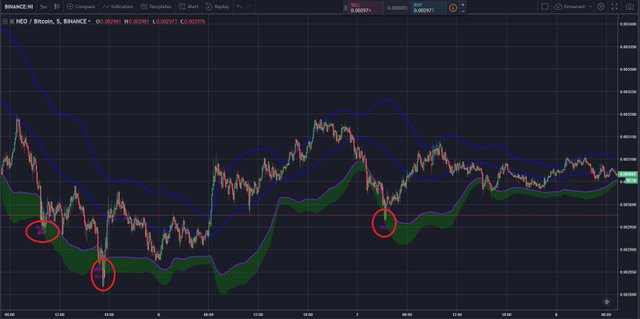 My Daily Profits and Trade History
This is an add on that keeps track of your sales, percentage profits as well as USD profits. Because the bot makes a lot of trades, it is hard to keep the numbers right. This add on does that for you.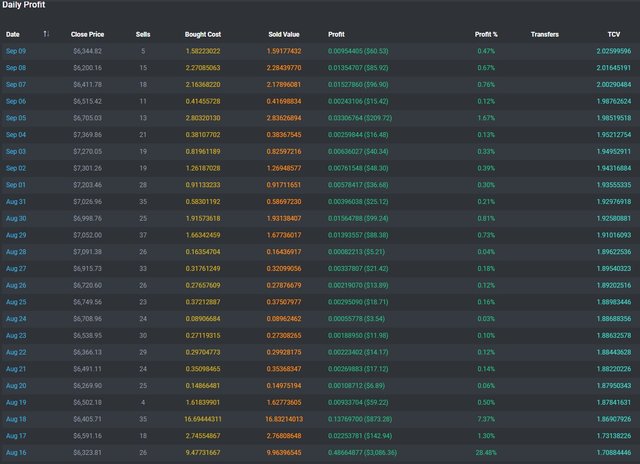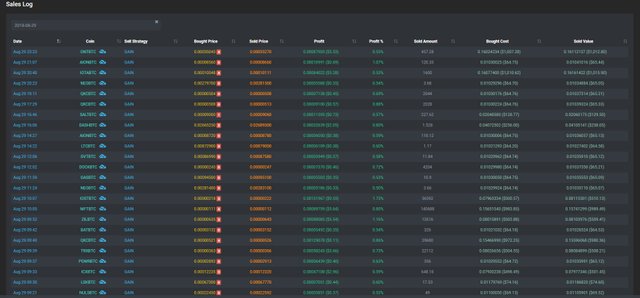 30 Day Free Telegram Signals
Setting up the bot and getting your values right are extremely hard for most people. So, I understand if it's too much work for you and you just want to follow my trades and do the same. I will set up a telegram group where my bot's buys and sells will be shared instantly so you can buy at the same level as I buy and sell at the same levels. There is no charge for the first 30 days. If the bot makes 15% profit in 30 days then the next month will be 19.99$ to subscribe. If the bot makes less than 15% profit then the next month will be free as well. 
All you need is a Binance account and Telegram App.
Telegram: t.me/EmirKntr
Buy Bitcoin safely Coinbase: https://www.coinbase.com/join/599391b0ebee84020a333d37?src=ios-link 
My Favorite Exchange Binance: https://www.binance.com/?ref=10806285 
No trading fee exchange CoinEx : https://www.coinex.com/account/signup?refer_code=rngkt