ICO #Comsa already collected more than $ 76,497,494. start on October 2 ending on November 6.
Limited-time offer for Zaif token holders; we have special bonus plan for Zaif token holders if you purchase more than 3,000 CMS on Zaif-denominated transfer. The bonus is additional 2% on your purchase price. We offer this special bonus plan 5 days only, from October 2nd 14pm to 6th 8am (JST).
                                        ABOUT COMSA

ICO Market and Industry
In June 2017, the total funds raised by ICOs exceeded the amount that blockchain startups had raised from venture capital companies for the 12 months preceding it. A lot of businesses are looking into ICOs, but without a doubt, it is easy to conclude that this phenomenal growth has left many gaps that have yet to be fulfilled. The existence of these gaps has resulted in a high barrier to entry for enterprises who have trouble trying to bridge their islands of existence to the rest of the crypto and mainstream economies. We are in a state of flux and solutions are needed to address these issues.
                          COMSA

Comsa is a conduit for future ICOs that want to exist in the COMSA ecosystem. As part of the project, a COMSA team is now already in place to provide companies with consultation, expertise and solutions to support their very own ICOs and implement blockchain technology into their business practices using our Zaif exchange and mijin private blockchain software, all at the same time, as a one-stop solution.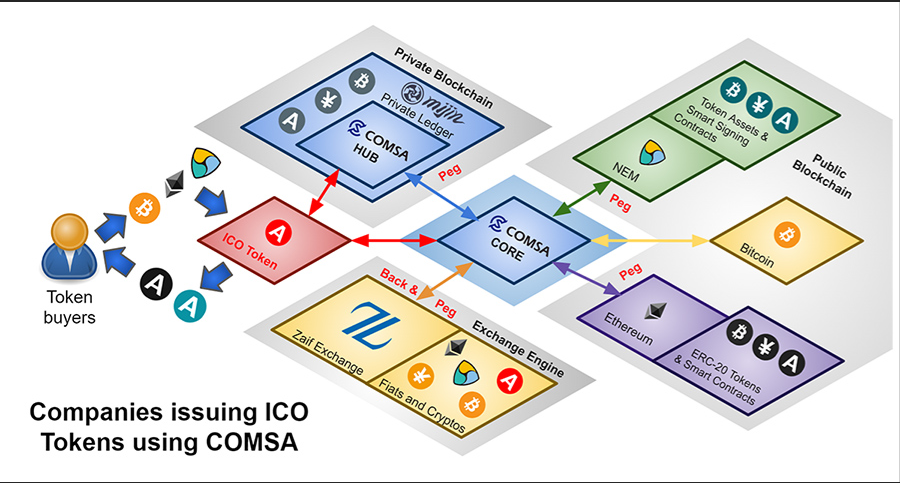 COMSA SOLUTIONS
ICO Solution
COMSA is a one-stop solution that includes a creation of multi-language whitepaper, pre-configured token sale dashboard, blockchain integration services and PR services, dedicated for your own ICO. Your ICO token issued on COMSA platform can be converted between NEM and Ethereum blockchain via COMSA CORE engine. (Planned in 2018)
Token Solution
COMSA provides Zaif exchange to list your ICO token, and its payment service to allow your token holders to spend it. We also provide private blockchain software "mijin", to let you manage tokens in the internal blockchain ledger in your system. We also support fiat pegged tokens and crypto pegged tokens that can be transferred between NEM and Ethereum blockchains.
One-time Smart Contract
In 2018, you will be able to coordinate Bitcoin, NEM, Ethereum and multiple mijin private blockchains as one network to keep the balance of your token among them. We will also offer "network fee delegation" on the NEM blockchain that allows you to process practical business transactions in fiat currency on the blockchain without owning its native currency XEM.
                                TEAM

Tech Bureau Executives
Takao Asayama
CEO
Jaguar0625
mijin CTO
Ryosuke Hosoi
Zaif CTO
Mitsutoshi Fukunaga
CMO
Kazunobu Hatta
CFO
Tom Beno
US Region Manager
Legal Advisors
Masakazu Masujima
Legal Advisor
Michio Asayama
Co-Founder, Legal Advisor
ICO Committee
Lon Wong
President of NEM.io Foundation
CEO of Dragonfly Fintech
Jeff McDonald
Vice President of NEM.io Foundation
Kazutaka Muraguchi
COMESA partner. Venture capitalist and CEO of Nippon Technology Venture Partners.
Yoichiro "Pina" Hirano
CEO of Infoteria Corp. (TYO:3853)
Series A investor of Tech Bureau Corp.
Yokiko Nishimura
General manager of public relations and business development
Money Partners Group (TYO:8732).
Hitoshi Kano
CEO of Fisco Ltd. (JASDAQ:3807)
Ryuji Yagi
CEO of Caica Inc. (JASDAQ:2315)
Kaneto Kanemoto
CEO of OKWAVE (NAGOYA:3808)
Yosuke Iwai
CEO of Arara Inc.
Nate D'Amico
CEO of Reactor8, Inc.
Software development partner for Tech Bureau, Corp.
Kunihiro Tanaka
CEO of Sakura Internet Inc.(TYO:3778)
Osamu Ogasawara
CEO of ABBALab inc.
Katsuaki Sato
CEO of Metaps Inc. (TYO:6712)
Yoshitomo Izura
Head of Investment Banking at Tokai Tokyo Securities CO.,LTD. (TYO:2588)
Masahiko Ito
Senior Deputy General Manager of Corporate Planning Division / Senior Chief Manager of Center of FinTech Office
Mitsubishi UFJ Trust and Banking Corporation
Ken Shishido
Tokyo Bitcoin Meetup Group
Tetsuyuki Oishi
CSO of United Bitcoiners, Inc.
Jin Nakamura
CEO of MONEY DESIGN Co., LTD.
Noriyuki Hirosue
Founder / CEO of bitbank, inc.
Chikako Suzuki
PricewaterhouseCoopers Aarata LLC
Partner
Partners
Nippon Technology Venture Partners
NTVP – Nippon Technology Venture Partners is one of the leading Japanese venture capital companies specialized in investments for high-tech businesses. NTVP is known for investment in DeNA, and was a seed investor of Tech Bureau. Its recent portfolio includes Robotics, AI, and blockchain technology.
Infoteria Corp.
Infoteria Corporation is a leading software company providing connectivity across "computers","people" and "things" with leading edge technology. Its best-selling middleware – ASTERIA – already supports blockchain for enterprise companies. We are eager to enhance our product features such as supporting multi-sig with non-coding environment, and exploit new markets such as ICO for various industries.
FISCO
FISCO Ltd. is a Japanese financial information vendor. FISCO provides investment information to dedicated terminals such as QUICK, Reuters, and Bloomberg; Internet portal websites such as Yahoo!, MSN, and InfoSeek; and a number of securities companies. As a group of professionals,FISCO provides investors the best investment support services based on deep understanding and knowledge of investment and markets. Distribute ICO market information as a COMSA partner.
CAICA
CAICA CAICA Inc. is a Japanese system integrator. CAICA has a strong track record in system development for financial institutions such as banks, securities companies, and life insurers.CAICA's strengths are centered particularly on development of settlement systems for financing, forex, sales office terminals, and online banking. CAICA collaborates with Tech Bureau in a wide range of fields to test and sell blockchain technology. CAICA is an alliance partner in providing testing and support services and system development for Tech Bureau's "Mijin" blockchain.
arara
arara in Japan is one of the largest private e-money and CRM solutions in SaaS market. arara is providing new, safer and more efficient solutions utilizing the blockchain technology. In the cooperation with Tech Bureau and ICO committee, arara plans to develop and provide ICO related services.
raised funds for 07.10.2017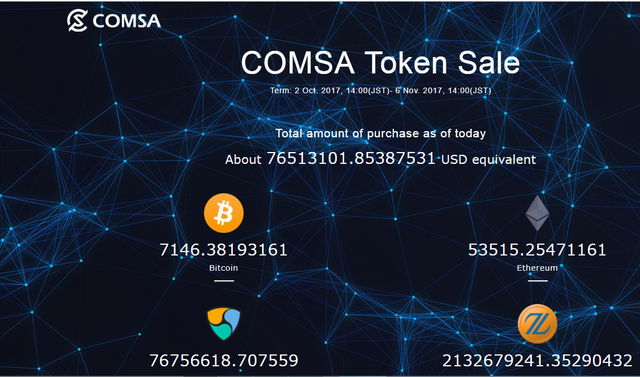 Register https://tokensale.comsa.io/?ref_id=a6a2fa7332d0a34443d981da85af7352