Bitcoin Enhanced (BE): An In-Depth Look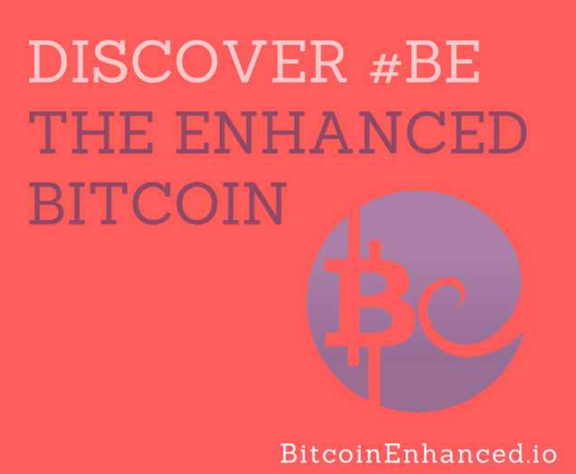 Image From: imgur.com (Katarina N)
Many in the cryptocurrency space have come to familiarity with the volatility that accompanies Bitcoin, as well as the rest of the cryptocurrency market as a whole. As many cryptocurrencies look to find their place in the ecosystem, BTC seems to be the best choice with regards to a store of value. However, due to the aforementioned volatility, it often seems at times not the most logical choice for a store of value, if the holder has fiat currency value in mind. For this reason, one may propose Bitcoin Enhanced (BE) as an possible solution.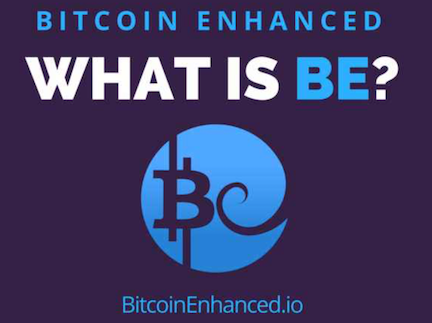 Image From: imgur.com (Katarina N)
What is Bitcoin Enhanced?
Bitcoin Enhanced (BE), in short, is a coin that tracks the BTC price during increases in price, but also has the ability to make predictive forecast estimates for when BTC will fall in price, and gain price value during the downfall in BTC price. This would potentially make for a much more stable and profitable store of value than simply BTC itself.
But How Exactly Does it Work?
Bitcoin Enhanced uses the Phi 1.618 number to forecast when BTC is likely to have a downward movement in price. Using technical analysis of charts in the crypto and stock world, often has rewarded traders and investors with clues and indications of when prices may make certain movements. Elliot Wave traders rely on Fibonacci levels to calculate their trades and to make estimates on where they think prices will land in future time frames. The number 1.618, or the Golden Ratio, has proven to be of significance with regards to Fibonacci and technical analysis. As stated by Simon Paige of the Bitcoin Enhanced team, "Fibonacci and Phi are for most practical purposes identical".


Image From: imgur.com (Katarina N)
Bitcoin Enhanced uses the aforementioned 1.618 number/level to its advantage, making price movements according to forecasts made in advance. The Bitcoin Enhanced system makes price predictions/forecasts for time periods, based on when the golden ratio is likely to impact the BTC price, with regards to pullbacks or downside action. For example, according to bicoinenhanced.io, the BTC price was predicted to fall from May 19 - May 27 2018 according to the Phi number. This forecast was encrypted, published with a timestamp on a public forum (BE site, Facebook, and Twitter), and only revealed once the forecasted period was complete (for confirmation of a genuine forecast). The forecast was correct "in forecasting a 16% fall in BTC. Because BE "bet" on this fall, it went up 16% while BTC fell 16%. This made the total difference between the two after the forecast 16 + 16 = 32%. Previous to the forecast, the difference between the two prices was already 37%. 32% added to 37% produced a new difference between prices, the multiplier of 69%" (Simon Paige, BE).
Not all forecasts are this impactful or even correct. But, "Frequencies based on Phi enable some of the drops in the price of Bitcoin to be predicted. Historically, when also used with a filter, the approach has modeled successful forecasts more than 60% of the time" (Bitcoin Enhanced Whitepaper, p. 1). 60% may not seem like an effective success rate. However, many traders will state, generally speaking, that a 60% success rate is more than enough to make consistent profit trading.
The Bitcoin Enhanced system may have significant potential, seeing as how it uses BTC's volatility to its favor. And as the majority of the public will admit, there is rarely a shortage of volatility with regards to Bitcoin, and cryptocurrency in general.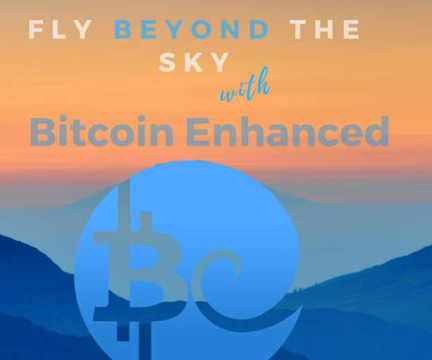 Image From: imgur.com (Katarina N)
The prices used for BE are taken from multiple sources, to ensure an accurate BTC index. "Bitcoin prices are sourced from multiple APIs across the exchange network. This reduces the chances of outage as well as provides a representative price for Bitcoin at any given time" (Bitcoin Enhanced Whitepaper, p. 11).
One may ask how Bitcoin Enhanced actually, physically achieves all the aforementioned. In short, BE is a community run project. Upon inception of the BE project, one of the developers made a program, based on the aforementioned 1.618 number, that can give forecasts for BTC. This program is now run by the heads of the BE community. For each forecast period, said members of BE community input data into the BE program, based on BTC's data at the time. Then the program spits out the forecast predictions for BTC, for that forecast period.
BE - Decentralization:
Bitcoin Enhanced aims to mimic the success of BTC's model, in that it will aim to be decentralized. Decentralization would benefit BE, as it has BTC, in that the coin should not be a legal entity tied to any country, thus giving the coin freedom from specific regulations of different countries. Not having an ICO is also a benefit, as it will hopefully mitigate the risk of owners selling their coins cheaply, due to receiving a large ICO discount, airdrop, etc. This also makes it more difficult for one person or authority to buy/receive the large majority of coins, thus somewhat protecting against a possible form of centralization. Also, "like Bitcoin, the coins will use open source code across a distributed network" (Bitcoin Enhanced Whitepaper, p. 12).
Risks:
There are some risks associated. However, almost everything has risk. "Bitcoin Enhanced has two major risks. The first is the assumption that the value of Bitcoin is likely to continue to rise for the foreseeable future. The second is the assumption that Bitcoin Enhanced can continue to forecast periods of falling prices. Both these assumptions need to be true in order for Bitcoin Enhanced to be a store of value for owners of the coin" (Bitcoin Enhanced Whitepaper, p. 12). A 60% forecast success rate is expected/estimated. 60% should still be a great success rate, in that traders can be argued to be able to make consistent profit, even at a 60% success rate, or even lower in some cases.
More articles about Bitcoin Enhanced details and technology soon to come!
For more information, including the BE white paper, visit bitcoinenhanced.io
Important Notes:
I am part of the Bitcoin Enhanced team and am compensated by Bitcoin Enhanced on a consistent basis, in BE coins.
At the end of the day, readers need to make their own decisions about Bitcoin Enhanced. This article was written about my opinions and my interpretation of data, which can be subjective. In no way am I claiming that I know everything, and therefore, independent research is required by readers. But hopefully I have given a good amount of content to assist in entertaining the public. BE could go nowhere in price or even go down. But it could also do very well. Decide for yourself based on the data and your own personal research. Nothing said, written, etc. is a recommendation to buy or sell anything.
(**Everything written, said, tweeted, etc. is based on my personal opinion, my interpretation of the data/material, and is not financial or investment advice whatsoever. I do not claim to be an expert. Articles may be subject to edit/update at the discretion of the writer)
Sources:
Bitcoinenhanced.io
Bitcoin Enhanced Whitepaper