South Africa To Get Its First Cryptocurrency ATM
A week ago I posted an article about Zimbabwe rolling out cryptocurrency ATMs and now it looks like it the trend has gone South of the border and reached Mzanzi.
South Africa is due to get its first cryptocurrency ATM this week, despite the country's lack of knowledge about it among the population. It is claimed that users will be able to buy and sell cryptocurrencies at the ATM, and exchange cash for cryptocurrencies without a bank account.
The ATM which was imported from Portugal will be able to process various forms of cryptocurrency tokens including Ethereum and Bitcoin.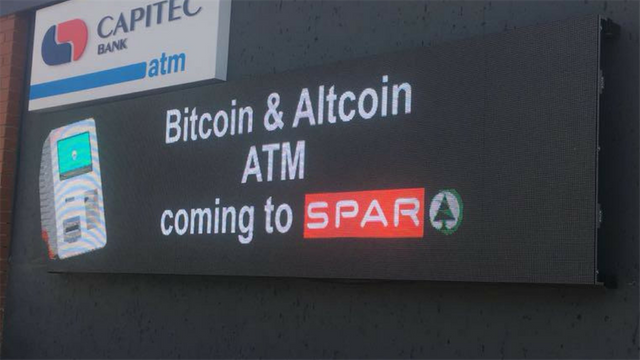 Ad for ZA cryptocurrency ATM coming soon
The businessperson behind the ATM hopes to expose more people to the world of digital currencies and give them an opportunity to add some Bitcoin, Dash, Etherum, or others to their digital wallets.
According to Northwold Spar general manager George Neophytou, the biggest problem with cryptocurrency adoption in South Africa is that people do not have enough knowledge about it.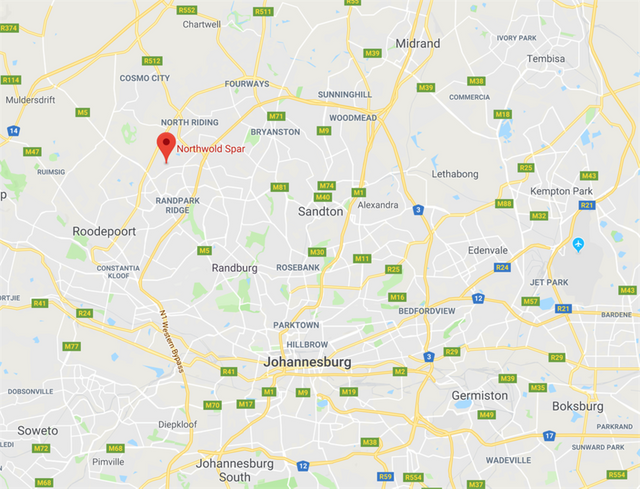 The location of South Africa's first cryptocurrency ATM
Current South African Cryptocurrency Options
There are still only 1 200 businesses in the country who currently accept cryptocurrency with South African online payment provider payfast claiming that they are able to accept Bitcoin payments on their website.
How to use the cryptocurrency ATM
If you would like to try it out you will first need to purchase a cryptocurrency and South Africa currently has 2 exchanges that allow for fiat to cryptocurrency exchanges at the moment, they are:
Once you have your cryptocurrency you will need to place it in a Hot wallet which can communicate with the ATM. The ATM has a set limit of R50 so users can transfer a minimum of R50 at a time.
Excitement for a first in the country
Neophytou, however, was optimistic about the new venture, which is being installed at the Northwold Spar in Johannesburg. Neophytou said: "There are currently seven machines on their way and two in the country right now. With this new ATM machine, I am giving more people a chance to come and transfer some money, put it into their wallet and become part of the new generation."
With about 3 000 bitcoin ATMs globally, Neophytou also noted the importance of gaining more knowledge about cryptocurrencies.
"The big problem with cryptocurrency is that people can't see it. It's something that is in the air. When one tries to explain to somebody that you have R10 worth of bitcoin on your cell phone, they only see their physical R10 as more valuable," he said.
Neophytou added the new ATM machine served as a platform for people to see cryptocurrency as part of their reality."It's just like anything on the stock exchange. It goes up and it goes down. Cryptocurrency is the financial decision that everybody has to make on their own and it's a personal decision," he said.
Although this new venture is exciting, Neophytou warned that individuals should do their research and be aware and understand what they can get and also what they can afford to lose.
Reaction to the announcement
Economist Dawie Roodt was excited about the project, saying South Africans were "ahead of the curve with cryptocurrency". Roodt further highlighted that people saw cryptocurrency as an investment opportunity and a platform to avoid exchange control regulations."There isn't much trust in the South African economy and people want to put their money where they can protect it," said Roodt.
"The banking system in South Africa is also quite expensive. Although the cryptocurrency is also expensive, people would be keener to use cryptocurrencies because they want to be anonymous in what they're doing."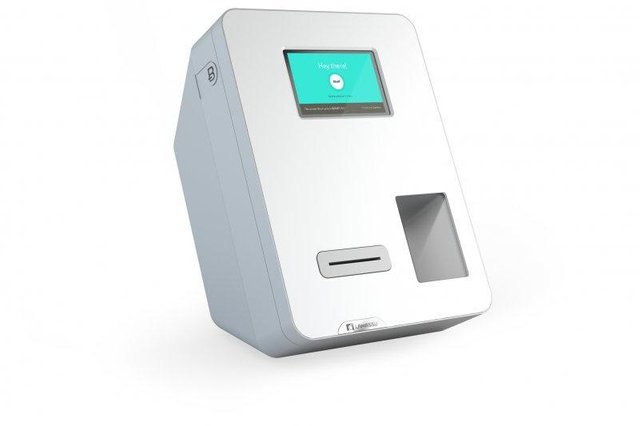 A graphic depiction of what the ATM possibly looks like
Tax on cryptocurrency
The South African Revenue Service (Sars) does not officially regulate cryptocurrencies in South Africa, but profit from cryptocurrencies are still liable for capital gains tax.
Crypto ATM roll out globally
There are an estimated 3,000 Bitcoin ATM's globally in 68 countries – including Zimbabwe and Djibouti in East Africa. Reasonable investment has gone into the launch of this venture as cryptocurrency ATM costs anything between around R100,000 to R170,000.
Motivations for cryptocurrency ATMs in SA
The banking industry is a bit of an oligopoly with no real disruption in recent years apart from Capitec looking to bank grey bankers but the introduction of peer to peer exchanges will be a brand new reality for many South African's.
There has been reasonable interest in cryptocurrency with companies like Luno taking first mover advantage and making it easier to own crypto in SA. That is being said there were not many options for you once you owned crypto in South Africa.
This will be the first cryptocurrency ATM trial in Johannesburg and depending on how well it goes Neophytou added that they will roll out more ATMs in the future.
Have your say
What do you think about cryptocurrency ATMs? Have you used one before? What are the service charges like? Does it make it easier when travelling? Will this start the ball rolling for mainstream adoption of cryptocurrency?
Drop me a comment and let me know what you think!
Let's connect
For more cryptocurrency and my opinion on the market feel free to follow me @chekohler


Sources: