A Look at Coinomi - Mobile/Desktop Wallet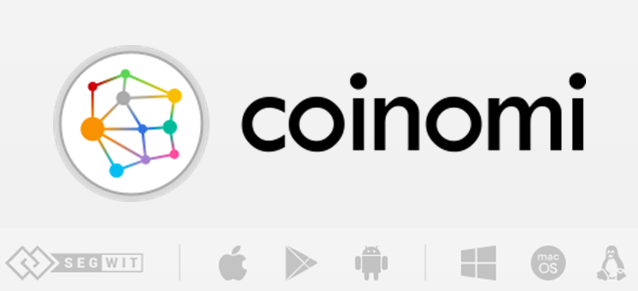 The number of cryptocurrency, altcoin and token, has increased dramatically over the past few years, helped in no small part by Bitcoin's crazy price surge in December 2017. Out of the thousands of cryptocurrencies listed on CoinMarketCap, 865 have a market cap of USD1 million or more, and 138 are priced at USD1 and above.
Where crypto enthusiasts and investors had previously focused on the main cryptocurrencies like Bitcoin and Ethereum, most have since diversified their cryptocurrency portfolio to include other altcoins and tokens. Due to convenience and to avoid possibly hefty transaction fees, cryptocurrencies are often stored on exchanges.
In 2019, between January to November, 7 major exchanges have been hacked, resulting in estimated losses of more than USD150 million. This does not taken into account losses suffered due to the sudden cessation of exchanges, as could be seen in the recent 48 hour closure notice given by decentralised exchange CryptoBridge.
Multi-Currency Wallet
A safer option would be a multi-currency wallet. The safest of these would no doubt be a hardware wallet or a cold wallet. Unfortunately, hardware wallets do not come free nor do they come cheap.
This is where Coinomi comes in. Launched in 2014, Coinomi is a free multi-currency HD (Hierarchical Deterministic) wallet that provides native support for more than 125 blockchains and full support for ERC20, Omnilayer, BEP2, TRC10 tokens and NEM Mosaics.
Coinomi is available as a mobile wallet on both IOS and Android, as well as a desktop wallet on Windows, Mac, and Linux. Users have full control of their private keys which are stored on the device where the wallet is installed. As a non-custodial wallet, Coinomi does not fall under the scope of the new European Anti-Money Laundering laws and is not required to implement Know Your Customer (KYC) verification.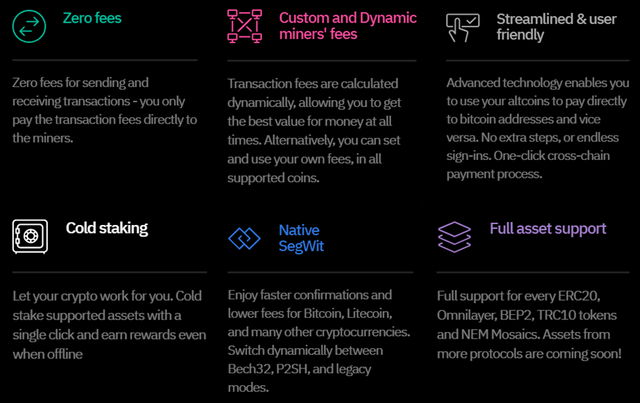 Full control of the private keys means that users will have access to any forked coins that occur on the supported blockchains. While Coinomi may not have support for the new coins, users can claim the forked coins by exporting their private keys to any wallet with support for the new coins. Always ensure the original coins have been transferred out before exporting or sweeping any private keys for forked coins.
Transaction fees for sending and receiving are calculated dynamically at the point of the transaction with zero fees imposed by Coinomi. More advanced users can choose to manually set the transaction fees to their desired level and in accordance with their requirements.
Built-In Exchange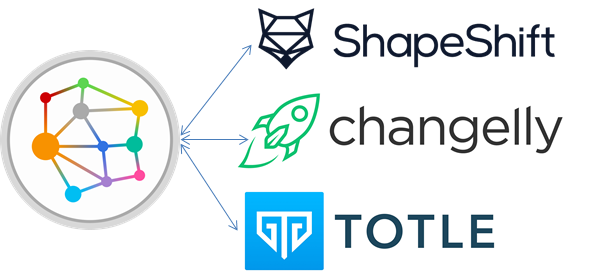 Built-in Third Party Exchanges on Coinomi
While traders would most likely prefer to do their trading on major exchanges, non-traders would be pleased to learn that Coinomi has 3 exchange options built into their wallet: Shapeshift, Changelly, Totle. Using these 3 exchange platforms, users can quickly and easily swap between supported cryptocurrencies and tokens without having to go through the hassle of transferring their holdings to a traditional exchange and waiting for their order to be filled.
Of the 3 platforms, only Shapeshift requires KYC verification though Changelly may require KYC verification if a transaction becomes flagged for potential suspicious activity.
Direct Purchase of Cryptocurrencies

Selecting Buy Crypto with Credit Card in the mobile will bring you to Coinomi's website
It is also possible to purchase cryptocurrencies on Coinomi with a credit or debit card through a third party payment processing platform known as Simplex. Clicking on the Buy Crypto option brings users to the Coinomi website where supported cryptocurrencies can be purchased using USD or EUR. A minimum transaction of USD50 is required with a daily limit of USD20,000 for purchases.
Simplex accepts both Visa and Mastercard payments though certain Mastercard transaction may not be supported due to compliance requirements set by Mastercard. There are also restrictions based on [location]((https://www.simplex.com/kb/why-my-location-is-not-supported/). Users of Simplex must be at least 18 years old and possess valid government-issued identification documents. For more information, please refer to the Simplex FAQ.
Purchase Gift Cards With Cryptocurrency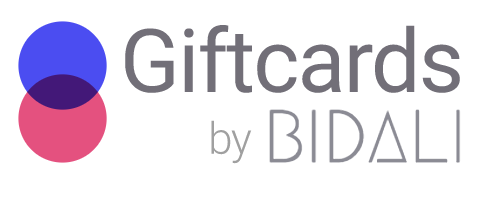 Coinomi does not have an option to cash out or convert your cryptocurrency holdings into fiat. It does however provide a comparable alternative through Bidali, a third party platform where users can purchase electronic gift cards using cryptocurrency.
Bidali carries gift cards from more than 150 merchants and brands. Gift cards are priced in USD/CAD/GBP/AUD but can be utilised in many countries. To avoid purchasing gift cards that are invalid, users can select their country from the drop down menu on the left to see the gift cards available for their country.
Controversy
In February 2019, a user imported the passphrase from his Exodus wallet into Coinomi's desktop wallet and discovered a security vulnerability. Due to the spell-check functionality, it was alleged that the passphrase was sent to Google in plain text and this resulted in the subsequent hack and loss of funds from the user's wallet.
This vulnerability was subsequently patched and an official response was issued by Coinomi on 27 February, essentially denying that the hack was caused by the spell-check functionality or the existence of a backdoor in their desktop wallet. The affected user has created a website detailing the incident and his version of events.
Conclusion
For a free mobile wallet, Coinomi offers a whole lot of functionality and convenience in one small user-friendly package. Other than the lack of a crypto to fiat option, the wallet is easily a one-stop solution for the average user looking to expand their cryptocurrency portfolio.
Since its launch in 2014, there hasn't been any major security issues with the wallet other than the alleged hack in February this year. Regardless, there is an inherent risk when using any wallet, especially hot wallets which, due to their connection to the internet, are susceptible to hacks. Coinomi is a hot wallet that stores the private keys on your mobile devices or computers. While the wallet can be restored using the recovery passphrase, it is simple enough to misplace a mobile device and put your private keys and funds at risk.
As a general rule of thumb, always keep large amounts of cryptocurrencies in cold wallets and only transfer the required amount to exchanges or hot wallets when the need arises or for ease of transaction. The convenience of hot wallets can never replace the security of cold wallets.
Follow me on @cgrave