Decentralised Exchange CryptoBridge Calls It Quits

Earlier today, CryptoBridge uploaded a post on their website to announce their impending closure.
Deposits will be closed effective 2359h (GMT) on 3 December 2019, merely 48 hours after the and all servers and services will cease after 2359h (GMT) on 15 December 2019. As of this post, all social media accounts have been deleted and users have just a little over 24 hours to salvage whatever they can before the curtains come down for good on CryptoBridge.
Launched in July 2017, CryptoBridge is a decentralised exchange, built on top of the Bitshares platform, that offered more than 100 altcoin trading pairs. At launch, the founders of CryptoBridge also created an altcoin, BridgeCoin (BCO), to serve as a source of funding for the exchange.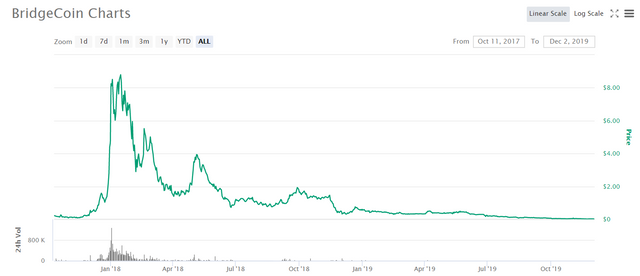 BCO Trading Chart on CoinMarketCap
BCO started out at USD0.22 in October 2017 before rocketing to more than USD8 in January 2018. At its peak, BCO hit USD8.79, a staggering rise of 3,995% before plunging below USD2 in April that same year. There was a mild resurgence in May 2018 but the altcoin's price continued to fall. Since October 2019, the price of BCO has rarely gone above USD0.05, more than 75% below its launch price.
It was in October 2019 that CryptoBridge made the highly controversial decision to implement mandatory Know Your Client (KYC) verification for all users. This move was denounced by most of its users, with some calling for an outright boycott of the exchange. Things went from bad to worse in November when CryptoBridge announced a mass delisting exercise scheduled for 25 November 2019.
A total of 164 altcoins were flagged for delisting due to lack of trading volume and project development. This understandably resulted in a massive backlash from the crypto community. Given the many missteps over the past few months, it is certainly not surprising that the troubled exchange has decided to call it quits.
According to the notice by CryptoBridge, all users have to withdraw their crypto assets from their platform. However, users will need to complete the KYC verification process before any withdrawals can be made. Users who cannot or will not comply with the KYC verification may very well lose all their crypto assets on CryptoBridge.
Follow me on @cgrave