CateredContent.com - Write, Share, Earn ~ Earn Cryptocurrency For Writing ~ Earn Real Money Now!
CateredContent.com allows users to earn cryptocurrencies for writing!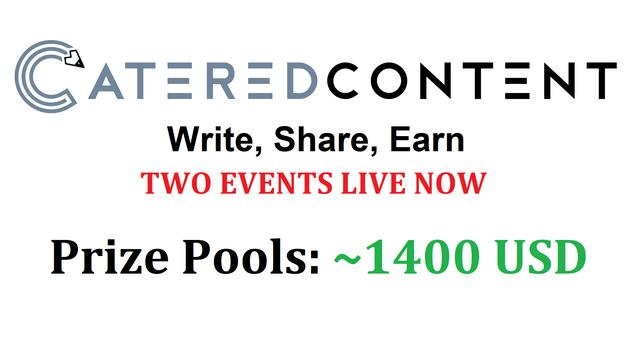 How does it work?
It's simple. You make an account on CateredContent.com and participate in various bounties and contests to earn cryptocurrency! The available events have all the pertinent details such as prize pool information and deadline!
Everyone who participates will win, with better articles earning more!
There are two events live right now as well with a total prize pool of ~1400 USD worth
(That's 400 STEEM and 60,000 GTH!)
Step-by-Step Instructions
As an example, currently there are two live writing contests that are running.


Step 1: Make an account. (This should take 5 seconds)

Step 2: Pick an event you want to participate in. (For example, let's go with the Gath3r event currently running)


Step 3: Once you click on the Gath3r Writing Contest you will see a description of their project as well as the prize details.


Step 4: Scroll to the bottom of the page and click the big green button that says "SUBMIT AN ARTICLE FOR THIS EVENT"!


Step 5: Pick a social media platform from the dropdown and submit your link!

Don't forget to make sure you have your wallet information filled out in the Profile Page so we can send you your prize after the event!
Got questions?
Fire away! We are more than happy to help you answer any questions you may have!