Gold is money.
"Because it has been money for the last 5000 years."
That is what the gold bugs state.


But, is it really the case anymore?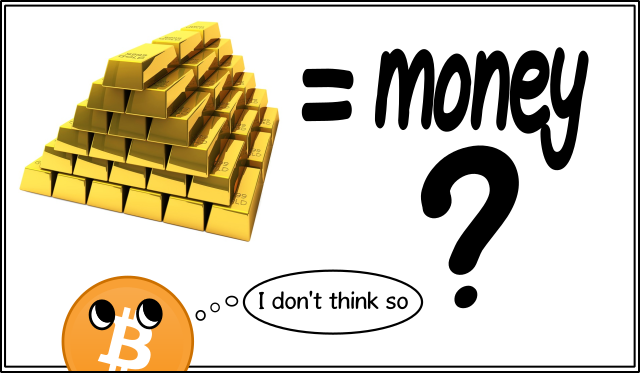 The Seven (Old) Aspects of Money
| | | | |
| --- | --- | --- | --- |
| | Gold | Fiat Paper | Crypto |
| Durable | Very | Up in smoke anyone? | |
| Divisible | Sorta | We still got pennies | |
| Convenient | Its heavy, but could be worse | Easy folding | |
| Fungible | As long as its not fake | As long as its not counterfeit | |
| Rare | Not really | can we say hyperinflation? | |
| Posseses value in and of itself | Its a pretty yellow rock | Its a piece of paper | Its the only one of its kind in existence. |
| Long history of use | But its fallen off in the last century | Yes, but it has been going to zero for a couple of centuries now | Only a decade. |
The Future Aspects of Money
Gold
Fiat Paper
Crypto
Can be transferred anonymously?
Yes
Yes, as long as you use cash
Can be transferred with full disclosure?
No
Maybe
Can be checked for known quantity?
Has anyone been in Ft. Knox lately?
Nobody has a clue
Transactions are verified?
Nope
Nope
Works when the power is out?
Not in this country
yes
Maybe
Can be sent around the world?
Nope
Sure, but it'll cost ya
Doesn't need a bank or an assayer?
Nope
Nope
Can be put into escrow without a third party?
What?
Nah uh
Smart contracts?
Nope
What's that?
Exchange for other currencies
Atomic swaps
Its gold, its accepted most places
Find a money changer, or ask your bank to do it for a "small" fee
It will become seemless.
Energy friendly?
Grind up a ton of rock to get an ounce.
One of the largest expenditures of energy on the planet, outside of war
Getting better with POS
Can go to the moon?
Why would you waste the fuel?
Its only paper, but it still has mass
Both literally and figuratively
There are a lot of people in the precious metals camp who have, because nothing else was close to as good, have come to believe that gold is the only thing that is money. However, now that cryptos are in existence, gold becomes a pretty rock. It no longer has what it takes to be money. And, the major innovations in cryptos in the coming years will nail this point home.
Gold is hard to use even in countries that love the stuff. You have to find an assayer to certify it and a buyer for it. (Yes, these people are doing a quite the business in Zimbabwe) Fiat paper is getting harder to use. Want to pay your utilities? Well, there usually is a building in town that takes cash payments. Want to pay your internet provider? Now this gets difficult. You have to convert your fiat paper to bank money and use a gateway like a credit card.
When the business wallets get built, accepting cryptos will be the easiest thing that businesses ever did. They can go without the great big (and expensive) safe. They can go without the merchant processors and their fees. They can handle refunds straight to the customer. They can't be defrauded by credit card scams. Although, a whole other level of security needs to be invented for the private keys.
Soon, gold and fiat paper will not be money. Not because they have failed in what they did, but because their usability will be so minuscule in comparison to what cryptos will become.

All images in this post are my own original creations.