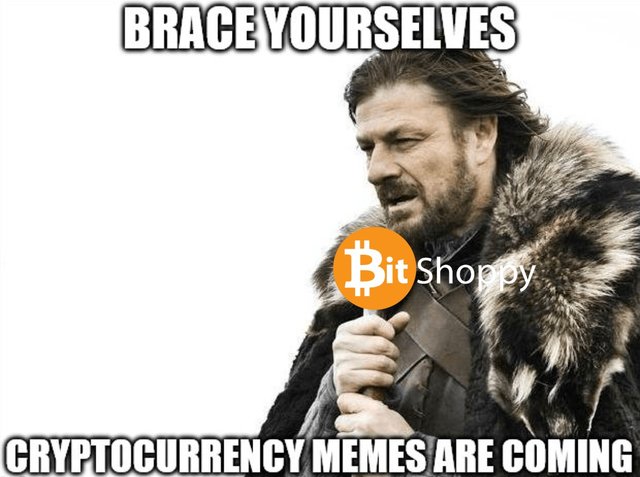 Bitshoppy is an online store built for the Steem community and its now launching an amazing crypto-meme contest. All of you can win your a piece of the $500 prize pool.
Everyone is invited to join the contest and all you need is a Twitter account!
Taking part in the contest is very simple: Just send your crypto-meme to our email ([email protected]) indicating your twitter username and that's all, you are in!
How is the Crypto-Meme contest is organized?
The contest will start on September 1st. During 4 months we will select the best Crypto-Meme of each month, having a total of 4 winners (The Final Four) at the end of the contest. Each monthly contest is open to everyone, so every month is a new chance to win!
Our team will pick the Top 3 Crypto-Memes from all monthly participants and it will be shared in our official Twitter. Also, a public poll will be opened (48 hours) for the community to vote for the winner. The winners will receive a FREE T-shirt with the winning Crypto-Meme! The winner's T-shirt will be available for sale in the store!
THIS IS NOT ALL!
There will also be a raffle between all the people that submitted their votes on twitter. At the end of each month, Bitshoppy will do a T-Shirts giveaway to thank our voters for their support. Winners will be announced on twitter as well.
So, it's free and we encourage you to send us your crypto memes or stay tuned to submit your votes!
And there is more...
Once the winner of December is announced, The Final Four will battle again for the final price. If the same person has won several months, the second most voted will pass to the final round.
FINAL PRICES:
Winner of 2019: $250 in Store Credit + Free Crypto-Meme T-Shirt
Second place: $150 in Store Credit + Free Crypto-Meme T-Shirt
Third place: $75 in Store Credit + Free Crypto-Meme T-Shirt
Forth place: $25 in Store Credit + Free Crypto-Meme T-Shirt
Bitshoppy's Promotion For The Steem Community!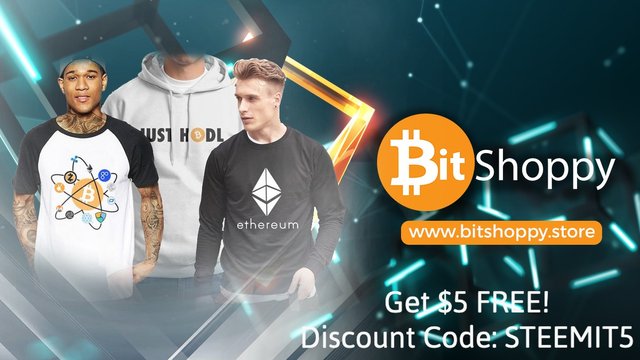 We are really excited to get people involved and would like to thank you for your support, offering a one time discount for all Steemit readers! We give you $5 FREE in your first purchase.
To claim this discount, you have to introduce the code "STEEMIT5" during the checkout process and the discount will be automatically applied.
We strongly recommend following our Twitter account if you want to stay tuned about news and promotions, and don't forget to vote for your favorite crypto-meme!
About Bitshoppy
Bitshoppy was founded by a group of Steemit investors and our goal is to keep the Steem community engaged and bring value to the platform and coin. We believe in the power of Steem!
Visitors can navigate through our store and choose from a large variety of crypto merchandise. Check out our catalog!
Note that every other store purchase will be considered a contribution to the Steem community. When you buy a T-Shirt or any other product in the store, somebody else will earn one for FREE in our giveaways.
STEEM TO THE MOON!
Official links
Online Store: Click to access
Twitter: Click to access
Facebook: Click to access
Instagram: Click to access