Learn about Crypto and Earn Digital Assets - GrowYourBase.io
About 6 months ago, I wrote about a relatively unheard of project called GrowYourBase, that was built upon the AC3 Token:
https://steemit.com/cryptocurrency/@bdempsey/the-new-earning-economy-growyourbase-io-dapp
I wanted to revisit this topic because GrowYourBase has not only survived the crypto winter, but has actually taken some impressive ground in building out a new industry altogether. GrowYourBase began as an advertising platform where any user could register as an Earner, who earns AC3 tokens by engaging with marketing materials put out by brands on the platform. These can be as simple as signing up for an email list, reading tweets and following, watching YouTube videos, and visiting websites for the various companies. These tokens are then used by the earners to buy digital products or services that these companies offer, all of which are listed on the GrowYourBase site:
https://www.growyourbase.io/?referral=16369904
While that was a pretty neat concept to start off with, what they've done these past few months is nothing short of groundbreaking. GrowYourBase has created campaigns for projects that offer blockchain based digital assets, which can offer income streams or appreciate in value over time. Basically, earners are now spending time watching videos and learning about new projects that offer unique digital assets, and then receive AC3 tokens that can be used to buy those assets.
Some of the examples include:
Vezt - A mobile app that offers fans the ability to buy rights for songs and recordings, and earn royalties, all of which is tracked on the blockchain.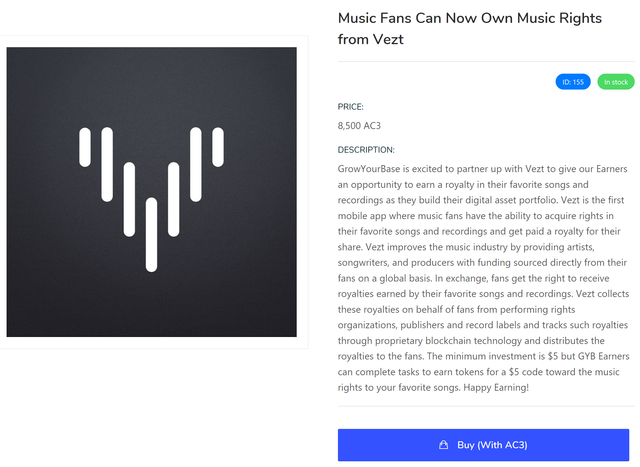 Masternodes: Divi, 1X2Coin, Axel and Bettex - Each of these campaigns allows earners to learn more about how masternodes work, while earning AC3 tokens that can be used towards their purchase or configuration of their very own.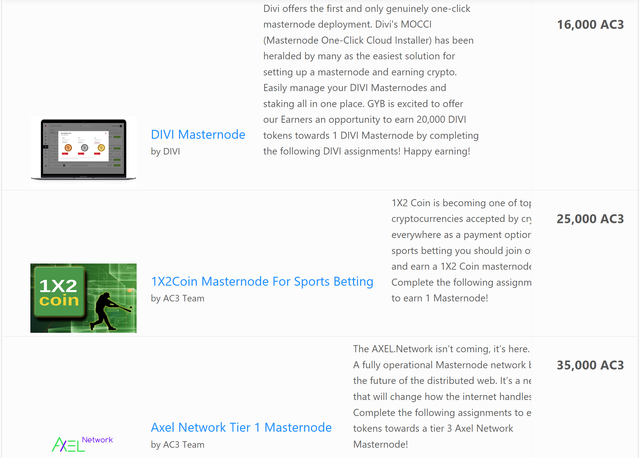 BuildingBITS - A blockchain based real estate platform that allows users to buy token based ownership in rental properties, that then allows them to earn monthly rents.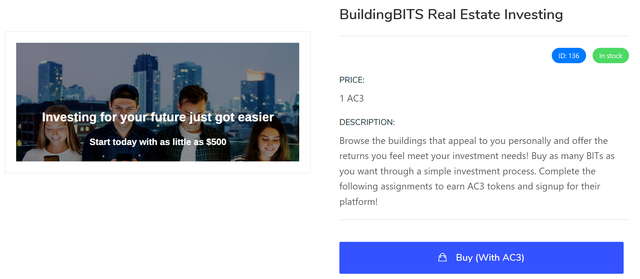 Unstoppable Domains - Another very interesting earner opportunity, this one allows you to learn about human-readable names that replace the cryptocurrency addresses we have all gotten used to. Web addresses can already have real value if you own the right ones, and soon branded cryptocurrency addresses could become the same.

I was initially impressed with their take on earning based advertising. Brave has been attempting to get into this space with their Basic Attention Token, but it is still questionable whether that will be rewarding for both advertisers and readers. GrowYourBase seems to have solved this as they keep regularly adding more campaigns. This is a very strong indication that they have a formula that is bringing value to both brands and earners. As this is all wrapped around the AC3 token, this could also be very favorable for future pricing if demand takes off.
GrowYourBase works best on a desktop computer at this time. It does sound like some work is underway to create a mobile app. If this does go mobile, it should do some pretty exciting things due to increased audiences and earner base.
I encourage all of you to do your own research and sign up for your own free account at GrowYourBase. Once you have registered, you can access your own referral link under Settings.