Every Friday the Auxilium Global Team has a meeting with blockchain partner Applicature to discuss the latest developments.
We're preparing AUX cryptocurrency for a major exchange listing. In order to check all requirements everything needs to be in tip top shape.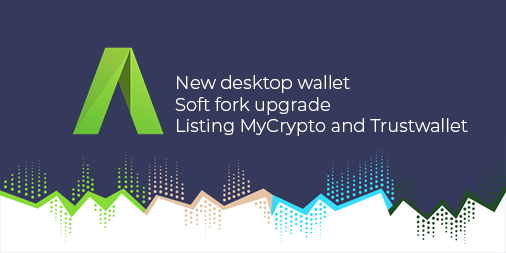 As a result there are many positive developments!
So, what's the latest?
New desktop wallet
The new desktop wallet works, and will have every functionality Ethereum has. Including the smart contract functionality which is very important for future use cases.
Other functionality contains: viewing and sending, creating new wallet, contracts, signing and verifying messages, checking tx status and broadcasting transactions. Also the wallet is supported in different languages.
Next week we'll work on the final branding of the wallet and we'll run some extra tests to make sure everything works properly.
When finished we'll update you and upload the wallet on the website.
Upgrading AUX with soft fork
A soft fork (not a swap or anything drastic like that) will be necessary to upgrade the Auxilium blockchain and network. We've successfully implemented the changes and we'll set-up a TestNet soon to properly test this upgrade. The TestNet makes it possible for us to test while the MainNet stays online.
This soft fork won't require any actions from the community. This means we expect you'll not have to undertake any actions in order to upgrade.
Why are we upgrading?
One of the most important reasons is to set ourselves apart even more from other Ethereum forks. Auxilium is a coin (not to mistake with an ERC20-token) already has its own independent blockchain and network. The upgrade will for instance open doors to get listed on Multi-coin wallets, including a mobile wallet. Which we certainly plan to do straight after we completed the soft fork!
Listing AUX on multi-coin wallets
The two wallets we're aiming to get listed on are MyCrypto.com and Trustwallet.com
 - MyCrypto.com
This is a multi-functional Ethereum fork and Ethereum token wallet that for instance can be used in the browser and as desktop wallet.
 - Trustwallet.com
This is a mobile wallet and the official cryptocurrency wallet for Binance. Trustwallet already listed cryptocurrencies like Bitcoin, Ethereum, VeChain, Tron, Stellar amongst other top cryptocurrencies.
In short: exciting technological developments which will have many positive effects short-, mid- and longterm.
"Upvote" if you want to show your support for Auxilium!
Interested in reading more?
https://auxilium.global
Want to buy AUX?
https://mercatox.com/exchange/AUX/BTC