How I doubled my investment in 4 weeks and now have a passive income getting dividends every month 💰 ❤️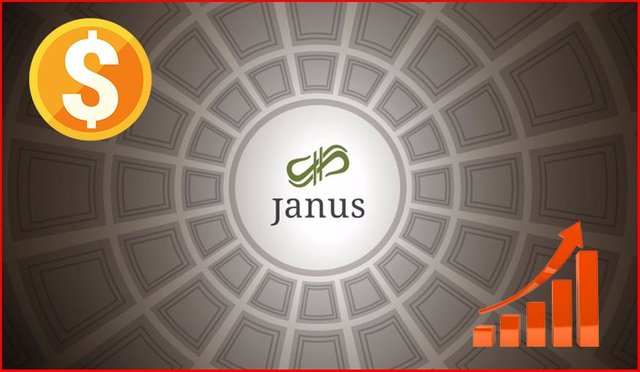 As you may know, I am part of the incredible NXT Community. They do not fail to surprise me and always deliver great projects since 2013. That's the reason why I came accross this new project called JANUS, building on NXT and I invested in it.
I bought a bunch on the NXT Asset Exchange for around 4.5 k satoshi a piece. Today, 4-5 weeks later, its woth over double of my investment in BTC (around 9.5k satoshi). And with Bitcoin rising, it is even way more. Just do your math :)

Source: Coinmarketcap
Just look at that market cap! There is still big potential for a rise as soon as word gets out.
And the best part: I get paid dividends in NXT every first of the month. I already received my payment on the first of May. And today my second dividend payment will be on my NXT Wallet in a few hours:
 Janus monthly profit share will be sent today, between 10am-3pm EST. Be sure to hold your $JNS in your personal wallets or StocksExchangeR
Source: Janus Twitter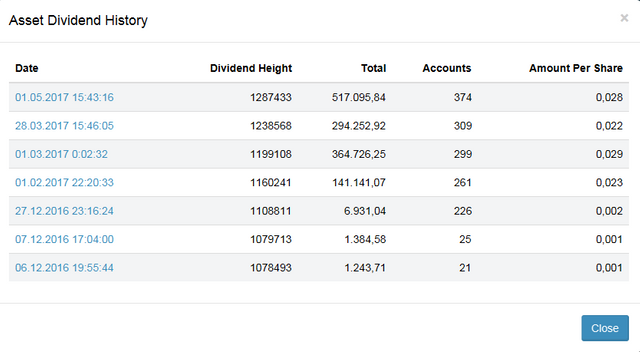 So, if you are not already invested, you should check it out and buy some if you want. But be quick about it if you want to be part of todays dividend payment. I will tell you where to buy down in the post.

What is Janus?
The Janus project is about creating platforms which target carefully selected markets and leverage the social fabric of the internet to  attract audiences and capture market share, resulting in a business which can deliver substantial profits to it's investors.
In other words: They are a business creating new projects that bring in profit that is then shared between all asset holders in form of monthly dividend payments. How smooth is that?
For more info on Janus make sure to visit:
Website: https://janustoken.com/
Bitcointalk: https://bitcointalk.org/index.php?topic=1677509.0
Or just join the community in the slack channel. Great NXT and JANUS community members are active there and are always ready to help you:


Slack: https://nxtchat.herokuapp.com/
Where and how can I buy Janus?
While there are a few markets where you can buy Janus directly for Bitcoin (Janus Markets), I prefer to directly buy it through the NXT Asset Exchange. But at the end its up to you.
Either way, you should hold your JANUS in your NXT wallet, because that's the only safe way to make sure you don't miss out on dividend payments.
Here is how to do it step by step:
Download an install the NXT wallet: https://nxt.org/download/
After installing the wallet, start the NXT Server (Shortcut should be on your Desktop) and then the NXT Wallet (Shortcut should also be on your desktop)
A Window should open that looks something like this:
Click on "New? Create Your Account"
Now write down the passphrase that was generated and keep it in a safe place. Without it you won't have access to your NXT and JANUS funds. Very important!
Click "Next" and log in using your new generated passphrase.
Now your wallet should look something like this:
Now on the left side click on "Asset Exchange" and then on the right side upper corner on "Add Asset":
Now paste the JANUS Asset ID in the popup: 4348103880042995903 and click the "Add Asset" Button.
Bingo! Now you can buy, trade or hold Janus Tokens in your NXT Wallet. Read on!
If you already bought Janus on an external exchange, then you just need to send it to your NXT Wallet using your NXT account ID. You can find it on the upper left corner of your wallet and should look something like this:  NXT-NHV4-689H-ZQXB-BW7F7 (Careful, this is just a demo address. Please use your own address showing in your wallet).
If you want to buy Janus directly through the NXT Asset Exchange, then you need to fund you account with NXT first. You can buy NXT on any of the major exchanges like Poloniex or Bittrex for a good price right now.
That's it! You are now a Janus Stakeholder and will receive dividend payments on the beginning of every month! And you are also part of NXT, one of the best cryptos out there.
Did you know NXT was the first Crypto 2.0 and was ones 3rd on coinmarketcap? Well, maybe you should consider holding some NXT too. Because things are about to get crazy again and big projects based on NXT are coming (like ARDOR, IGNIS and ADEL).  Come join our community to know more before everone else does. Or just follow me here :)
If you have any questions, don't hesitate to ask. And if you liked this post please VOTE UP, RESTEEM, COMMENT and FOLLOW @askaran for more crypto/investing tips, news and daily life posts!
 PS: This article only represent my opinion. Only risk money that you are willing to lose. There are no guarantees of return or profit. Please be warned, crypto is wild and sometimes unpredictable.