What is Crypterium?
Crypterium is a cryptobank, that unlike conventional banks, it's instant in processing payments and accepts fiat and cryptocurrency.
---
Potential market
Cryptobanking has a huge 10 trillion dollars market potential.
---
How will they do this?
Well with their virtual bank that has integration in every payment system (Paypal, Apple Pay, Samsung Pay, Android Pay etc...), lower fees than normal banking , in comparasion a traditional bank has up to 5% fees, Crypterium has only 0.5% fees for paying and 0% fees for converting from currency to currency.
30% of Crypterium's transactional income will be shared among token holders and active users.
Traditional banks are slow and transactions confirmations could take 2-3 days, on Crypterium everything is instant or in minutes.
---
Open
Crypterium is a company that is thinking for the future, that so they will launch Crypterium API so that new companies will can build their products using Crypterium API. The API includes:
Cryptocurrency wallets
Cryptocurrency exchanges
Cryptosystems for payments on and off-line
Loyalty programs
Payments with the use of cryptocurrency and tokens
Information retrieval
Automated regular payments
Billing
Receive automatic notification of transactions
---
CrypteriumSX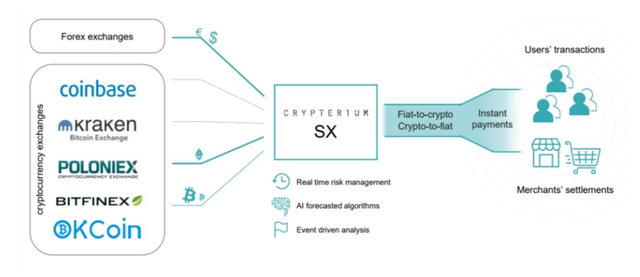 What is CrypteriumSX?
Here you can aggregate every currency or cryptoasset you own. Crypterium dosn't have access to them but can still debit them throught CrypteriumSX.
---
ICO
You can buy tokens now and get a share, you'll be able to trade them aswell! You have until the 13th January when the ICO will be over and all unused tokens will be burned.
Upon launch, a single CRPT token is valued at 0.0001 BTC
---
For more information
crypterium2017