BTC/USD target reached
In my last post, I have already addressed the bull trap and in the penultimate post an accurate forecast to the target of the sellers drawn in.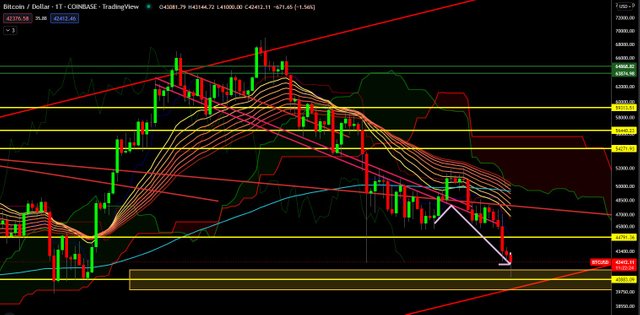 This target was hit with pinpoint accuracy today at US$ 41200 (yellow box)
Sellers should now consider closing their shorts or taking profits if necessary.
Now the cards are reshuffled.
I wish all continue "happy trades"

Disclaimer
This post contains affiliate links that help me educate myself.
If you make a purchase through one of these links, I will receive a commission. Certain decisions are not influenced by this.
Cryptocurrencies: buy/sell/trade
► FTX: https://ftx.com/#a=cultusforex
► Bittrex: https://tinyurl.com/y3628ckl
► Bitfinex: https://tinyurl.com/yc4blgny
► Bitpanda: https://tinyurl.com/y3a8s2xl
► Anycoindirect: https://tinyurl.com/yxm34stz
► Cryptopay: https://tinyurl.com/y5ov8nzr
► Coinbase: https://tinyurl.com/yef6rwa4