OnePageX - The Simple Cryptocurrency Converter!

Since the beginning of the crypto-money revolution, the advances that are involved are going at such an accelerated pace that most users are unable to adapt and end up losing themselves in the great sea that is the blockchain. Originally, operations with crypto coins began with bitcoin in 2010, where users made transactions between purses quickly and securely, but in turn lost large amounts of assets due to ignorance of the use of this technology, since people were often the object of deception by exchanges with dubious reputation, which stole money from users and then closed without giving further explanation.
Subsequently, alternative currencies to bitcoin emerged, known as altcoins, the first of its kind being the ethereum with a technological proposal that employed the use of intelligent contracts. The projects arose and developed as grains of salt and the amount of crypto coins quickly surpassed the amount of 2000 different types, which were supported by communities and had different uses and applications.
The first time users had different types of crypto coins and in many cases wanted to exchange between the different pairs to take advantage of specific characteristics and business opportunities, but these changes in many cases turned out to be very complex involving the large exchanges that operated with a limited number of pairs between crypto coins.
This is how easy to use and implement alternatives arise in the market, where the changes between different pairs were made in a simple way for all those users with little computer knowledge but eager to immerse themselves in the technological revolution of crypto coins. This is how the onepageX project came about.
About the project onepageX
---
OnepageX arises from the need to perform simple, fast, anonymous and secure operations between different types of crypto currencies without the need for complicated registration. With more than 140 crypto coins available and a team working continuously to implement improvements and include more pairs of crypto coins, onepageX is positioned as the number one exchange site in the market.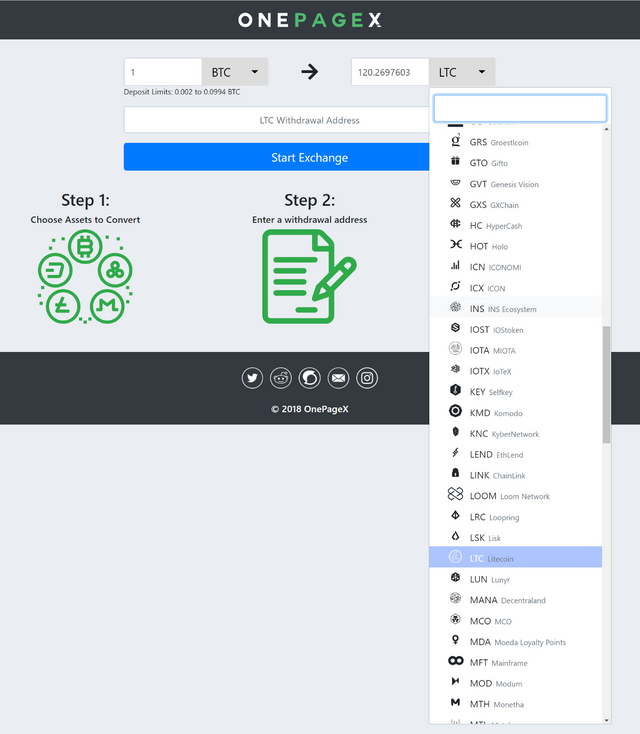 Source
Advantages in the use of onepageX
---
The operations are carried out quickly without the need for registration.
The system automatically sets the best exchange rates between crypto currencies on the market.
When generating transactions the system generates a URL, which allows us to track operations in real time.
The commissions for the operations carried out are extremely low, which allows us to obtain much better profit margins compared to the use of traditional exchanges.
The system allows us to exchange with a wide variety of crypto coins, many of which occupy the top positions in the coinmarketcap.

Source
OnePageX Widget
If we thought that onepagex could not be easier and faster, because we have made a mistake because onepage has a widget that facilitates integration to websites for faster and safer exchanges.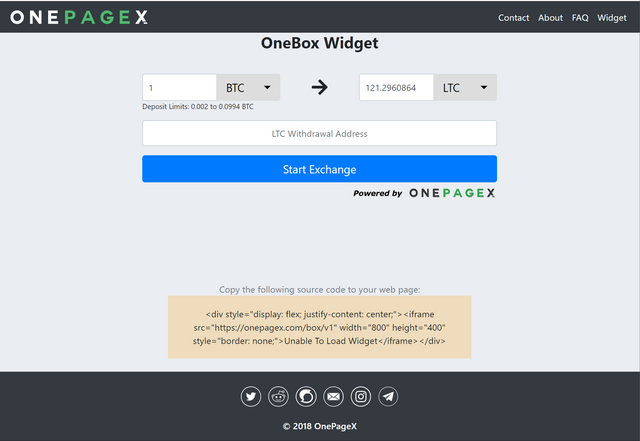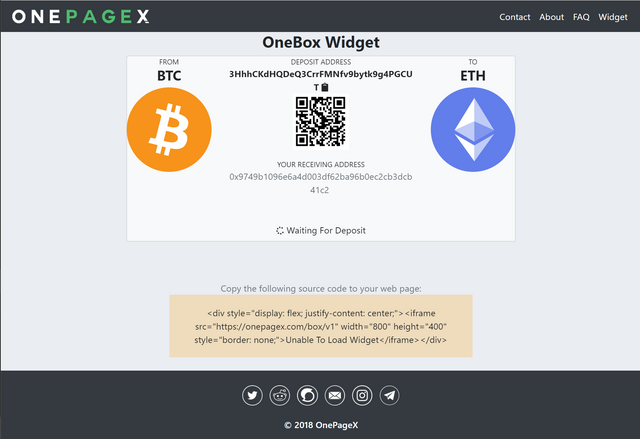 Source
Use case
Tingu is a cosplay lover, but he doesn't like that his close friends in the world of crypto coins can track his costume purchases with cryptoomedas and ruin his surprise at comicon events. That is why he is a user of onepageX, which allows him to change his BTCs anonymously to Doges, which are deposited directly to the wallet of his provider in a simple and secure way.
Now tingu surprises everyone at events with the most unique and unexpected costumes. All thanks to onepageX


Source
My video
My Tweet link:
https://twitter.com/tingu23/status/1054868463611723781
More Information and Resources
OnePageX Website
OnePageX Steemit
OnePageX Reddit
OnePageX Twitter
OnePageX Instagram


Source
This publication is a participation in the @OriginalWorks writing contest.
This is a @originalworks sponsored contest. Here is the link to the post
onepagextwitter
onepagex2018