GRAFT - Let's Talk About The Payment Solution That Will Make Cryptocurrencies Ubiquitous At all Payment Terminals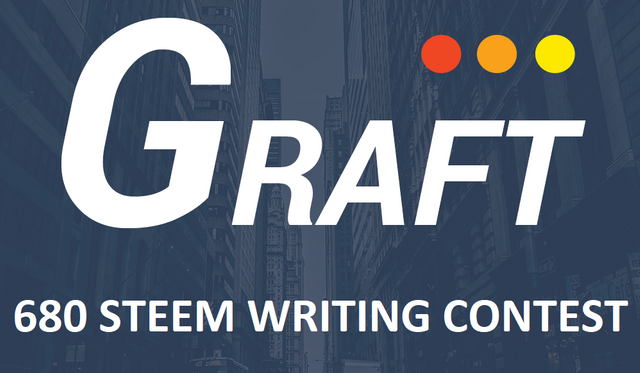 Image credit: @originalworks
---
Introduction
Cryptocurrency is still in its infantry, even though it is about a decade since we have been introduced into this new space. It seem sometimes that we have seen it all, nonetheless, there is yet more to be harnessed from blockchain and cryptocurrencies. A large number of people are getting initiated into this space but there are still challenges that has prevented this technology from reaching its full potential.
Cryptocurrencies are the digital equivalent of our regular currencies. However, there is yet to be widespread acceptance for them. Let me share my personal experience.
I was heading home from a function and saw a pair of shoes in a boutique on my way. It was an oxford and my enquiry from the store attendant revealed that it costs about an equivalent of $100 to purchase the shoe. I was barely with $3 and it was my fare. I had enough STEEM worth more than I needed, but alas, it is not accepted. It's either Naira (my local currency) or debit cards, none which could suffice at that instant.
Getting Naira will require that I convert my STEEM to a more universal Cryptocurrency – ether or bitcoin - and then to Naira. The process takes hours to finish and waiting was no option. Other instant alternatives are rip-off and are not worth trying given the volume of my required fund.
It all turned out that my desire to own the shoe remain a desire – I could only wish. I had the potential to purchase the shoe, but I couldn't, yet I could have, If only what I had was acceptable. Surely, one time or another, you have been in my position, with enough Cryptos but no quick way to spend it. But what if that is about to change? Isn't that exhilarating? Well, that is in fact already changing. Let's see how.
GRAFT – The Payment Solution
Considering the above, GRAFT is a decentralized payment processing network that will disrupt the payment industry. It focuses on facilitating business outlets to accept Cryptocurrencies as a mode of payment without the need for new payment infrastructure. GRAFT achieves this by integrating their payment scheme into the existing payment system of the business outlet, saving them the need of investing in new equipment.
Moreso, this integration will change the way we interact with cryptos by making cryptos ubiquitous, ensuring that every outlet supports such payment mode with ease and affording customers with the opportunity to spend their cryptocurrencies anytime and anywhere.
This ability for merchants to sell for any currency and consumers to buy for any currency provides merchant with payment flexibility, which meets the costumer's required convenience with respect to payment. This also enhances cashless policy, precluding the chances of money theft for both the merchant and the customer - a win win situation.
As noted earlier, the need for this ecosystem stems from the little acceptance that cryptocurrencies have received from merchants. The fact is that crypto-holders, the customers are willing to spend in their cryptocurrencies but only few outlets are willing to receive such form of payment.
According to survey conducted by GRAFT themselves, merchants believe that the acceptance of cryptocurrencies as a mode of payment will improve their marketing since customers are in demand of outlets that accepts such. They also conceded that it will bring about reduced transaction fee.
With that being said, it is conspicuous that merchants understand the potential lock up in the world of Cryptocurrency. Notwithstanding, these are not enough to galvanize them to adopt such mode of payment as there are still outweighing challenges.
The same survey identifies these challenges to include, Integration of the crypto payment system into the existing infrastructure, Transaction charges, delays, erratic nature of cryptos and Instant FIAT payout.
Integration Into Existing Infrastructure
One possible constraints when any organization is shifting from one technology to the other is the expenses associated with getting new infrastructures for the new technology. When such expense outweighs the benefit, the company prefers status quo. Thus a convincing approach is to have a technology that can operate on existing infrastructures.
CRAFT understands this fact and are working towards integration of their payment system into existing payment systems, basically Point of Sale machines. As a sign of veracity, GRAFT is currently working with leading payment terminals, Ingenico and Verifone, in a bid to incorporate their payment techniques into the payment terminals of these brands. Check out this Integration of GRAFT's in the verifone terminal in the video below.
Cryptofind App – Making the buyers find the sellers.
Being able to be integrated into existing payment system is one sigh of relieve for the Merchants, but how do the customers find outlets that are now receiving crypos as a means of payment. GRAFT's Cryptofind is a location App that serves as a pointer to crypto-holders as to where they can spend their digital earnings. This is also good news for the Merchants as it is a good way of marketing their businesses.
Cryptofind is available both on Android and iOS.
Point of Sale and Wallet Apps
Aside being able to be integrated into existing payment systems, GRAFT can stand alone. With GRAFT's Point of Sale mobile App which is built across Android and Is platforms. This POS App is capable of handling various cryptocurrencies and thus eliminate the need to maintain multiple wallets.
This POS App is particularly useful for small businesses that do not have existing payment infrastructures. The App basically allows the Merchant include all their products with corresponding details, price especially. When a customer makes an order, the merchant selects the items and proceeds to checkout where the buyer can easily make payment using the GRAFT mobile wallet. In addition, this wallet is also available on Windows OS and MacOS.
Here is a video showing the mobile POS App and Wallet in operation.
These Apps are still in there alpha states and you can download their mobile versions to check them out.
Download the PoS app for Android here and for iOS here. The Android wallet can be downloaded here and the IOS here.
Real-Time Authorization, Instant Fiat payment and Low Transaction Fees
Considering the erratic and volatile nature of cryptocurrencies, coupled with possible delay when converting a digital currency to FIAT, there is need for transactions to be carried out in real-time and in a flash. Merchants are interested in having their money instantly in FIAT in order not to surfer loss from the ever fluctuating crypto market. In addition, they want lesser transactions fees which will amount to more profit.
Having said this, GRAFT offers Real-time Authorization, which affords quick payment authorization and subsequent settlement of the merchants in their FIAT currency.
GRAFT promises a lower transaction fee - at most half of the traditional charges - and this is paid only by the merchant. This incentives buyers to use more cryptocurrencies for payment especially for low cost items since overhead is now nil and thus more patronage for the seller.
Remark
Making cryptocurrencies a quotidian mode of payment is a huge step forward in the crypto space. It will facilitate payment flexibility for merchants and convinient payment experience for the consumers, thereby making purchases possible anytime and anywhere.
To learn more about GRAFT, visit their website.
If you care to join the contest, here is a link to the contest announcement.
Here is the link to my tweet on GRAFT.
graft2018