680 STEEM ~ Sponsored Writing Contest: GRAFT
Welcome to the @OriginalWorks sponsored writing contest! Status: CLOSED. Accepted Languages:
Start Time: ~11:50 PM ET, Saturday
End Time: ~11:50 PM ET, Tuesday
Special Twitter 0.5 STEEM bonus! Details outlined at the bottom.
This is a call to all great Steemit writers! GRAFT has sponsored another Steemit writing contest!
Please make sure to read the contest topic carefully. Good luck!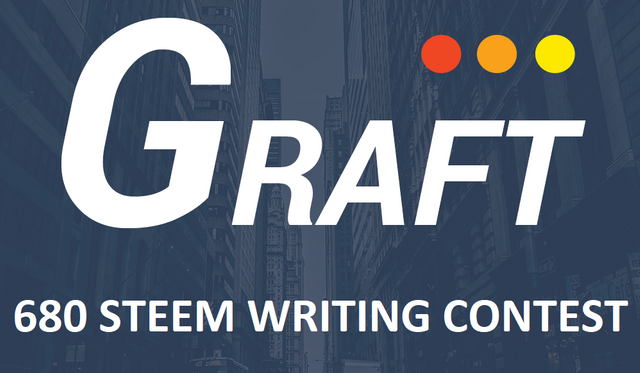 Prize Pool Total: 680 STEEM Prizes: 560 STEEM + 120 STEEM (60 bonuses of 2 STEEM!) + Twitter Bonus (Details Below)

1st Place: 60 STEEM
2nd Place: 52 STEEM
3rd Place: 46 STEEM
4th Place: 40 STEEM
5th Place: 35 STEEM
6th Place: 32 STEEM
7th Place: 25 STEEM
8th Place: 23 STEEM
9th Place: 20 STEEM
10th Place: 18 STEEM
11th Place: 16 STEEM
12th Place: 15 STEEM
13th Place: 14 STEEM
14th Place: 13 STEEM
15th Place: 11 STEEM
16th - 20th: 10 STEEM
21st - 25th: 6 STEEM
26st - 30th: 5 STEEM
31st - 40th: 4 STEEM
41st - 100th: 2 STEEM Bonus

Deadline: 72 Hours
All articles must be submitted within 72 hours of this post to be considered!
Changes in submission rules below
Cryptocurrency is becoming a widely accepted form of storing value. One of the biggest challenges is making that value easier to spend for day to day items. Stores already have POS machines, but have a hard time adapting their businesses to accept cryptocurrencies.
GRAFT has long finished their ICO, and has a functioning MainNet. GRAFT allows businesses, small and large to start accepting cryptocurrency payments without any hassle.
The team successfully integrated into multiple devices. GRAFT is running full force since the completion of their ICO!
The GRAFT Mobile Wallet mobile wallet is ready, for both iOS and Android.
GRAFT Multi-currency Mobile Wallet for iOS
GRAFT Multi-currency Mobile Wallet for Android


GRAFT CryptoFind allows users to find locations that accept crypto! This application allows merchants to update their status as well as for users to find those stores.
GRAFT CryptoFind for iOS
GRAFT CryptoFind for Android
GRAFT Mobile POS allows merchants to accept cryptocurrencies. With this application, merchants can use their iOS/Android mobile device to accept payments!
GRAFT Mobile POS for iOS
GRAFT Mobile POS for Android
GRAFT Terminal Integration
Most stores, from convenience to large chain retailers, use payment terminals to handle payment. Traditionally this allows the stores to take payment with payment forms such as debit and credit cards.
In order to truly integrate cryptocurrencies into the modern economy, the acceptance of cryptocurrency payment must come in a form that existing businesses are already familiar with. The integration also has to be easy, and free.
GRAFT has been able to integrate on both Verifone and Ingenico payment terminals. That means existing store-owners can install a free application onto their terminal and start accepting payment in crypto!
Below are demo videos show casing both of the terminals:
Verifone Terminal Integration
Ingenico Terminal Integration
GRAFT Integration and Fees
Credit cards typically charge merchants large fees for every transaction a customer makes. This makes them costly, and that cost is carried over to the customer.
GRAFT does not charge the customer, as the fees are paid for by the merchant. These fees are a fraction of what average credit companies charge.
Transaction Fees


Credit Cards:
Typical credit cards charge merchants somewhere around 2~3% for every transaction.
GRAFT:
For RTA based GRAFT transactions, the fee is a constant 0.5% across all volumes, plus 0.25% to 0.75% for SLA & services.
This means that GRAFT costs the merchant about half of what credit cards are charging them!
Use-Case: Imagine
Imagine a world where cryptocurrencies are at every point of sale. You accumulate cryptocurrency through work, playing games, exercising and other crypto-related activities. You are able to easily use these earnings to buy goods as well as services. Things like foreign transaction fees are a forgotten concept. Interest rates become negligible because of the competitive market established by p2p lending platforms. Exchanging to fiat is unnecessary. On top of that, the individuals who join the network to perform authorizations, exchanges and maintain gateways are rewarded for strengthening the GRAFT infrastructure.
Real Time Authorizations
GRAFT is currently working on RTA(real time authorizations).
In order to make payment processing feasible, the first critical step is to make transactions as close to instant as possible. Customers can't pay for a product and wait 30 minutes for a confirmation.
GRAFT's RTA ensures that payments will be authorized and processed in near real-time and that the buyer can pay in the currency of their choice while the merchants receive settlement in their preferred currency. Additionally, with RTA various transaction types such as authorizations and holds also become a possibility, providing point of sale systems with familiar processes and interfaces.
GRAFT's RTA will work by implementing a two layer network with supernodes (randomly selected based on stake tiers) confirming and validating transactions and exchanges in real time.
This is an extremely important development in the payment processing space. Real time transactions will enable retailers to continue with their business practice unchanged, while adding support for cryptocurrencies. All of this while continuing to use their existing payment terminals! GRAFT will closely resemble what the modern day credit card system does, both for merchants as well as customers!
GRAFT's goal with implementing RTA technology is to enable merchants to operate exactly the same way as they always did. No new equipment, no surprises. Just seamless integration which provides them with an added ability to accept crypto payments.
For more information watch this short introduction:
More Information & Resources: Submission

Write an article about how GRAFT will change the payment processing industry! How is cryptocurrency acceptance lacking for traditional purchase use? How will GRAFT's RTA system allow merchants to operate their business as usual. What is the benefit of having software that can integrate on top of existing merchant devices? What will be the impact for merchants and customers, having the ability to pay with and sell for any form of payment? How do you imagine GRAFT integration changing the way we interact with crypto? How will RTA change the future of crytpo? As always, the topic is fairly open-ended, so be creative!

To submit please do the following:

Add the word "graft2018" (without the quotes) at the very end of your article.
Link this post in your submission.
Post the link to your article as a reply to this post.
Resteem this contest post.

Rules

The article must be at least 250 words in length and it is recommended(not mandatory) that the length is under ~1500 words.

At least 70% of the submission must be original. Using "article spinners", and other word substitution tools is also not permitted.

All copied text must be in quotes. Feel free to copy links to resources from the contest post, but please be sure to not copy from other contestants.

Please keep discussions relevant to the contest topic. We would like to encourage a good vibe in the comments!

Video Bonus

Feel free to use images and media from their website. You can even make your own video and have it in your submission! Videos have a chance of winning a separate bonus based on quality. Videos should be uploaded to YouTube. DTube or IPFS. Please do not remove the videos, or it might impact future eligibility. Feel free to make a new YouTube account for these. We really wanted to use DTube, but sometimes the videos were not view-able at all. We may change this in again in the future. For the time being please ensure whatever service you choose to use is working.

Twitter Bonus
For the Twitter bonus:
Tweet the link to your article on Twitter.
Tweet should contain article link, as well as @graftnetwork or #graftnetwork.
Add the link to your tweet at the bottom of your competition Steemit post!
This is great because it will also encourage Twitter users to come join Steemit as well!
The bonus for this 0.5 Steem for every article that tweets and meets contest conditions.
How the winners are decided
The submissions will be passed along to the team at GRAFT, and they will decide the best method for picking winners and the winning articles.
This can mean that the team judges the submissions, or they ask our team to judge it. Regardless of the method, the final say always lies with the sponsor.
More information & recommendations:

Pay attention to spelling and grammar!
Feel free to use informal language such as "I would, etc"
Use information and resources above to learn more about GRAFT!
If you copy something, use quotes. This is an @OriginalWorks contest after all :)
Link the company's website: GRAFT so that your readers can do research for themselves.
Articles can be edited up until the deadline.

After writing an article, within a few minutes you should get one of these as a response to your article post:

If you don't get one, let me know by adding a quick message after you submit your link as a reply here and it will be done manually. Sometimes it can take some time, so don't worry if it isn't instant! Rest assured, as long as your link is shared as a reply here, everything is double checked at contest close to ensure that all articles are submitted!
60 submissions will get 2 STEEM each. The article must meet the contest conditions such as word length and a level of quality.
Disclaimer: @OriginalWorks makes no claims as to the legitimacy or operating procedures of contest topics. @OriginalWorks does not offer any sort of investment advice. This is a writing contest. @OriginalWorks only guarantees prize payout. The contest topic company may choose to share the contest submissions that receive prizes.
Good luck to all the contestants!