980 STEEM ~ Sponsored Writing Contest: Kinesis
Welcome to the @OriginalWorks sponsored writing contest! Status: CLOSED. (Note: We understand that some users expected a Saturday start date! Late submissions will be treated with leniency. We hope this also helps users from parts of Venezuela that are suffering from power outages!) Accepted Languages:
Start Time: ~8 PM ET, Friday
End Time: ~8 PM ET, Monday (Refer to note above)
Special Twitter 0.5 STEEM bonus!
Details outlined at the bottom.
This is a call to all great Steemit writers! Kinesis has sponsored a Steemit writing contest!
Please make sure to read the contest topic carefully. Good luck!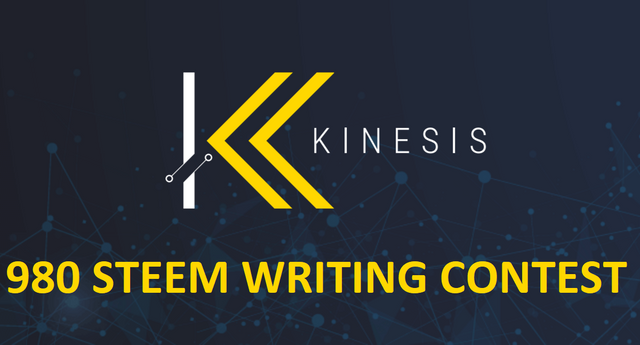 Prize Pool Total: 980 STEEM Prizes: 730 STEEM + 250 STEEM (100 bonuses of 2.5 STEEM!) + Twitter Bonus (Details Below)

1st Place: 72 STEEM
2nd Place: 62 STEEM
3rd Place: 54 STEEM
4th Place: 49 STEEM
5th Place: 38 STEEM
6th Place: 36 STEEM
7th Place: 30 STEEM
8th Place: 27 STEEM
9th Place: 24 STEEM
10th Place: 23 STEEM
11th Place: 22 STEEM
12th Place: 21 STEEM
13th Place: 19 STEEM
14th Place: 17 STEEM
15th Place: 16 STEEM
16th - 20th: 13 STEEM
21st - 25th: 10 STEEM
26th - 30th: 9 STEEM
31st - 40th: 6 STEEM
41st - 140th: 2.5 STEEM Bonus

Deadline: 72 Hours
All articles must be submitted within 72 hours of this post to be considered!
Changes in submission rules below
Kinesis is a new blockchain project which is, in a practical and simple sense, reinventing the wheel of the historic, asset-backed financial system.
Kinesis is an interesting take on the application of blockchain technology because a lot of other projects in the space differentiate themselves by distance from any financial system of the past. Embracing and enhancing the old gold standard of money with decentralized record-keeping is a hybrid evolutionary take on the needs of value storage with respect to the monetary system of our current day.
Kinesis is seeking to create an "internationally fungible monetary system." 1 This system will overturn people's innate choice to hoard their cryptocurrencies, which they value over their conventional fiat currency and therefore do not want to relinquish.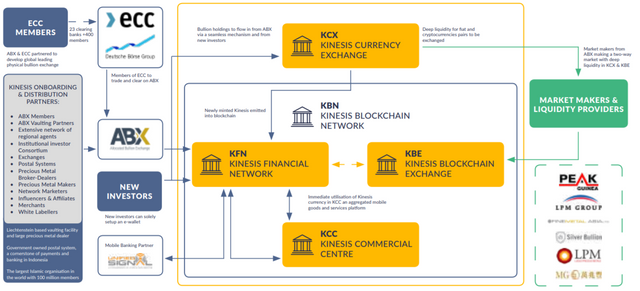 THE KINESIS MONETARY SYSTEM
"Core to the mechanics [of the system] is the perpetual incentive and stimulus for money velocity." 2 Whenever money is brought into the Kinesis ecosystem via investment through token purchases, each unit of fiat currency is backed 1:1 with either gold or silver and is then attached to a proprietary yield system which promotes trading while creating a platform for sharing the wealth generated by the members of its economy.
Kinesis uses three core assets in this system.
Gold (KAU) and Silver (KAG) backed Kinesis tokens; owners of the tokens are owners of the bullion
Yield – the yield in the Kinesis system is created through spending as opposed to credit (borrowing) in the legacy system
Blockchain – an additional layer to reinforce the storage of value which is already a hallmark of gold and silver, whilst also making the two assets liquid through digital means (enhancing their use as a medium of exchange)
Kinesis is seeking to add fiat banknotes, alternative cryptocurrencies, and other assets which are physically secured and digitally stored in their banking and asset management system.
THE KINESIS MARKET ENTRY STRATEGY
Even though the applications for Kinesis can seem quite asset agnostic (meaning that the network could be used for any sort of asset), the team has a realistic market entry strategy. The four areas Kinesis is seeking to initially disrupt are:
Cryptocurrency Markets
Gold and Silver Markets
Fiat Currency Markets
Investment Asset Markets
Because of the yield system Kinesis has developed, participating in these four markets through the Kinesis protocol is inherently less risky than their legacy form counterparts. This is because spending increases the Net Present Value of the assets being exchanged.
Furthermore, banks and other institutions hold legal titles to the assets of their clients as they use these assets to accrue their own wealth. Kinesis allocates title directly to the owner of the accounts on their network. This has implicit benefits for worries such as a country's political risk.
Kinesis also has a strong partnership with Allocated Bullion Exchange (www.abx.com) who themselves are partnered with Deutsche Borse Group who are associated with the European Commodity Clearing settlement service. 3
KINESIS INITIAL TOKEN OFFERING (ITO)
The Kinesis Velocity Token (KVT) is an ERC20 compatible utility token. This token will be used to raise the capital necessary to launch the Kinesis Monetary System. Holders of KVT collectively earn a percentage of transaction fees from the business operators within the system.
The ITO is currently in pre-sale with the public sale launching on September 10th, 2018 through to November 11th, 2018.
KINESIS INITIAL COIN OFFERING (ICO)
Not to be confused with the KVT token offering (ITO), the KAU and KAG coin offering is a sale of cryptocurrency backed 1:1 respectively by gold and silver bullion.
These tokens have been forked from the Stellar Network and they are the medium by which all transactions on the Kinesis Monetary System are handled.
The Kinesis ICO is set to begin on November 12th, 2018.
KINESIS DESIGN PHILOSOPHY
Kinesis was designed to:
· Overcome the volatility limitations of cryptocurrencies as a reserve currency
· Improve upon the storage of value limitations of fiat currencies
· Turnover the negative present value of worldwide bank account holdings
· End the habit of governments funding themselves via printing money and creating deficits
· Eliminate the philosophy of centralized banking
· Change the habit of people storing their gold, silver, cryptocurrency, etc. ("good money")
· Attach interest yields to physical assets such as gold, silver, property, etc.
· Create a better yield system than that offered by the credit/borrowing networks
· Eliminate fraud and theft from asset-backed securities
· Provide an digital (OTC) Over-the-Counter alternative for bullion exchange markets
· Provide entry points for small markets to list their physical assets for exchange opportunities
KINESIS STRATEGY EXECUTION
Kinesis is utilizing the third-party auditing and verification system of ABX's Quality Assurance Framework. ABX has been working in the wholesale bullion market since 2013 and has an unblemished record of excellence. The Deutsche Borse Group is an additional partner whom is one of the largest exchange groups in the world and could provide instant clientele for the Kinesis Monetary System.
KINESIS MONETARY SYSTEM FEATURES AND COMPONENTS
Kinesis has the architectures for its digital operations:
KINESIS CURRENCY SUITE
The Kinesis team chose to fork the Stellar Network for its high transaction speeds and increased security of the protocol to facilitate spending on the Kinesis Commercial Centre (KCC). The currency suite is used to digital tie one fine gram of gold per token (gold of 995 fineness) for KAU and 10 grams of silver to one unit of KAG. Each will have a serial number attached to an identifying stamp of a refiner of the metals.
There are wholesale contracts for denominations of kilograms of fine gold as well as 1,000 troy ounces of silver. All have the same serial number and refiner assurances through ABX and the Kinesis Currency Exchanges (KCX).
VELOCITY-BASED YIELD SYSTEM
"Kinesis users are financially rewarded based on their participation and the overall velocity (rate that the money changes hands) of the Kinesis currency)." 4
This creates an interest-based return from economic output as opposed to debt-financing. Debt-financing creates a system that continually devalues the currency it is using by inflating the prices of the goods those currencies purchase.
As a benchmark to stabilize the price of the KVT, the Kinesis team has followed the example of Tether (a token backed the US dollar, which has the highest consistent velocity in the cryptocurrency market). Kinesis offers all the advantages of Tether, but without the counterparty risk of the fractional reserve banking system as all of the Kinesis transactions (and therefore the yield on KVT) is done through bullion exchange networks.
YIELD SYSTEM PARTICIPANTS
Minter Yield:
This system rewards users who create (mint) the currency in primary markets (by submitting gold/silver for tokens) and spending it in secondary markets
· Minters receive a proportional share of the transaction fees as a yield forever on the Kinesis coins they create
· The more coins created, transacted, or the higher the velocity, the higher the yield
Holder Yield:
Provides a yield on passive participation in Kinesis currency while holding the currency
· Designed to compete with bank deposits, stock dividend yields, and rental property yields
Affiliate Yield:
Rewards users who refer new users
Depositors Yield:
Applicable on user's initial deposit directly into their Kinesis Wallet
· Incentivizes large initial deposits and further use of the currency
· Depositors receive a share of the transaction fees as a yield forever on the Kinesis coins they bought and used
· Higher velocity equals higher yield
Laura is a smart investor, with a complex and well-structured investment portfolio. She wants to ensure that she can retire early. In order to do so, she has been investing ever since she finished college. She currently holds cryptocurrency, properties and is diversified across numerous stocks.
Being a big proponent of diversification, she wants to buy bullion. One of the things that attracted her to cryptocurrencies in the first place was that it is not controlled by the governing entity. They are naturally anti-inflationary and grant the user sole access to the funds.
She shopped around for bullion but ran into numerous issues.
Where to buy it at fair market value
Where to store it
Limited liquidity
Logistical nightmare
This almost pushed Laura away from investing in bullion altogether, until her friend told her about Kinesis!
Now Laura can invest in bullion, knowing that it is protected by the inherent security the blockchain provides. She will also be able use or hold her bullion in any way she wants depending on what kind of yield strategy she wants to apply.
For more information watch this short feature intro:
More Information & Resources: Submission

Write an article about Kinesis and how it will change the way users interact with gold and silver! What are the benefits of having a currency backed 1:1 by gold or silver? How does Kinesis.Money open the bullion market to regular users? Why does Kinesis inherently have less volatility? How will the know-how from ABX translate into a successful execution for Kinesis? What is the benefit of using Kinesis over OTC alternatives? What are some good use cases? There are many applications, so feel free to give a few! As always, the topic is fairly open-ended, so be creative!

To submit please do the following:

Add the word "kinesis2018" (without the quotes) at the very end of your article.
Link this post in your submission.
Post the link to your article as a reply to this post.
Resteem this contest post.

Rules

The article must be at least 250 words in length and it is recommended(not mandatory) that the length is under ~1500 words.

At least 70% of the submission must be original. Using "article spinners", and other word substitution tools is also not permitted.

All copied text must be in quotes. Feel free to copy links to resources from the contest post, but please be sure to not copy from other contestants.

Please keep discussions relevant to the contest topic. We would like to encourage a good vibe in the comments!
Please note, any users caught copy pasting or word spinning material without clearly showing that they took the work from somewhere, such as using quotes, will have their submissions disqualified.
Video Bonus

Feel free to use images and media from their website. You can even make your own video and have it in your submission! Videos have a chance of winning a separate bonus based on quality. Videos should be uploaded to YouTube. DTube or IPFS. Please do not remove the videos, or it might impact future eligibility. Feel free to make a new YouTube account for these. We really wanted to use DTube, but sometimes the videos were not view-able at all. We may change this in again in the future. For the time being please ensure whatever service you choose to use is working.

Twitter Bonus
For the Twitter bonus:
Tweet the link to your article on Twitter.
Tweet should contain article link, mention @kinesismoney and this link (https://kinesis.money/en/kinesis-etheralabs/) as well as one of the cryptocurrency related hashtags such as #blockchain, #crypto, etc
Add the link to your tweet at the bottom of your competition Steemit post!
At the end of your article, add the word "kinesistwitter", without the quotes!
This is great because it will also encourage Twitter users to come join Steemit as well!
The bonus for this 0.5 Steem for every article that tweets and meets a level of quality and contest conditions.
How the winners are decided
The submissions will be passed along to the team at Kinesis , and they will decide the best method for picking winners and the winning articles.
This can mean that the team judges the submissions, or they ask our team to judge it. Regardless of the method, the final say always lies with the sponsor.
More information & recommendations:

Pay attention to spelling and grammar!
Feel free to use informal language such as "I would, etc"
Use information and resources above to learn more about Kinesis!
If you copy something, use quotes. This is an @OriginalWorks contest after all :)
Link the company's website: Kinesis so that your readers can do research for themselves.
Articles can be edited up until the deadline.

After writing an article, within a few minutes you should get one of these as a response to your article post:

If you don't get one, let me know by adding a quick message after you submit your link as a reply here and it will be done manually. Sometimes it can take some time, so don't worry if it isn't instant! Rest assured, as long as your link is shared as a reply here, everything is double checked at contest close to ensure that all articles are submitted!
100 submissions will get 2.5 STEEM each. The article must meet the contest conditions such as word length and a level of quality.
Disclaimer: @OriginalWorks makes no claims as to the legitimacy or operating procedures of contest topics. @OriginalWorks does not offer any sort of investment advice. This is a writing contest. @OriginalWorks only guarantees prize payout. The contest topic company may choose to share the contest submissions that receive prizes. If for whatever reason there are over 500 submissions, new submissions will not be considered.
Good luck to all the contestants!