200 STEEM + 40 Bonuses ~ Sponsored Writing Contest: Firmo
Welcome to the @OriginalWorks sponsored writing contest! Status: CLOSED. Accepted Languages:
Start Time: 11 AM ET, Sunday
End Time: 11 AM ET, Wednesday
This is a call to all great Steemit writers! Firmo has sponsored a Steemit writing contest!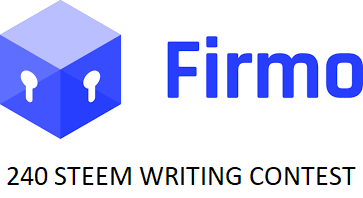 Prizes: 200 STEEM + 40 Bonuses

1st Place: 34 STEEM
2nd Place: 26 STEEM
3rd Place: 23 STEEM
4th Place: 20 STEEM
5th Place: 18 STEEM
6th Place: 16 STEEM
7th Place: 13 STEEM
8th Place: 11 STEEM
9th Place: 10 STEEM
10th Place: 9 STEEM
11th - 15th: 5 STEEM
16th - 55th: 1 STEEM Bonus

Deadline: 72 Hours
All articles must be submitted within 72 hours of this post to be considered!
Changes in submission rules below
Firmo is aiming to build an infrastructure for creating/executing financial contracts. Firmo will bring the key components of smart contracts such as their trustless and transparent nature, to the world of finance. Using FirmoLang, developers can build financial tools that have been previously only available to traditional, non-decentralized economy asset-classes such as derivatives.
If you have any questions, just go ask the team!
The Firmo protocol, built with FirmoLang, consists of these steps.
Step 1: Target User/Group
User groups that the financial contract is being written for are assigned.
Step 2: Custom/Pre-Set
Either a standard snippet of code is chosen from the library or a custom code can be implemented.
Step 3: Compilation/Execuition
The code is launched onto the Ethereum blockchain, allowing any existing tokenized project to utilize the newly developed tools.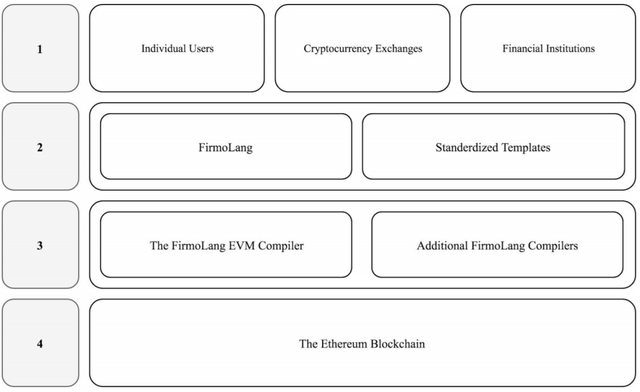 Derivatives
Derivatives are a financial tool that allow individuals and companies to secure a price point over a certain period of time. This is useful for businesses that depend on a specific material, the price of which may rise or fall.
Derivatives are popular among traders, since if they believe a certain asset will rise in value, they can secure the current price point and benefit from the price discrepancy.
The Problem
Financial tools have played a major role in the world of finance. Currently, users are only able to participate in a company's finances is in the form of buying their tokens. Due to this lack of financial tools, prices are volatile and determined by sell/buy orders.
Firmo and Firmolang Solution
FirmoLang will equip the cryptocurrency space with the ability to build modern financial tools as well as easily adapt them for easy use with existing ethereum projects.

FirmoLang borrows security features from airplane and train applications which are domain specific and formally verified. This gives it an edge over Solidity which is prone to attacks as seen from various hacks that have occured such as the Parity and the DAO attacks.
Zero Coverage
Firmo is designed to allow users to have little or no collateral. Dubbed as "Zero Coverage" in the Firmo TechnicalPaper, section 6.3. This is done using "permissioned infrastructure", which can be built using FirmoLang.
Firmo Team
The Firmo team is extremely qualified, experienced and educated. Led by Dr. Omri Ross, who specializes in blockchain technology and fintech, they are well prepared to take on a project of this magnitude. The development team has many experienced veterans who have released numerous projects on various platforms. As an example, Ariel Laub and Gury Traub have released 9 educational games.
The entire team is excited about the project. They are passionate and more than happy to answer any questions you may have. Join Firmo Telegram and ask away!
For a quick introduction, check out this short video or go directly to the Firmo YouTube Channel:

Two Minute Intro
More Information & Resources: Rules & Submission

Write an article about Firmo and how it will change the evolution of financial systems in the crypto-space. How will FirmoLang's added security features help cryptocurrencies? How does "Zero Coverage" give it an advantage over current systems? How can an introduction of derivatives to tokenized assets help investors? As always, the contest is open-ended. Be creative and have fun!

Feel free to use images and media from their website. You can even make your own video and have it in your submission! Videos have a chance of winning a separate bonus based on quality. Videos should be uploaded to DTube, or YouTube. If using YouTube please ensure the video is listed properly and does not get removed.

The article must be at least 250 words in length and it is recommended(not mandatory) that the length is under ~1500 words.

At least 70% of the submission must be original. Using "article spinners", and other word substitution tools is also not permitted.

All copied text must be in quotes.

Please keep discussions relevant to the contest topic. We would like to encourage a good vibe in the comments!

To submit please do the following:

Add the word "firmo2018" (without the quotes) at the very end of your article.
Link this post in your submission.
Post the link to your article as a reply to this post.
Resteem this contest post.

How the winners are decided
The submissions will be passed along to the team at Firmo, and they will decide the best articles.
More information & recommendations:

Pay attention to spelling and grammar!
Feel free to use informal language such as "I would, etc"
Use information and resources above to learn more about Firmo!
If you copy something, use quotes. This is an @OriginalWorks contest after all :)
Link the company's website: Firmo so that your readers can do research for themselves.
Articles can be edited up until the deadline.

After writing an article, within a few minutes you should get one of these as a response to your article post:

If you don't get one, let me know by adding a quick message after you submit your link as a reply here and it will be done manually. Sometimes it can take some time, so don't worry if it isn't instant! Rest assured, as long as your link is shared as a reply here, everything is double checked at contest close to ensure that all articles are submitted!
40 submissions will get 1 STEEM each. The article must meet the contest conditions such as word length and a level of quality.
Disclaimer: @OriginalWorks makes no claims as to the legitimacy or operating procedures of contest topics. @OriginalWorks does not offer any sort of investment advice. This is a writing contest. @OriginalWorks does guarantee prize payout. The contest topic company may choose to share the winning contest submissions.
Good luck to all the contestants!