1300 STEEM ~ Sponsored Writing Contest: ONAM
Welcome to the @OriginalWorks sponsored writing contest! Status: CLOSED Accepted Languages:
Start Time: ~9 PM EST, Saturday
End Time: ~9 PM, EST, Tuesday
Special Twitter 0.5 STEEM bonus!
Details outlined at the bottom.
This is a call to all great Steemit writers! ONAM has sponsored a Steemit writing contest!
Please make sure to read the contest topic carefully. Good luck!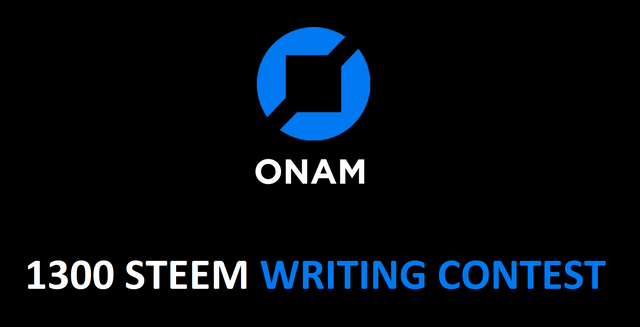 Prize Pool Total: 1300 STEEM Prizes: 1050 STEEM + 250 STEEM (100 bonuses of 2.5 STEEM!) + Twitter Bonus (Details Below)

1st Place: 80 STEEM
2nd Place: 71 STEEM
3rd Place: 68 STEEM
4th Place: 63 STEEM
5th Place: 52 STEEM
6th Place: 47 STEEM
7th Place: 44 STEEM
8th Place: 41 STEEM
9th Place: 38 STEEM
10th Place: 34 STEEM
11th Place: 31 STEEM
12th Place: 29 STEEM
13th Place: 28 STEEM
14th Place: 26 STEEM
15th Place: 23 STEEM
16th - 20th: 15 STEEM
21st - 25th: 12 STEEM
26th - 30th: 10 STEEM
31st - 40th: 8 STEEM
41st - 50th: 6 STEEM
51st - 60th: 5 STEEM
61st - 160th: 2.5 STEEM Bonus

Deadline: 72 Hours
All articles must be submitted within 72 hours of this post to be considered!
Changes in submission rules below
ONAM is a compliant cryptocurrency exchange platform. ONAM offers the latest and best security, scalability, transparency, customer support, liquidity and compliance.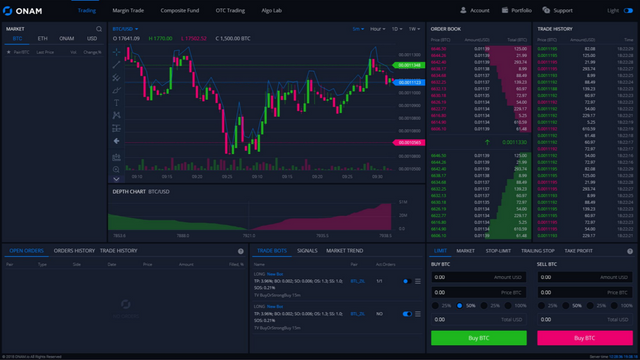 Source: WhitePaper, Page 14
ONAM's Solutions
Security – Along with DDoS mitigation, 2FA solutions, and anti-phishing solutions, ONAM have their own "Advanced Threat Prevention, Intrusion Detection, and Trade Surveillance systems". These systems are driven by machine learning to identify irregular activity before it negatively affects user accounts. These systems are also all secured by encrypted databases.
Quarterly 3rd party audits are also a key part of ONAM's security obligation to its clients.
Scalability – ONAM's platform outperforms all the competition in terms of transactions per second and latencies. ONAM handles "10 million transactions per second with latencies as low as 40 nanoseconds."
Transparency – ONAM's Real-Time Market Surveillance and Compliance system surveys the ONAM network for irregular trading activities. Various characteristics and trade-types are closely monitored in order to generate Suspicious Activity Reports for the system's regulators. All of these features make Market Manipulation almost impossible.
Customer Support – ONAM aims to offer 24/7/365 live customer support via chats in multiple languages. Common issues will be addressed within 15 minutes via support ticket system. Phone support will be offered within the first 6 months of launch as well.
Liquidity – ONAM will attract large market makers, miners, and volume traders to participate in their network. High slippage and market manipulation issues will be fought off by enlisting book orders from multiple exchanges.
Compliance – The SEC has taken the stance that almost all token issues are security issues. This has resulted in multiple subpoenas to various companies launching ICOs. Licenses are necessary for initiating public offerings and ONAM's top legal representatives are all informed on the latest positions regarding SEC and its view on ICO activities.
ONAM vs Current Market
ONAM aims to be the most capable and price efficient exchange on the market. In order to accomplish this, they are ensuring that traders have all the tools they need. The chart below exemplifies the feature different between ONAM and some top exchanges, as well as the difference in fees.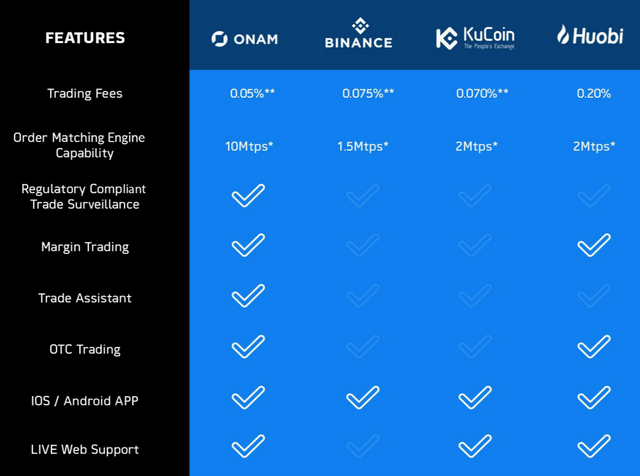 Source: WhitePaper, Page 13
ONAM's Features
The following are a list of prominent features ONAM employs as a state-of-the-art high-performance trading platform:
Advanced Order Types
These options assist the customers in being more successful in their day-to-day trading

Margin Trading
Users can leverage higher buying power in exchange for a small interest fee

Margin Lending
Users earn interest by lending, and can pick their own rate and duration terms

Composite Index Fund
Users can diversify their portfolio

Paper Trading
Trading simulations for novice users

Modular User Interface
User can customize his/her trading page

Trade Assistant with Trade Alerts and Signals
Powered by machine learning
Limits risk by assessing current position, account balance, and user's personal tolerance

Auto-Trading
Backtesting helps customers use trading bots based on their personal strategies
Users can employee premade strategies as well

Social Media and Sentiment Analysis Tool
Powered by machine learning
Market condition forecasting

Market Scanning
Powered by machine learning
Sets criteria for users to identify the kind of volatility they are seeking

Advanced Charting
Helps users optimize historical analysis of commodity, currency, security, etc.

Trading Expert Coaching
Novice users can be taught best practices by a community of experts on the platform

News and Announcement Feed
Major cryptocurrency-related news and updates

Push Notifications
All activities will be pushed to the user

OTC Trading
Smart contract escrow services to create smooth swaps of assets and funds

Multi-Language User Interface
Prefered language as an option

Multi-Language 24/7 LIVE Chat Support
Users always have access to help

FIX Server for Institutional Traders

Advanced and Custom APIs

Affiliate Program
ONAM Use Case: The Composite Index Fund
Ben is an old-fashioned value investor who heard about Bitcoin when it was pennies but refused to buy in because of his experience in the legacy financial system. For conservative reasons, Ben missed out on the Bitcoin boom.
However, the ICO market was now born and new opportunities arose where others had passed.
Ben's philosophy had been based on a prudent split between stocks and bonds to ensure that his net worth always grew whilst he did not miss exposure to lucrative new technologies and industries. Bitcoin, having been too radical for him to invest in originally, was now much more expensive. Ben also knew the dust was yet to settle on the industry as a whole, and wanted to speculate on the bullishness of the climate as well as on the prospects of already-incumbent protocols such as Bitcoin and Ethereum.
Most of Ben's stock fund was put into composite indexes which split among all the best performers of an entire market he chose. Unfortunately, his account and Berkshire Hathaway did not have access to the the ICO market for lack of technical experience. Not being able to interface with any blockchains, Ben was almost resigned to not buy any positions in some of the tested blockchain projects like Bitcoin, Ethereum, Litecoin, and NEO. Managing the technology aspect would have proved problematic for Ben on its own. Multiple accounts and passwords are cumbersome to track and costly to lose.
Having all but given up, Ben finds ONAM. ONAM offers Ben all the advanced, mainstream, options of any sophisticated trading house. ONAM also secures the funds Ben has purchased in optimal "cold-storage" which means the public keys are all generated offline before a private key has ever been combined to produce a hash with them; this makes them extra secure. They have multi-signature functionality at Ben's discretion, and physical copies of these passwords will be kept in bank-grade vaults.
Now Ben can log onto his platform and super simply grab a premade composite index of all the major players in the market and own some of their cryptocurrency. He can use their news letter to make his own smaller index if he likes.
ONAM State-of-the-Art Security and Compliance
Enterprise-Grade Security – ONAM never stores passwords, encrypts sensitive data before submitting it to its database
Anti-Market Manipulation (AMM) – ONAM's real-time market surveillance, supervision, and compliance system is powered by machine learning and is always operation
Anti-Money Laundering (AML) – Also powered by machine learning, ONAM's AML system filters customer data, rank it, and potentially identify illicit behavior before it happens
Quarterly Audits – ONAM's non-technical layer of defense, auditing is a philosophical commitment of the company as well as a form of mandatory compliance that keeps ONAM to performing best practices
BitGO Partnership – In order to offer custodian services to big institutional investors, ONAM has teamed up with BitGO, "the market leader in institutional-grade cryptocurrency investment services."
· Custodian services include: institutional-grade policy controls, and 100% cold storage with multi-signature in bank grade vaults for more than 75 cryptocurrencies
Employee Background Checks and Compliance Training – All employees will meet a standard that matches the security and standing of ONAM and its vision
Conclusion
Many projects in the Blockchain/ICO space are in the business of reinventing the wheel.
ONAM is different in that the simply want to innovate on a product that is already tried and tested: crypto-currency exchanges. ONAM is concerned with the latest technical and foundational technologies to maximize the security and performance of the platform for the benefit of its users.
With 10 Million transactions per second, 40 nanosecond latency, encrypted database backup, and the latest knowledge in regulatory compliance, ONAM is positioned as the cutting-edge, user-optimized, best-practices cryptocurrency exchange.
More Information & Resources: Submission

Write an article about ONAM! What are some great features offered by ONAM? Why is ONAM's aim to work with regulators to be compliant so important? How will ONAM's super-low fees benefit the trader? What is the benefit of combining the many financial tools under one platform with ONAM? What is the impact of having the fastest transaction capability of all existing exchanges(10 million transactions per second as opposed to 2 million transactions per second)? How will ONAM's dedication to customer service increase customer confidence and improve usability. What are the use-cases? The ONAM team would love to hear your ideas! There are many applications, so feel free to give a few! As always, the topic is fairly open-ended, so be creative!

To submit please do the following:

Add the word "onam2018" (without the quotes) at the very end of your article.
Link this post in your submission.
Post the link to your article as a reply to this post.
Resteem this contest post.
Rules
The article must be at least 250 words in length and it is recommended(not mandatory) that the length is under ~1500 words.

At least 70% of the submission must be original. Using "article spinners", and other word substitution tools is also not permitted.

All copied text must be in quotes. Feel free to copy links to resources from the contest post, but please be sure to not copy from other contestants.

Please keep discussions relevant to the contest topic. We would like to encourage a good vibe in the comments!
Please note, any users caught copy pasting or word spinning material without clearly showing that they took the work from somewhere, such as using quotes, will have their submissions disqualified.
Video Bonus

Feel free to use images and media from their website. You can even make your own video and have it in your submission! Videos have a chance of winning a separate bonus based on quality. Videos should be uploaded to YouTube. DTube or IPFS. Please do not remove the videos, or it might impact future eligibility. Feel free to make a new YouTube account for these. We really wanted to use DTube, but sometimes the videos were not view-able at all. We may change this in again in the future. For the time being please ensure whatever service you choose to use is working.

Twitter Bonus
For the Twitter bonus:
Tweet the link to your article on Twitter.
Tweet should contain article link, mention @OfficialOnam as well as one of the cryptocurrency related hashtags such as #blockchain, #crypto, #exchange etc
Add the link to your tweet at the bottom of your competition Steemit post!
At the end of your article, add the word "onamtwitter", without the quotes!
This is great because it will also encourage Twitter users to come join Steemit as well!
The bonus for this 0.5 Steem for every article that tweets and meets a level of quality and contest conditions.
How the winners are decided
The submissions will be passed along to the team at ONAM, and they will decide the best method for picking winners and the winning articles.
This can mean that the team judges the submissions, or they ask our team to judge it. Regardless of the method, the final say always lies with the sponsor.
More information & recommendations:

Pay attention to spelling and grammar!
Feel free to use informal language such as "I would, etc"
Use information and resources above to learn more about ONAM!
If you copy something, use quotes. This is an @OriginalWorks contest after all :)
Link the company's website: ONAM so that your readers can do research for themselves.
Articles can be edited up until the deadline.

After writing an article, within a few minutes you should get one of these as a response to your article post:

If you don't get one, let me know by adding a quick message after you submit your link as a reply here and it will be done manually. Sometimes it can take some time, so don't worry if it isn't instant! Rest assured, as long as your link is shared as a reply here, everything is double checked at contest close to ensure that all articles are submitted!
100 submissions will get 2.5 STEEM each. The article must meet the contest conditions such as word length and a level of quality.
Disclaimer: @OriginalWorks makes no claims as to the legitimacy or operating procedures of contest topics. @OriginalWorks does not offer any sort of investment advice. This is a writing contest. @OriginalWorks only guarantees prize payout. The contest topic company may choose to share the contest submissions that receive prizes. If for whatever reason there are over 500 submissions, new submissions will not be considered.
Good luck to all the contestants!