Top 5 must read crypto blog posts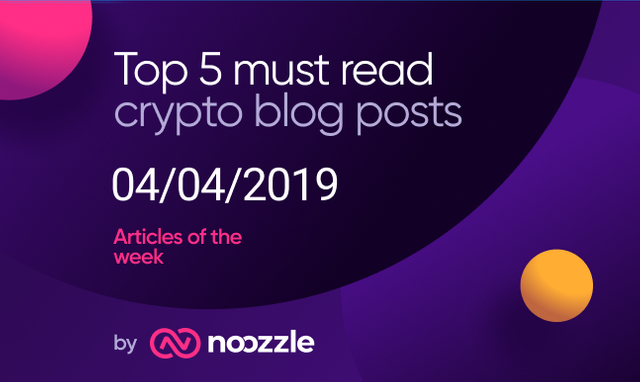 Good day Noozzle family! Once again we are here to share some of the most interesting articles from this past week in the crypto space.
We start off with one of the most pertinent pieces; what cause the huge market increase on Monday!?? Most people had no idea as the move defined all types of technical analysis. A report out of Russia stated that a mystery buyer out of Asia purchased 20,000 bitcoins across the exchanges Kraken, Coinbase, and Bitstamp. The sudden influx of capital caused the price of bitcoin to surge to $5,000+ with many other tokens following suit, showcasing 20,30, and 40+% gains since Monday afternoon. It almost makes one suspicious of what information this mystery buyer knows 🤔🤤 
 https://www.reuters.com/article/us-crypto-currencies/bitcoin-jumps-20-percent-mystery-order-seen-as-catalyst-idUSKCN1RE0JY 
 Next, we have a story that is very bullish regarding American Democratic 2020 presidential candidate, Andrew Yang. Yang, who positions himself as "the opposite of Donald Trump" has been making waves with his stance on UBI (Universal Basic Income) where every American would receive 1k USD/ month regardless of anything else for essential needs. This in turn would cause inflation in USD, and based on Gresham's law would mean more people would be flocking to "better money" like BTC that would retain its value. With all the turmoil in USA politics, it will certainly be interesting to watch the debates develop. Some say Andrew has already been successful so far, having brought the concept of UBI main stream.
https://bitcoinist.com/why-bitcoin-price-would-skyrocket-if-andrew-yang-becomes-president/ 
 Following we have one of the newest trends in the crypto space: The IEO. We take a closer look at what an IEO (Initial Exchange Offering) is, and what the advantages and disadvantages are in comparison to ICOs and STOs. An IEO is a fundraising mechanism through:
• Direct investor interest without engaging in marketing
• Taking the reputational risk exchange, which significantly increases the degree of investor confidence
• A total absence of "GAS war" between the participants, if the site is decentralized
The piece then takes a look at ICOs, but I assume we are all familiar with the traditional model of fundraising. It is very interesting to see new forms of fundraising emerge in such a short time!
https://u.today/ieos-vs-icos-what-are-the-differences 
 One of the largest fears anyone has in crypto is to lose their funds due any one of the many threats posed. Coinbase has stated that "If the worst happens and Coinbase loses customer funds, customers deserve certainty that they will be made whole."
This sense of security provided by the largest American crypto exchange is immense and is backed up by a hot wallet amount of $255 million. One can only hope that this type of mentality becomes more common place and can offer more security. We LOVE to see companies take this type of security seriously.
https://www.ccn.com/coinbase-crypto-insurance-program-255-million 
 The $120 billion finance company Paypal just announced their first entry into the blockchain sphere with a modest investment in Cambridge Blockchain. Cambridge Blockchain's plan is to create what amounts to a digital passport, a piece that Paypal sees as being integral for their current business model, but as something that will gain necessity in the coming years for a variety of industries. Stories like this just provide more and more validation, and are very encouraging.
 https://www.ccn.com/paypals-first-blockchain-bet-digital-identity 
 Please give us a thumb up! 
- Website: https://noozzle.exchange
- Twitter: https://twitter.com/NoozzleSpace
- Facebook: https://www.facebook.com/Noozzle.space
- Linkedin: https://www.linkedin.com/company/35614362
- Medium: https://medium.com/@noozzle.space
- Steemit: https://steemit.com/@noozzle/
- Youtube: https://www.youtube.com/channel/UCL07fY3bJCbjQzU_DkQiq7g
- Reddit: https://www.reddit.com/user/noozzlespace
- Official Telegram Group: https://t.me/noozzle_space
- Noozzle Announcements: https://t.me/noozzle_announcement
- Noozzle Telegram Chat: https://t.me/noozzle_live