ONAM: The Regulation Compliant Cryptocurrency Trading Platform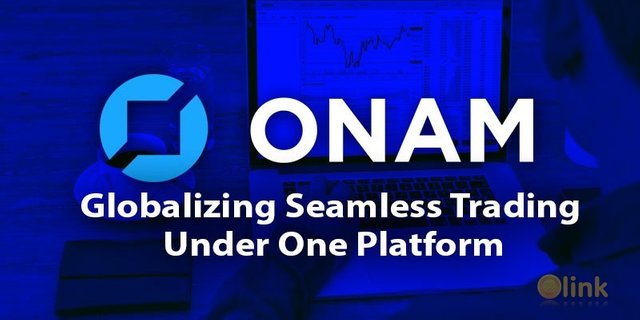 [source]
INTRODUCTION
Cryptocurrency Exchange Platform and the effects of the Introduction of Regulations
One of the growing markets created by the booming crypto industry is the Cryptocurrency exchange market which is becoming increasingly competitive. Cryptocurrency exchange market allows people to trade cryptocurrencies for other digital currencies or the traditional FIAT currencies. The market is enabled by the virtue of the price differences in the digital currencies. The exchange platform then charges transaction fees for their exchange services.
As simple as this might look, providing exchange service of digital currency is beyond just an exchange of digital assets. Being a market involving assets with monetary value, fraud, security breach, privacy intrusion as well as cyber attacks are top challenges to this industry. As such, we have seen different exchange platform coming with different technology to salvage these challenges.
The major intervention was the introduction of decentralized exchange platforms powered by the blockchain technology. It offers an advanced security of funds and transaction transparency.
However, the security and transparency offered by leveraging on the technology of the blockchain don't make trading of digital currencies as trustworthy and standardized like the centralized FIAT banking system. Crypto Trading system will still need to provide answers to certain questions like;
Is the currency legal? Is it subject to regulation, including rules designed to protect investors?
Does the product comply with those rules?
Are the trading markets fair? Can prices on those markets be manipulated? Can I sell when I want to?
Are there substantial risks of theft or loss, including from hacking?
For instance, Mt. Gox, the largest cryptocurrency exchange as at 2014 witnessed one of the greatest mishaps that led to its bankruptcy and total shutdown when a majority of their creditors' Bitcoins were stolen directly from the Mt. Gox hot wallet.
In 2017 alone, about $266 million dollars was lost by various exchange platform owing to a security breach and by early 2018, over $731 million dollars was recorded lost due to security attacks.
The fact that users aren't able to take legal action against these platforms whenever they lose their funds makes it a risky industry to venture in despite its promise. This deadly development led to the introduction of regulations to guide the cryptocurrency trading industry.
In 2018, the US Securities and Exchange Commission (SEC) maintained that:
"if a platform offers to trade digital assets that are securities and operates as an "exchange," as defined by the federal securities laws, then the platform must register with the SEC as a national securities exchange or be exempt from registration".[source]
As much as this will give traders confidence in trading, the introduction of these regulations has since begun to cripple the crypto market. The effect of the regulations made investors rush to sell off coins creating instability in prices and wild swings in valuations. A sharp fall in Bitcoin, almost half its value was witnessed when a major exchange platform, Coinbase launched regulatory investigations on transactions on its platform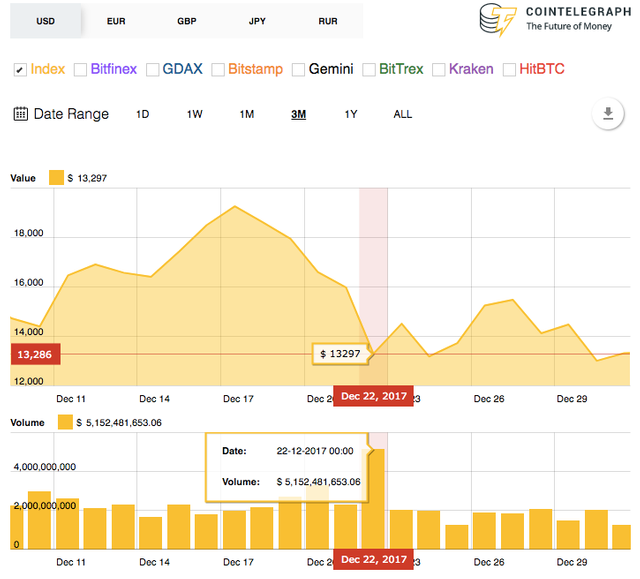 [source]
Then recently after South Korean regulators announced they would ban crypto trading entirely, cryptocurrencies further saw a dip from which it is still trying to recover from: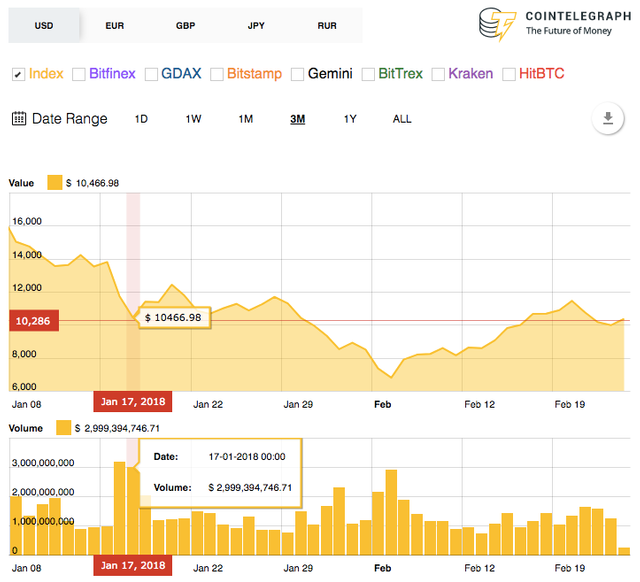 [source]
How do we salvage this situation?
With the undoubted need for regulations due to the challenges facing the crypto exchange market, we cannot afford to ask for the elimination of these legal interventions. Also, with the metrics showing how these regulations are crippling the industry, we need a platform that can offer a regulation compliant service whilst allowing a flexible usage of the service.
The Solution - ONAM Exchange Platform
What is ONAM?
ONAM is a High-performance, regulatory compliant, trading platform that features robust risk-management, trade surveillance, advanced trading tools, and state-of-the-art enterprise-grade security system powered by machine learning. Our platform was created to satisfy any security, anti-money laundering, and market manipulation requirements that regulatory bodies may have set forth.
In simple terms, ONAM is an exchange platform that is created to operate in line with regulations while also offering flexible usability. It aims to usher a new era of standardization in digital assets trading by hammering on regulatory compliance, security, transparency, and usability.
To achieve these objectives, ONAM operates on a state-of-the-art security system powered by Machine Learning. In terms of scalability, ONAM's powerful trade matching engine can process over 10 million transactions per seconds with latencies as low as 40 nanoseconds making it the present and future exchange platform built with future mass adoption capabilities.
So, we can say that other than being a compliant platform, ONAM is built to cope with the rising adoption of cryptocurrency as well as solving the massive security breaches eating into the cryptocurrency exchange industry.
Challenges in the Cryptocurrency Exchange Space and ONAM's Solutions

Challenges

Solutions

Unsafe Exchanges and Security Breach


The existing platforms are marred by unrelenting secutiry attacks that has led to bankruptcy and eventual shutdown of some platform. As these platforms are susceptible to funds theft, user data intrution is also being withness. The lost in funds by exchange platform owing to security breaches rose to about $731 million dollars by 2018 making unsafe exchange and security breach a major challenge in this industryIntrusion Detection powered by Machince Learning

To tackle these security challenge,

ONAM

is built on a robust state-of-art security system. The platform believes that it is through continuous monitoring that security attacks can be detected as they can't be predicted. With its

Advanced threat prevention and intrusion detection system powered by Machine Learning

, these attacks can be monitored and neutralized in real time.
---
Lack of Regulatory Compliance


The reason why most people are afraid of trading cryptocurrency is the lack of a legal framework that protects them against funds lost or a data breach. Existing platforms aren't regulatory compliance and often lead to a big loss on the traders' part. The rise funds generated through ICOs has seen its massive adoption by project teams as a means duping investors. Tempting projects are pitched to investors without any regulations or legal backup leaving them to shoulder the loss when a fraudulence occurs.Regulatory Compliance

The underlying principle of the

ONAM

trading platform is regulatory compliance.

ONAM

aims to disrupt the crypto space by being a regulation compliant platform yet flexible to use. With the recent development where SEC stated that all virtual tokens are securities and are bound by regulations,

ONAM

aims to become a standard compliant platform that guarantees investors transparency and confidence in their transaction.
---
Scalability Limits faced on other plaforms
In 2018, the cryptocurrency space pushed towards a one-trillion-dollar market cap owing to the increasing adoption. When we review the existing platforms, they are not engineered to keep up with this growing number and as such, they may need to freeze operation in order to expand while some will crash when the rise is unbearable. With this in mind, the crypto space becomes an uncertain market groundONAM's Scalability

To tackle this scalability issue,

ONAM

is purposely built to run at this capacity. ONAM operates on an ultra-high performing and versatile trade matching engines that can complete 10 million transactions per seconds with as low as 40 nanoseconds latencies. With these, future mass adoption is put in mind while engineering the platform
---
Market Manipulation
Momentum ignition to pump and dump, wash-trading, spoofing, and many other market manipulation techniques are hitting the crypto trading industry as the days go by. This, being a consequence of a transaction monitoring system has led to a continuous drop of coin values. The growing worry led to the intervention of the US DOJ to investigate criminal market manipulations on trading platforms. ONAM's Real-time Trading SurveilanceONAM

's move to introduce a system that performs real-time trading surveillance will help reduce these manipulations. The surveillance and compliance system powered by machine learning will help detect any manipulations and stop such transaction. Hence, safety and fairness will be maintained in crypto trading.
---
Lacklustre Customer Support

In any appreciating industry, the customers' need should be the top priority as their absence equals no market. Different surveys carried out recently show that "customer Support" issues also contribute majorly to the dip in the cryptocurrency prices. Because digital trading can be complex or is virtual, customers need a platform that can attend to their issue on time, especially in cases where funds are lost or login details are compromised.ONAM's "Customers First" TechniqueONAM

being a service first platform, customers will enjoy phone support for the first 6 months after its launch. Also, live chats that offer 24/7 response to customers is designed on the platform. With all these in place, customers can rest assured that their transactions are monitored and guided.
---
Features that put ONAM above other exchange platforms
As earlier analyzed, being a regulations-compliant platform make ONAM an investors' choice platform. The fact that they are assured of transparency gives them freedom and trust that never existed in the crypto trading space. However, ONAM's mission isn't limited to just being compliant but to also be an ultra-high performing, highly scalable and a threat proof platform.

The following features possessed by the ONAM trading platform makes it a better platform than the existing platform:
Margin Lending: this feature allows users to make interest on the funds they provide to margin other traders on the platform. The margin lenders will be able to pick the rate and duration for which this loan will last for.

Margin Trading: this feature allows users to pay a small percentage fee on borrowed funds in exchange for larger buying power

Advanced Order types: this feature allows the user to maximize their profits on the platform as they will be able to choose what and what they want on their transactions, the type they want and how it show be processed.

Paper Trading: this feature is aimed at new users who aren't familiar with how trading platforms operate. ONAM gives them the opportunity to test run transactions without committing their capitals. Through this, they learn without having to pay first.

Push Notifications: in today's world of information, an instant alert is one of the features that helps users maximize their opportunities. with ONAM providing push notification on order fills, coin listing and others, their users will make more profits and be able to manage their accounts better.

OTC Trading: this feature allows ONAM to function as an escrow to ensure swift swap of funds and assets by institutional investors and large traders without adding volatility to the strong>Responsive Modular and Multi-language UI: being a user-driven platform, ONAM is operated on a smooth modular interface that offers varieties of languages for its worldwide users.

Trading Aids: ONAM aims for simplicity and ease of trading for its users. So, it offers different onsite aids to its users. Trading Assistant that provides trade alerts and signals, auto-trading bots, live presence of trading experts, news and announcement feed features and many more ensures the user has all the needed aid while transacting.
---
How will ONAM's super-low fees benefit the trader?
Exchange platforms do charge their users a transaction fee or simply a usage fee when they complete an exchange order. Each platform has its own rate and is sometimes determined by the weight of the transaction. Again, ONAM aims to be the platform that offers one of the lowest transaction fees so benefit the users and make them earn more profits.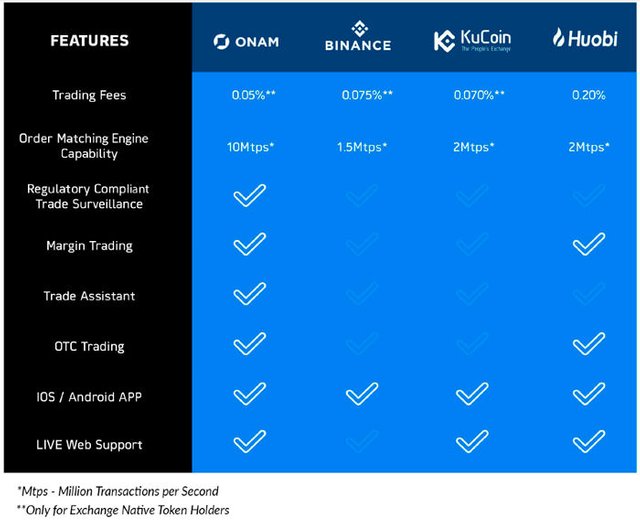 The comparative image above shows us how better ONAM compares with others. Despite offering more trading aids, ONAM still has the lowest trading fees relatively. Hence, users will benefit from this low rate in terms of profit and incentive to trade.
Why is ONAM's aim to work with regulators to be compliant so important?
Owing to the increasing fraudulent cases arising from ICOs, investors are beginning to hesitate from supporting cryptocurrency projects. Investors need regulation that will protect them from losing their funds. This will make project owners wary of the legal consequences of not meeting up to their promised standards. So with ONAM emphasizing on compliance with regulations, investors are assured of a platform that guarantees funds and data safety.
Another reason why ONAM's aim to work with regulators is seen in the effect of the introduction of regulations had on existing platforms that are not compliant. As seen below in the image: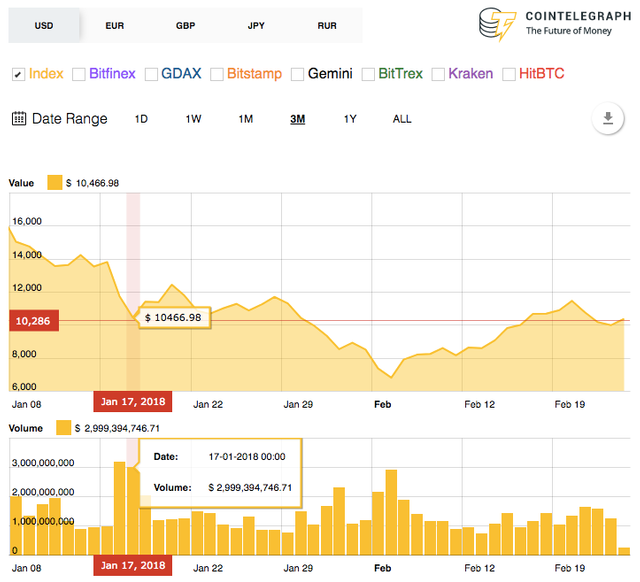 [source]
This price irregularity began when South Korean regulators announced its impending ban on crypto trading. Investors rushed to withdraw their funds to avoid losing them and this caused volatility in the market. So, it is best to operate a platform that is regulations compliant from start to avoid this kind of issue.
ONAM's Enterprise Grade Security

ONAM Use Cases
Case I - Trading Ease and Aids to a Novice
Ed is tired of listening to his friends brag about making money from crypto trading. Not that he doesn't believe in the hype but he is egocentric and wouldn't ask for a guide from his friends. After reading up about Bitcoin on medium and has gotten a grip on what trading entails. He decided to proceed to an exchange platform and make his first order. He again searched for common exchange platforms because he still doesn't plan to ask his friends. After scrabbling through different pages on various exchange platform, the technicality and complex trading platform kept limiting him from attempting a transaction.
He was on the verge of giving up his personality by calling a friend for help before ONAM popped up on his searches. This time, he was presented with a responsive modular UI with guides laid out on the site. He tried out the paper trading and was able to simulate a transaction order without committing his capital. He reached out to the support team through the 24/7/365 live chats to clear his doubts on certain things and proceeded to make his first self-taught crypto transactions.
Ed is now making more profits than his friends because ONAM doesn't only guide him, they offer a cheaper transaction rate as well as real-time feeds and push notification that alerts Ed on profit maximizing opportunities.
Case II - Legal Guarantee and Security Protection
David and Louis are crypto trading partners with years of experience in the crypto trading space. They both sat down at the end of a month trading to audit their profit margin. After running the analytics, they discovered that a large percentage of their losses weren't from their predictions or forecast as regard a coin but rather funds lost to exchange platforms that either crashed or witnessed failed transactions without refund.
They both decided that it is high time they searched for a better platform where legal consequences exist for such occurrences. During their research, they found out ONAM, a regulations compliant platform that offers security against breaches as well as legal backing. They moved their funds from the existing platforms and began to trade majorly on ONAM. Since then, their profit margin has increased significantly.
Conclusion
ONAM being a regulation compliant platform gives investors rest of mind. It makes them trade without fear of losing funds without being able to contest it, they enjoy transparency as well as security threat elimination.
Additionally, ONAM provides its users with an ultra-highly performing platform that is the fastest exchange platform currently existing as millions of transactions can be completed in a second with latencies as low as 40 nanoseconds.
The lower transaction fees, as well as the trading aids and privileges, puts ONAm above existing platforms.
More Information & Resources:
---
Token Allocation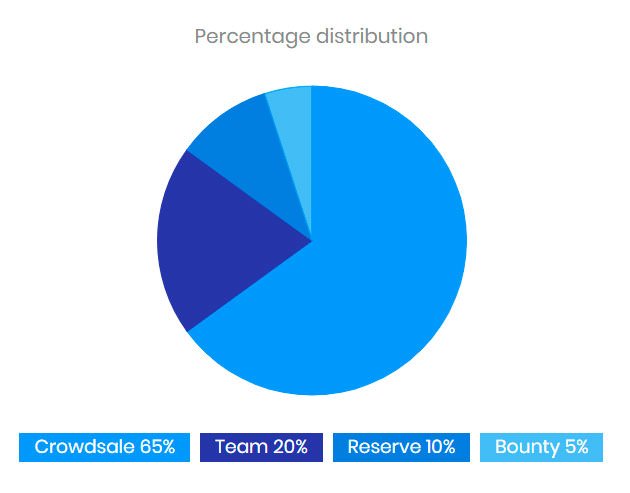 ---
Token Sale Funds Allocation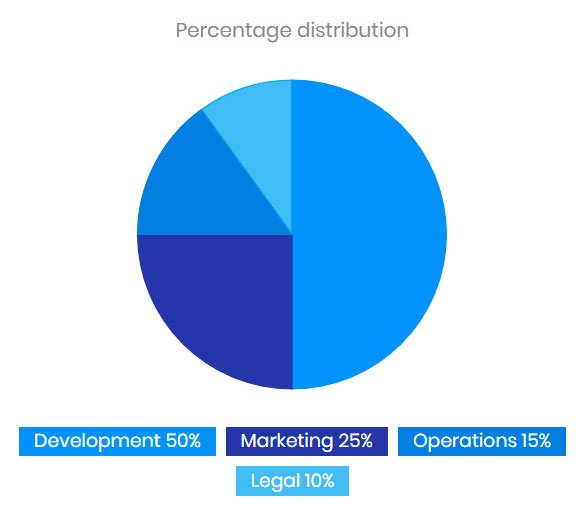 ---
Roadmap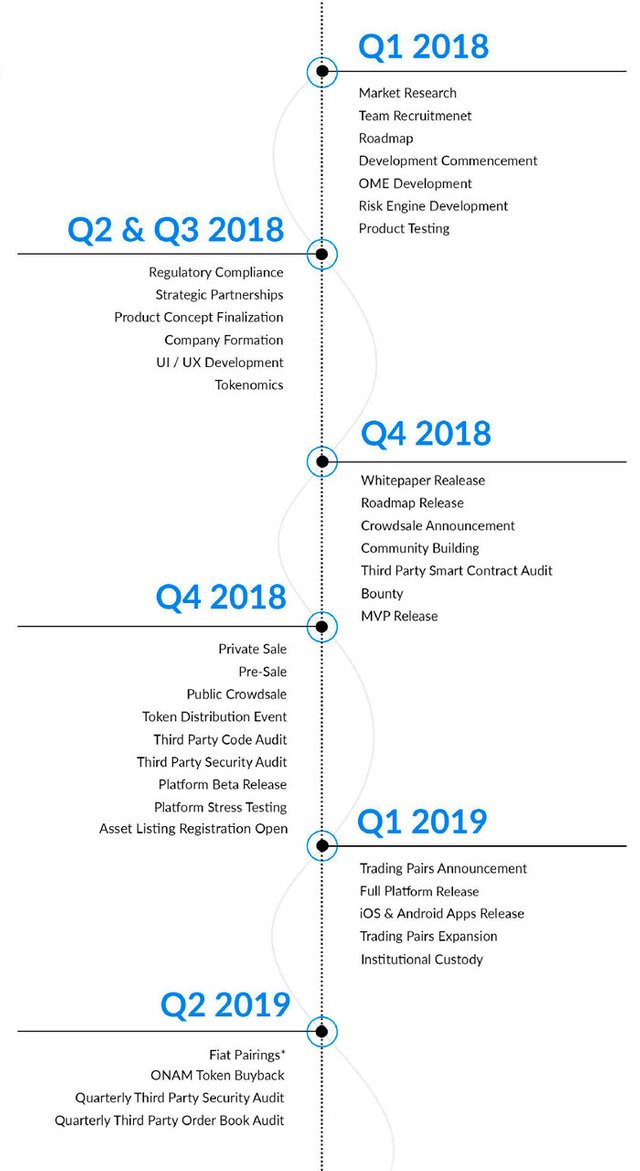 Source: White paper
---
Team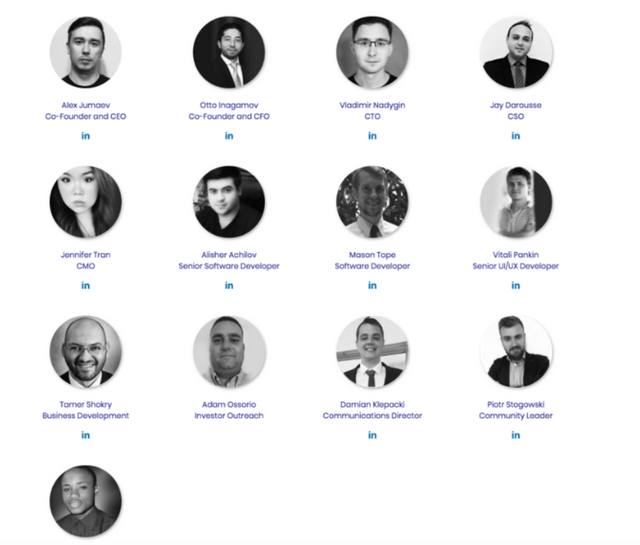 ---
The Advisory Board

---
Twitter Link: https://twitter.com/Iam_TheProdigy/status/1062523527880994817
---
All information and images without sources are gotten from the ONAM Whitepaper and website
---
This is my submission for the @originalworks contest here
onamtwitter
onam2018