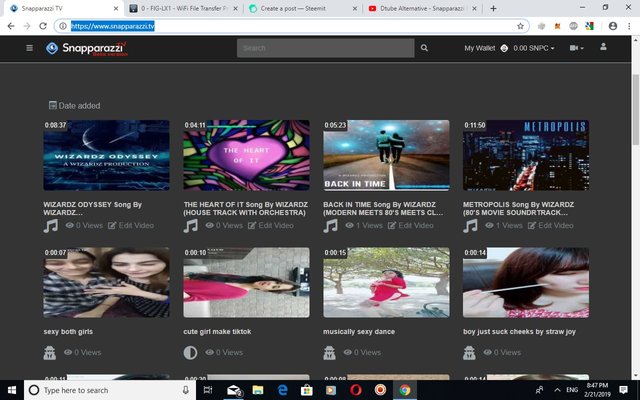 I came across a quite informative youtuber by the name of Keith Wareing who pointed out a new blockchain based content upload website, called Snapparazzi, I found the videoknocking around out of the blue on youtube all thanks there go to Keith for pointing this out, and I do recommend having a look at that here
The actual platform is pretty solid looking on my first visit it's as Keith states a little on the low res looking frontend thumbnails, I found the videos not showing good quality low res was not the case for me on a macbook pro mid 2012 which is an old piece of hardware, the played video was surprisingly fast fluid and lag and stutter free, I have allready begun to phase in some music videos from my wizardzmusic account on steemit,.
I can see this getting big if it gets the motion needed to push high traffic through the site, as allways though like many of these decentralized sites there is not a great deal mentioned on the web about the project in the form of advertising, hence had i not found that youtube video I'd never have known it existed like many other projects. Which I am very glad now that I watched it.
So I thought as it's a second in my opinion to DTube then it's another way for users to expand there portfolio and get their content noticed in the long run it could become very popular and make you some revenue streams, Keith at the time of that video did say the upload function on the site is not available but I found it's working flawlessly , if you upoad some content then you may want to know that to edit your title and tags for a video when uploading choose metadata section and fill that out the upload video option is in the upper right corner by your profile profile icon, it's very very fast to upload content fast for me any way it was la pleasure to upload as aposed to a rigmoral and it don't look half bad, so I for one are pleased with the product and will continue to use it now.
Link To Snapparrazzi Website Below: