Good afternoon fellow Steemers, I think that its time for me to go ahead and post my first Steemit blog. After doing months of research and talking to my peers about the crypto community, I decided to get my feet wet by investing a few of my spare dollars. Throughout this post I will give a brief description of my investments, reasonings, and results. To begin, I started by buying $200 of bitcoin from my crypto comrade @opinizeunltd on the 22nd of December 17. From there I began the task of choosing which altcoins I wanted to invest in.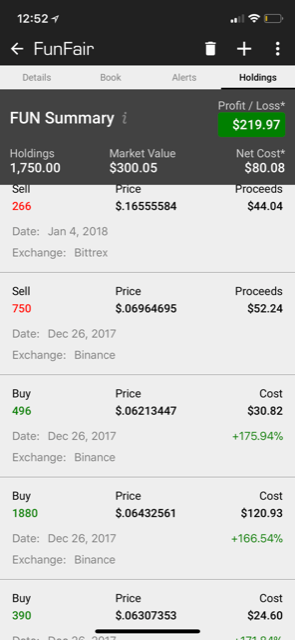 One of the first coins I chose is called the FUN coin. This coin is essentially a revolutionary way for different companies to monetize online casinos using blockchain technology. Realizing the increasing potential in growth for this investment I placed a large portion, over half, of my initial investment into it. Ultimately, this decision paid off as the picture above shows I was able to nearly triple my initial investment in the coming weeks and use those proceeds to invest in different places.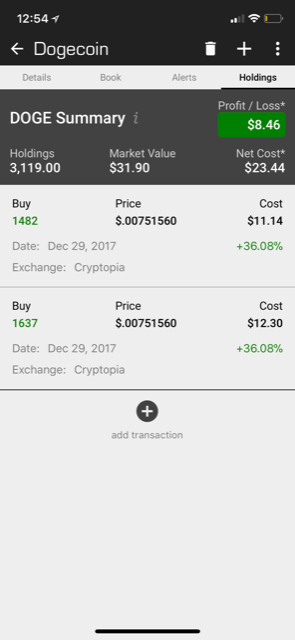 Another of the coins that I chose to initially invest in is DOGE coin. Doge is another crypto currency that aims to be a more efficient means of transferring currency among members of the online community. They try to differentiate themselves by their strong following of diverse members, which seems to be working for them judging by their increasing popularity.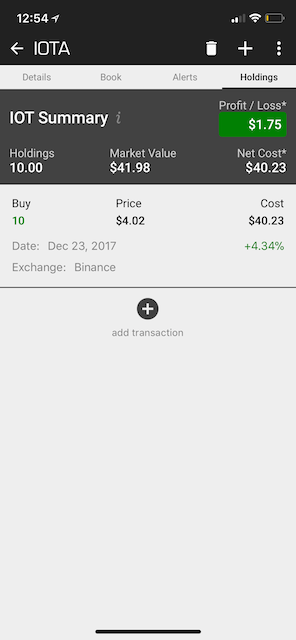 Another coin by the name of IOTA was among the other coins chosen for my initial investment. I like this coin because they took the blockchain technology and put their spin on it, allowing businesses to not only transfer currency but other forms of value such as data, among themselves. With their strong team, market cap, and web presence I think 2018 will also be another good year for this coin.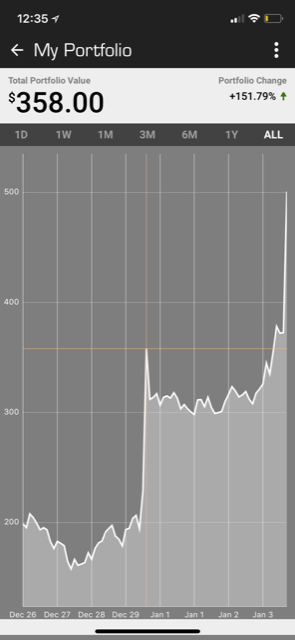 So as you can see, after just one week of trading, on December 30th my $200 investment (minus transaction fees lol) was already up significantly, reaching about 50% to around $300. At this point I decided to make a few more small investments with $60 I had free and bought into three smaller coins by the names of Reddcoin, Electroneum, and PacCoin.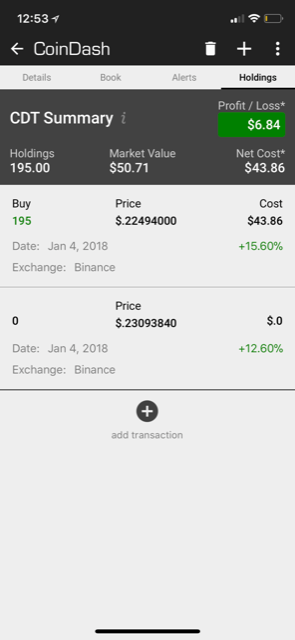 The following week, after doing more research on the markets I found another coin that looked like a promising investment. That coin, CDT is called CoinDash and is used as a way for investors to not only track and research their portfolio, but to benchmark it against other top investors and gain useful insight from one another as well as a number of other helpful tools on their site. I liked this business idea and seeing as how there are a growing number of investors entering the crypto market I think it will continue to do grow because it has a low market cap and limited supply of coins.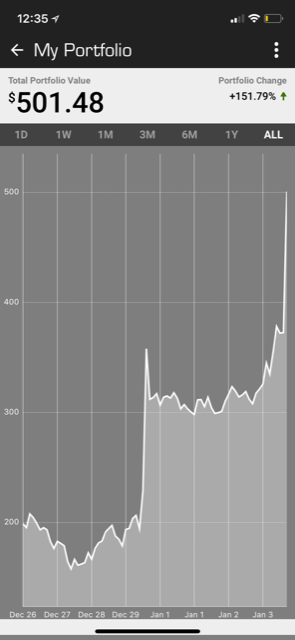 Now for the part that it all boils down to, PROFITS. After only two weeks of successful trading my initial investment of $200 plus my addition of $60 had rose significantly close to 100% nearing $500. The sharp increase in profits during the second week was largely due to the positive price run FUN had. Ultimately, I am aware that my brief investment explanation does not fully support the outlandish profit claims some investors bring to the table about crypto, however it has opened my eyes to the potential these markets can have. In hindsight, if I would have placed my investments in a few other coins on my watchlist during this period my returns would have been even greater. So my advice to myself and other going forward is to do your OWN research and try not to dwell on missed opportunities rather than focusing on the next. And again this is my first post so feel free to leave a comment or advice on how I can improve in the future!