BrandZ(Brandwith) 2018...
What is BandZ?
BandZ is derived from the word "bandwidth".
Bandwidth is the measure of data that can be transferred within interlinked communication systems. To put simply, bandwidth is the amount of "internet" one can use.
The BandZ Network aims to decentralize the internet by creating a global extranet with the power of blockchain technology.
The internet enabled blockchain and now the blockchain will enable the internet.
The BandZ tokens will give users free reign over exchanging bandwidth and services such as VPN.
Bandwidth as a Currency
The internet, measured in bandwidth, is an integral part of our everyday lives. It is an essential service, and therefore bandwidth is an essential commodity. Most internet users in the developed world are used to the idea of buying internet packages that have a certain allowance and using them. In most cases, we are not in control of how we attain our bandwidth, other than a few major companies that offer the service in our locality. The purchase of bandwidth is made even more difficult if one travels abroad.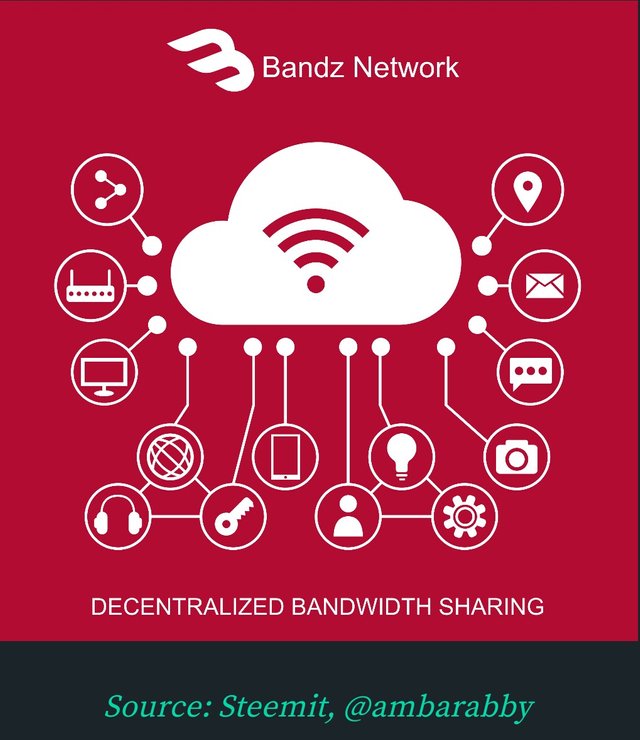 Mesh Networks
A Mesh net is a group of smart devices which connect to each other to create a large region of wireless communication (WiFi). This improves internet accessibility and decreases congestion speed.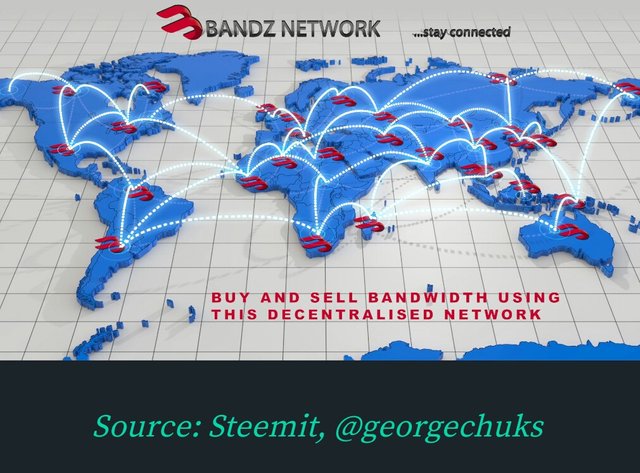 Mesh networks nodes connect dynamically, directly, and non-hierarchically to all the other nodes they can find to peer with. A lack of central dependency on any single node enables each node to participate in information relay. This feature allows mesh networks to self-configure which in turns makes mesh networks fault tolerant and failure resistant. Fault tolerance decreases maintenance costs, which means a cheaper user experience on the customer's end.
Highly standardized, vendor neutral mesh network topologies do not yet exist. It is BandZ' vision to create such a set of standards that would empower smart devices to peer and exchange data. In doing so, the Internet of Things can get off the ground and begin delivering value to the world as it has promised.
Intranet VS Extranet
An intranet is a private network created for restricting access to members outside the organization which set it up. Intranets are communication networks, sometimes used as portals to find internal and external resources.
These tools include, but are not limited to: collaborative technologies (teleconference hosting), corporate directories (file storage), sales and customer management tools (customer relationship manager), any other software used to increase the productivity of the organization.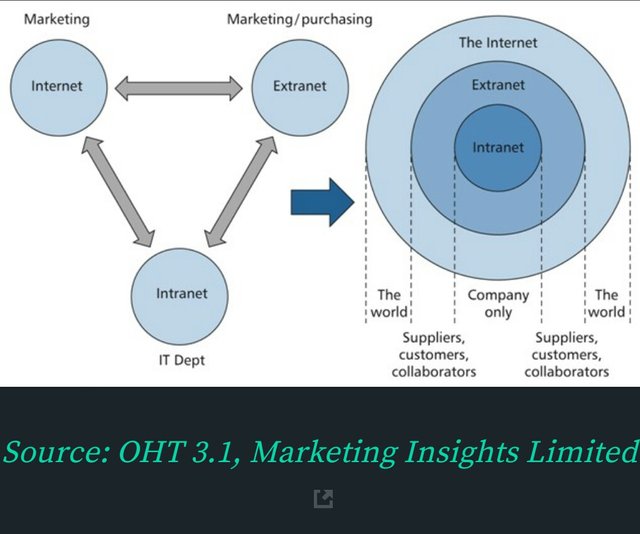 Intranets and extranets both play an important role in allowing companies to control who has access to their internal data, as well as what data is publicly available.
Via firewall servers, these organizations can screen the content traveling within and out of their private networks in order to maintain their security standards.
An example of something that is shared via an intranet could be accounting records. When tax season comes along, the company could choose to share this sensitive data with an accounting firm, shifting it into the extranet.
Businesses can send encrypted messages through the internet from one intranet to another, or to an individual. They can also buy and sell services from each other over these extranets, efficiently and securely.
Secure VPN
VPNs (Virtual Private Networks) allow a computer to securely communicate with encryption, to another computer over the internet. This means that a user can mask their identity by accessing websites from a different computer. The result is that the website or any other third party will not be able to scrape personal information such as identity, credit card information and any other sensitive data since the computer you are connecting from is not your actual computer!
A Virtual Private Network (VPN), with the use of encryption, provides secure access to a remote computer over the internet.
VPNs therefore create virtual intranets (private networks) among computers which can be distanced far away from each other. VPNs create intranet-internet connections between their peers.
VPNs were originally designed to allow remote users and branches of organizations the ability to access their company's resources. With passwords and other authentication methods, including tokens, safety is ensured through P2P pathways called tunnels.
Current Market
Virtual Private Network (VPN)
There are many users who still do not use VPN services. There are also many others that use VPN, but can not be sure of how trustworthy their companies are.
A big hurdle with VPN services is that they require payment and registration. For the modern-day privacy concerned user, this means revealing their identity to the party that is charged with the task of keeping their identity safe. The right to privacy, protecting your personal identity from being revealed to the websites you use as well as potential malware, is a right that every internet user should be able to enjoy.
With BandZ, users can truly control their data, since a decentralized VPN will be self auditing in nature without any third party companies who are interested in selling your personal data.
With BandZ, users can truly control their data. A decentralized VPn
International Data & Roaming
In the current market, when an internet user travels outside of her/his area of coverage they must figure out a way to connect to the internet. This often includes finding free Wi-Fi services that may or may not be available, or purchasing a phone plan locally. The only alternative is roaming, which is often unbelievably expensive.
This is a limitation in infrastructure that punishes the end-user. With the number of mobile devices available world wide, there is no reason for this limitation to exist! BandZ aims to eradicate this problem by allowing users to share and exchange bandwidth among each other regardless of their location or provider. This means that no matter where an internet user is, they are always getting a fair local price for their internet service, without having to sign up for any additional plans.
Use-Cases
Johnny Travels: Use Case 1
Johnny needs to travel to Germany on a business trip for two weeks.
While staying in Germany, he wants to take pictures of the beautiful surroundings and post them on Steemit! His mobile provider wants to charge him very expensive rates for data, while the free Wi-Fi spots are hard to find.
Johnny remembers about BandZ! He connects to the network and is now able to keep Steeming while buying bandwidth from the BandZ network at fair local prices.
Mary's Internet: Use Case 2
Mary lives in a tourist destination. People love visiting her city, but are often caught off guard by the limited options they have for internet access.
Mary sees an opportunity and connects to the BandZ network. She is now able to share her internet with tourists in exchange for BandZ tokens. She can either sell those tokens or use them later to buy bandwidth when she herself travels abroad.
BandZ (BNZ) Tokens
BandZ (BNZ) tokens are at the heart of the BandZ network economy. They will be used to purchase and sell bandwidth, VPN and other services on the network!
The private token sale is starting on June 22nd.
BandZ is also holding an airdrop soon!
Go here for airdrop details!
Check out the BandZ intro video:
More Information & Resources:
BandZ Website
BandZ WhitePaper
BandZ Telegram
BandZ Linkedin
BandZ Facebook
BandZ Twitter
BandZ Reddit
BandZ Github
BandZ YouTube
This is work personally done for the summition of the link of the contest held by @originalworks.