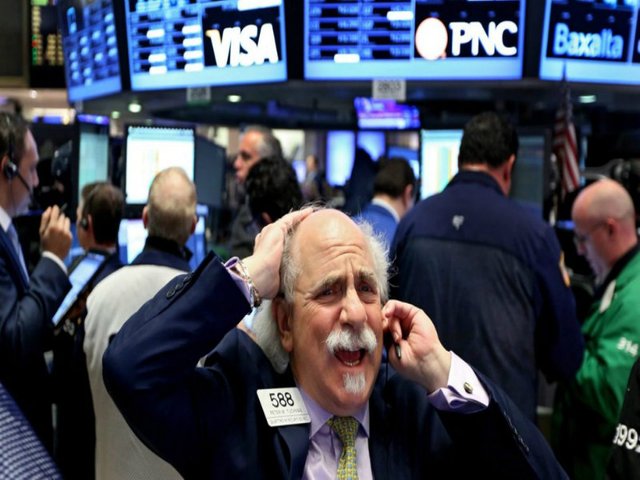 Crypto prices have been getting absolutely crushed in 2018, but could the price action be slightly more than just profit taking?
After a large run up like we saw in 2017, it wouldn't be much of a surprise to see some profit taking as many people were sitting on very large gains.
However, what we have seen to date has been one of the largest profit taking events in the history of crypto.
Is it possible that, more than just profit taking, we are seeing a change in investor sentiment across the board?
Is it possible we are on the verge of another global recession and crypto prices are simply a leading indicator of what people are beginning to feel is coming?
Crypto prices:
Take a look at this chart of the gains in crypto prices from 2017 vs. 2018: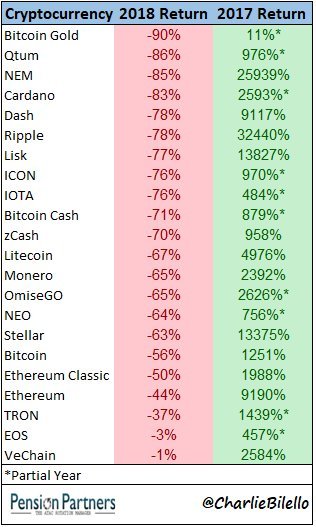 (Source: https://twitter.com/charliebilello/status/1012665007249731586)
As you can see prices have been absolutely crushed in 2018.
Many say that cryptocurrencies represent the ultimate in "risk-on" behavior. Meaning that people are much more likely to invest in them in times of excess, when there is excess money floating around.
Times of excess could be described as times when when stock markets are soaring, unemployment rates are at very low levels, and QE has pumped trillions of extra dollars into the financial system... hmm.
Past trends (US numbers):
Since World War II the US has experienced a ression once every 5 years on average.
The Great Recession, the US's last major recession, officially ended in June of 2009.
That means, we are now over 9 years since the last recession in the US, almost double the average length of time between recessions.
Oh, and there's also this: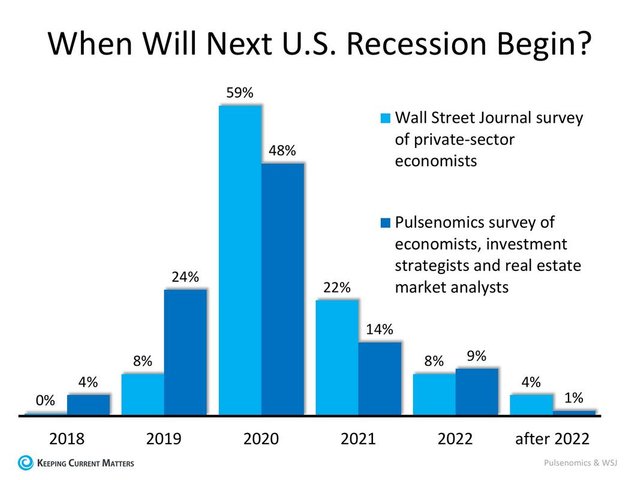 (Source: https://www.keepingcurrentmatters.com/2018/06/28/next-recession-in-2020-what-will-be-the-impact/)
Economic expansions don't historically die of old age, something triggers them. However, the point is that we are now well above average for economic expansion time frames, meaning that the likelihood of a recession coming is likely increasing.
Commodity prices:
Before the Great Recession, we saw the price of oil catch a major bid.
It was around $28 in 2004 and ran up to about $80 in late 2006, just before the recession officially started.
Could we possibly be seeing the beginnings of something similar happening right now?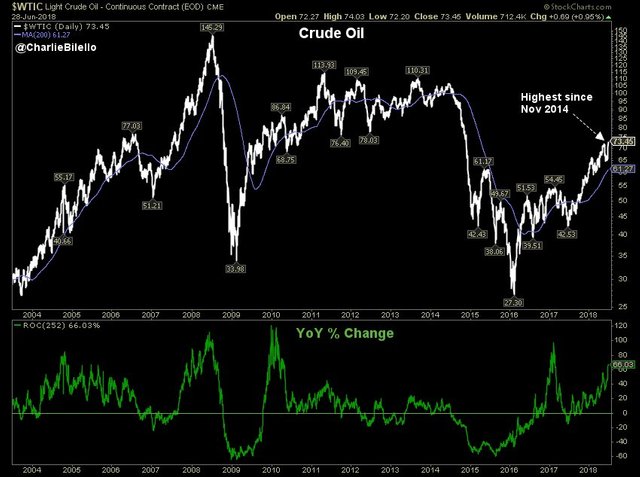 (Source: https://twitter.com/charliebilello/status/1012668261597630464)
Oil is at its highest price in over 4 years.
Bottoming around $28 (again) and running up to the current price of about $74, again over the course of about 2 years.
If history repeats we would see a pullback in oil prices soon and then a massive surge at the start of a recession, which may send the economy further into recession, before prices ultimately plummet.
Yields:
In the US, we have been raising interest rates after the historically low levels seen during the Great Recession.
Generally, rising interest rates eventually cause business activity to retract at some point.
However, the most interesting thing to me is what is going on with the US treasuries.
Take a look at the 10-year yield vs. the 5-year yield: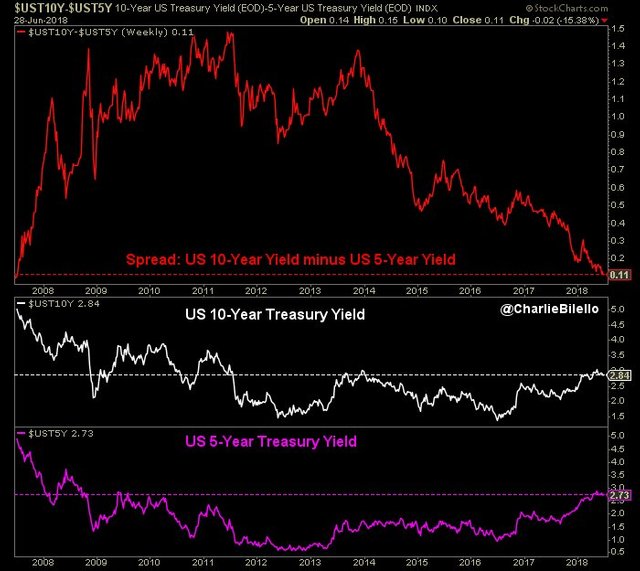 (Source: https://twitter.com/charliebilello/status/1012669972932448256)
The yield on 10-year bonds is 2.84 while the yield on 5-year bonds is 2.73.
That .11 difference is the lowest level since... you guessed it... the Great Recession.
An inverted yield curve is considered a strong sign of an impending recession and we are the closest we have been in over a decade to seeing an inverted yield curve.
*If you are not familiar, an inverted yield curve happens when the shorter term yield passes that of the longer term yield. Meaning that the 5-year bond pays a higher interest rate than the 10-year bond.
In general, it is a pretty rare event, and the US is drifting ever closer to seeing it happen.
Final thoughts:
Most of the stats here are based in the US, though what happens in the US tends to spill over globally.
Most of the crypto selling probably has to do with prices running up too high, too fast. Though, the lack of buying now may be a sign of an impending recession.
Several economic indicators are flashing impending recession, specifically the yield curve.
If a recession were to happen, crypto prices will likely find it difficult to move higher unless there is some crypto specific development driving prices.
However...
There is one major caveat in Bitcoin's favor as it relates to a store of value...
In times of economic turmoil, people will be looking for places to secure their wealth.
As morbid as it may seem, the next US recession might be just what bitcoin needs to break the current downtrend.
Stay informed my friends.
Image Source:
https://news.bitcoin.com/recession-horizon-downturn-bitcoin/
Follow me: @jrcornel