ONAM:SEEMLESS CRYPTOCURRENCY EXCHANGE PLATFORM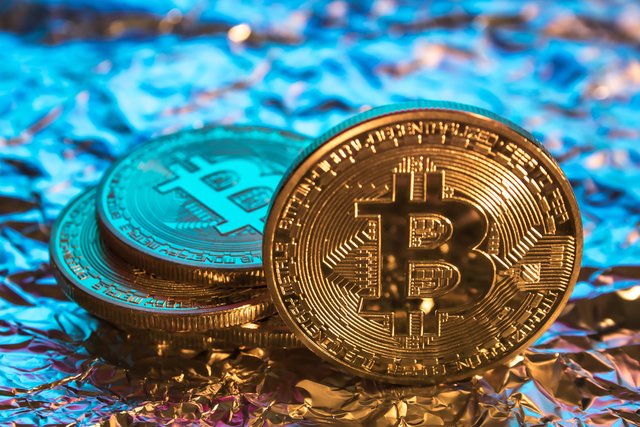 Source
"Bitcoin is a very exciting development, it might lead to a world currency. I think over the next decade it will grow to become one of the most important ways to pay for things and transfer assets."
– Kim Dotcom
Like Kim proclaimed, I personally can't seem to agree less. The advent of Cryptocurrency has shapen the topographical thinking of most investors and this has made the used to be valueless coin plunged to unforeseeable value as seen in recent times. This so called digital currency didn't just appear out of the blue, it's a coined idea by a pseudonym inventor Satoshi Nakamoto still quite a mystery. Being the first, bitcoin planted a rose of hope into peoples mind that one day, government intervention wouldn't be aspired for when it comes to mediums of exchange. It uses a SHA-256 , a cryptographic hash function, as its proof-of-work algorithm. Many other digital currencies have been invented and are termed altcoin. When bitcoin was first created, it wasn't established as a monopolistic entity which means others can as well have a version of their own blockchain,giving birth to "altcoins". Altcoins or alternative coins are other Cryptocurrencies different from bitcoin such as monero, litecoin Dogecoin, bitcoin cash. Bitcoin betokens the first firm of blockchain but it's associated with some issues such as:
•Transaction speed
•Intense on processing power
• Security
•Transaction fees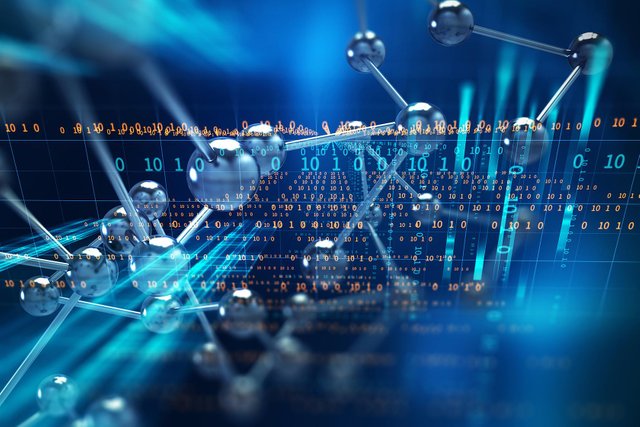 Source
All these variables has led to the blooming of altcoins, and it's just a matter of time before they meet up with the blockchain captain. One by One, different altcoins takes a version of bitcoin downsides and eliminates it which makes adoption skyrocketed within few years. Like Monero, it was made private and developed to be untraceable on the blockchain network(one problem solved). Though bitcoin is the vessel through which Litecoin was invented, it was programmed to solve the longer hours or even days issue it takes bitcoin to complete a transaction (two problem solved). As bitcoin is the first blockchain, others can't seems to build theirs on bitcoin, and couple of years back, Ethereum was invented as a ledger account that allows other blockchain networks to be built on their network

CRYPTOCURRENCY EXCHANGE: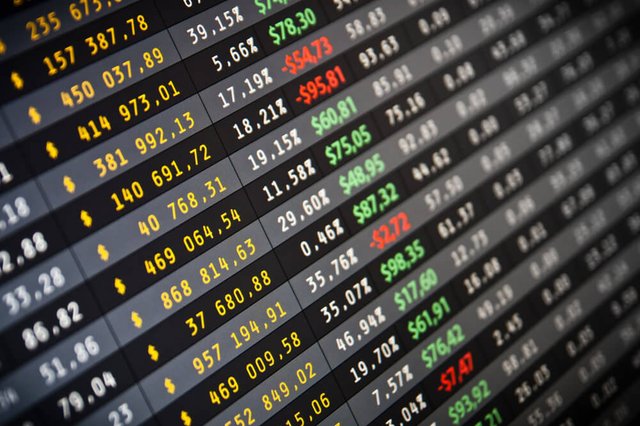 Source
"A bitcoin exchange is a digital marketplace where traders can buy and sell bitcoins using different fiat currencies or altcoins. A bitcoin currency exchange is an online platform that acts as an intermediary between buyers and sellers of the cryptocurrency."
Investopedia
The first notable form of Cryptocurrency exchange was in 2010 when a man exchanged 10,000BTC for two pizzas in Jacksonville. The exchange was initiated by one of the first exchange organization then "bitcoinmarket. As indicated ,there are two forms of Cryptocurrency exchange:

FIAT EXCHANGE:
"Bitcoin is the beginning of something great: a currency without a government, something necessary and imperative."
– Nassim Taleb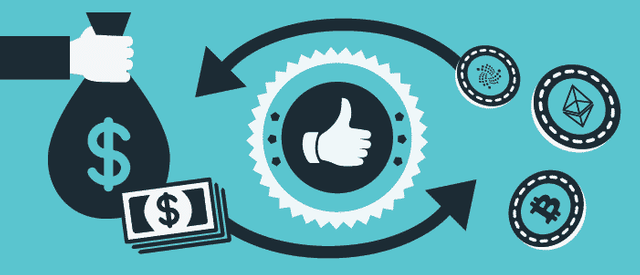 Source
Cryptocurrency is equipped with global standardization amounting to billions of dollars in market cap estimate but total adoption which includes petty traders hasn't been realized yet. If need arises to buy such commodity and am low on Greens, I have to exchange my asset(crypto) for fiat currency. Fiat currency are backed by legal tender and have restrictions to the state that uses them, which makes them faceless when taken to other countries. Digital currencies can be exchanged for government currency backed by legal tender..
CRYPTO TO CRYPTO EXCHANGE;
This is a process whereby an holder exchanges his digital currency for another one. Simply put it as exchanging your bitcoin for altcoins through an exchange platform/organization.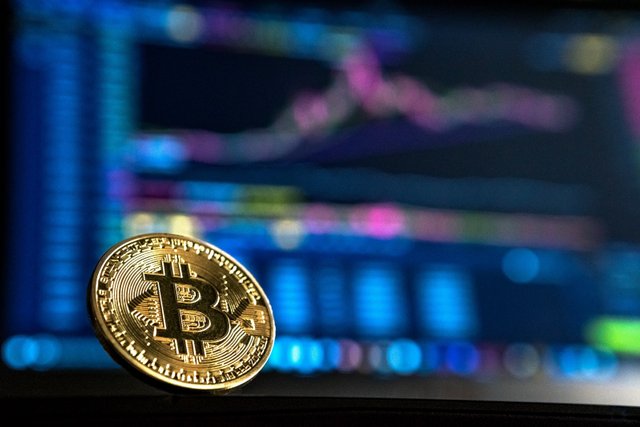 Source
FORMS CRYPTOCURRENCY EXCHANGE ORGANIZATIONS
A Cryptocurrency exchange can be centralized or decentralized as the case may be.
–The former uses a management approach, where users keep their assets with a third party, including their private keys and other security measures, this third party serves as the middle man that connects both exchangers.
–The latter on the other hand, Simply call it a peer-to-peer system, uses a medium where exchangers connect with one another and carryout exchange seemlessly.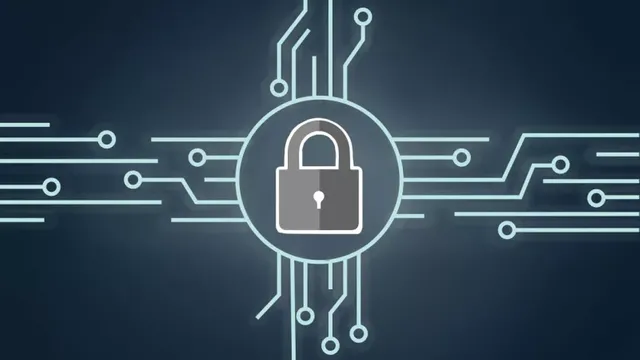 Source
Which ever means you use, has its own backlash. In a centralized organization, series of immeasurable attacks has been recorded against them and the most dominated one was the "mt Gox" attack where over 1.35million BTC was stolen and just this year(2018) about $1.1billion worth of Cryptocurrency had been lost through exchange companies. Most exchange platforms now focus mostly on security and consider other factors minutely. Should it be?.
Which brings me to the latest organization in business that offers the answers to all Cryptocurrency exchange platform rudiments, including security– ONAM

ABOUT ONAM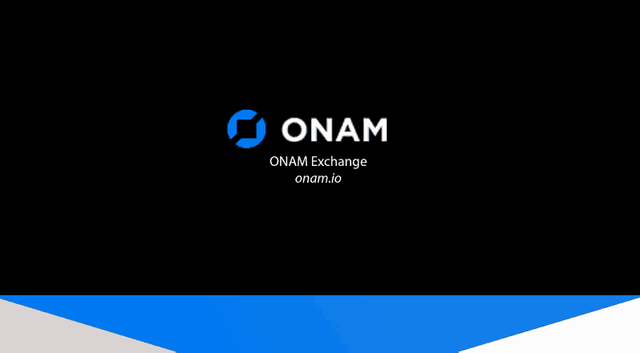 Image source
"Risk comes from not knowing what you are doing."
— Warren Buffet
Why make use of a platform without knowing enough about them?. We've seen waves of Cryptocurrency exchange platforms come and go in recent times. Some can't keep up with the pace of mass adoption and some simply get knocked off the system as a result of non-compliance with rule of the regulatory body governing the exchange ecosystem. ONAM stands by the rules and regulations of the exchange system and they aim to bring an end to issues of security breaches, scalability,market manipulation, customer support, poor market liquidity and regulatory compliance.

ONAM SOLUTION
Security :
Cyber crimes are becoming unstoppable. Many organizations have invested heavily in security but still experience breach in system. With security measures being the basis and main objective new exchange platforms aims to eliminate, more than $1.4billion has been reported lost due to cyber attacks this year alone. They seem unstoppable because when a breach occurs, it's usually too late to stop them, but with ONAM, there's a real-time monitoring device that detects attack of any kind before they occur with the help of their newly developed "Advanced Threat Prevention, Intrusion Detection, and Trade Surveillance systems", secured by encrypted database.
Scalability:
Cryptocurrency mass adoption is fast ascending and many exchange organization can't keep up with the pace and therefore fall out of business. ONAM on the other side has made preparations for both present and future requirements and regulations to stay in business. "Putting in place an engine capable of carrying out 10million transactions per second and latencies as low as 40 nanoseconds".
Market Manipulation:
Many centralized exchange has been accused of influencing the market price of some Cryptocurrency and therefore has been subpoenaed for it. ONAM on the other hand has a real-time monitoring systems that detects any form of trade irregularities that can jeopardize the company.
Customer Support:
ONAM is a service organization, therefore, customer's voice needs to be heard. The offer 24/7/365 live chats in multiple languages with each issue being addressed within 15 minutes. Also, a phone support will be initiated within the first 6 months to listen to customers and ensure their complaints are adhered to.
Market Liquidity:
The rate of a coin when sale is initiated and when it's complete matters. If it takes too long, a fluctuation could have happened which will either reduce or increase the price and this would be borne by the organization. ONAM aims to solve this by enlisting book orders from multiple exchanges.
Compliance:
Some new organizations took a back pass into the business and they later got sent off. ONAM is utilizing every means necessary to comply with the regulatory body to avoid being shut down ,they've already employed one of the top law firms in the States to handle any form of compliance issues.

ONAM'S FEATURES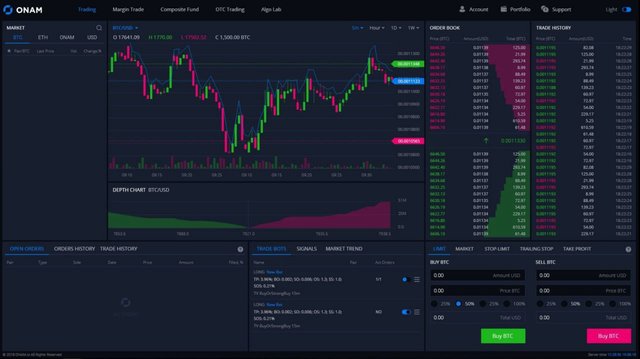 Image source
Advanced order types:– ONAM has put in place some aid-to-trade to assist and guide users on the path of successful trading activities.
–Margin Trading:–
ONAM charges relatively low interest rate on fees borrowed by users in order to acquire higher buying power.
–Margin Lending:–
Those who provide funds to the "margin traders" will earn interest make their own decision on when and how they want the refund.
–Composite index fund:–
Users get various ways to manage their possessions.
–Paper Trading:–
ONAM has a new user friendly model.
–Trading expert coaching
–News and announcement feed
–Push notification
–Multi language 24/7 LIVE chart support
–Advance and customers APIs
–Trading Experts
–Auto trading:– customers can create programmed bots to function automatically in their absence.
–Market Scanning: – this works like a search engine for user's preferred assets that has been selected, to help save time wasted on surfing.
–"Trade assistant powered by machine learning to provide trade alerts and signals"
–whitepaper

How will ONAM's dedication to customer service increase customer confidence and improve usability
•Enterprise Grade security: – Any user data vulnerable to attacks are well scrutinized and encrypted before storage and users private keys of any kind are not stored.
• ONAM Anti-market manipulation system:–
monitors the market for any firm of trade irregularities before they cause any major negative effect in the platform.
•ONAM institutional grade anti-money laundering system:–acts as checks and balances. It helps filter out blacklisted users from the society as well as as notify the management of any attempt to lauder money.
•ONAM has put in place a third party to help audit their system to check for security loopholes and other system and platform regulators on a quarterly basis.
•ONAM is into a partnership with BigGo, "an institutional-grade Cryptocurrency investment service providers" to help solve mar custodian service rendered to international customers.
•Background checks are carried out to abate any employee who doesn't meet with specified standards.

USE CASE 1:
Clinton is an upright man,he abides by the rules and regulations bidding every single entity he's worked with/at. He's also a Cryptocurrency enthusiast. The only thing Clinton sees and could think of whenever he hears of bitcoin is the price. He couldn't afford it so he went for altcoins. He invested heavily when most altcoins came into existence and he's making it big. The exchange organization he uses got knocked off the planet when it got hit by cybercriminals followed by various SEC issued subpoenas for maladministration and not being law-abiding and Clinton lost about 75% of his assets. It was a life time experience but he got over it. His thought were that, altcoins won't get affected by market forces but it turns out otherwise. He then decided to go into bitcoin trading. But, because of his experience, he was scrutinizing each exchange he saw and couldn't find anyone that best suit his requirements until he came across ONAM.
ONAM changed Clinton's story most especially with their Enterprise-Grade security system. He can exchange his assets and be rest assured they're at good hands.
USE CASE 2:
"It's better to hang out with people better than you. Pick out associates whose behavior is better than yours and you'll drift in that direction"
– Warren Buffet
Those are the watch words of Christopher. He was one of the lucky ones to invest in bitcoin when it was still cents. He isn't much of a great trader but he didn't miss out of the bitcoin 2017 boom. As a result of his good association, a friend gave him a leaflets of ONAM and he reads their features, he couldn't help but get attracted to their "advanced order types, paper trading, trading experts" and lots more that have to offe, also the fact that he can speak with someone if he has any issues, blew his mind. ONAM now guides him through and make exchange seem like ABC.

CONCLUSION.
ONAM already has more to offer than the likes of BNANCE and HUOBI.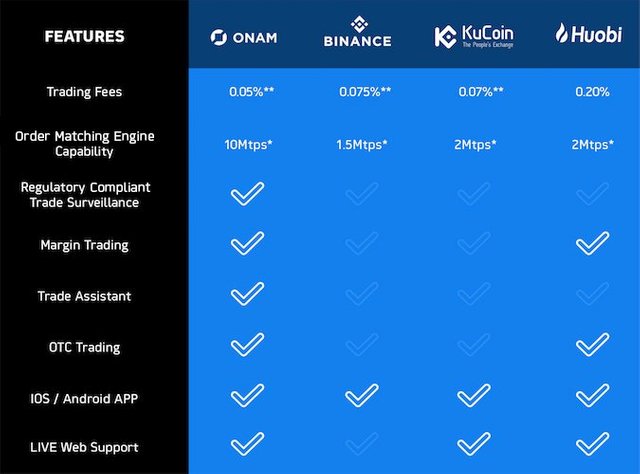 image source
"Also with their institutional-grade policy controls, and 100% cold storage with multi-signature in bank grade vaults for more than 75 cryptocurrencies."
–@originalworks
And their total crowdsale token set at 195,000,000 ,denotes they have what it takes to manage for now and the foreseeable exchange future.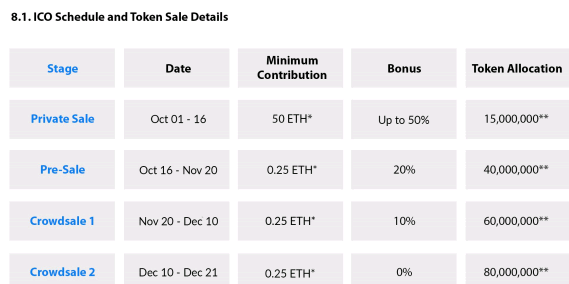 I MADE A YOUTUBE VIDEO. PLEASE ENJOY

ONAM website
ONAM whitepaper
ONAM bitcointalk
ONAM Twitter
ONAM telegram
This is @originalworks weekly contest. Click [here] to participate
This is the link to My Twitter post
ONAMtwitter
ONAM2018