Greetings to all the numerous crypto community! In today's world, social networks have become part of the everyday life of most people in a global society. Social networks take a lot of time from us, for many they largely replace real life. Social networks have enabled people to communicate with their friends and acquaintances from a distance, make new acquaintances, share interesting photos and videos, express their thoughts. For some, social networks become a place of work, and there are many more to continue here, but each of us has our own preferences in choosing social networks, which today have a huge number.
The economy of social networks assumes the receipt of the basic income from advertising. The largest corporations and even small developing companies actively use social networks to promote their products. This is not surprising, since the user databases of popular social networks number hundreds of millions of people. Advertising revenues of social networks are huge, but users do not get even a tiny fraction of these revenues. The technology blockchain changes such existing injustice.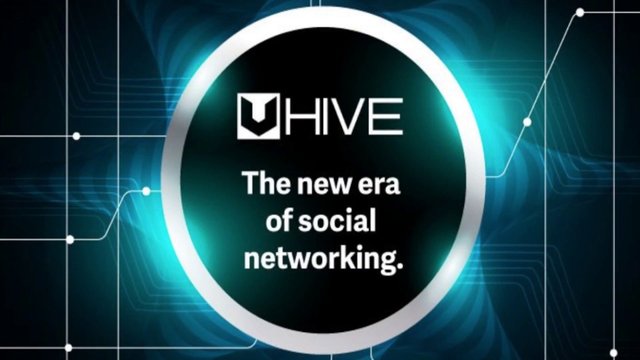 UHIVE is a unique social network of the new generation, offering users a new innovative physical dimension and enabling to explore space in a more intuitive way. From the very beginning of development it was aimed at enthusiasts supporting VR and controlled by AI technology. Using the hybrid block system, the founders of UHIVE linked the best of the centralized and decentralized worlds. UHIVE will enable users to create for themselves two completely different worlds: "Civilized" and "Gray". The civilized world is a cultivated network where every user can communicate with friends and family, acquire new acquaintances; the gray world gives users privacy and anonymity and gives the opportunity to create something new and interesting for themselves. It does not sound much complicated, but the developers promise that everything will be simple and understandable to a wide user base of various ages.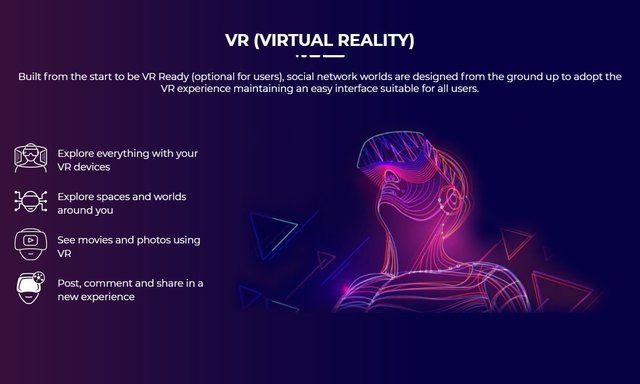 By the way, unlike most blockchain startups, UHIVE has a practically finished product, the launch of which for iOS and Android is scheduled for October 2018. It is noteworthy that the project refused Soft Cap when selling tokens, pointing out that millions of investments have already been attracted for the development of the platform.
And so, ICO and the sale of tokens.
Token symbol: HVE
Standard token: ERC-20
1 HVE = 0.003 USD (0.0015 at the stage of private sales)
Hard Cap = 75000000 USD
Accepted payments - ETH BTC Fiat
The stage of private sales will last until October 15, starting October 29, public sales will start. The main value of tokens is that they will be subsidized from advertising revenue, and in fact if such a unique social network is liked by the user and will be accepted by a multi-million user audience, then the takeoff of tokens can be huge. I will not go far, but for me the potential of the company's tokens looks huge.
The article is purely informative and does not stimulate your investments, make informed decisions based on your own analysis and experience.
Company roadmap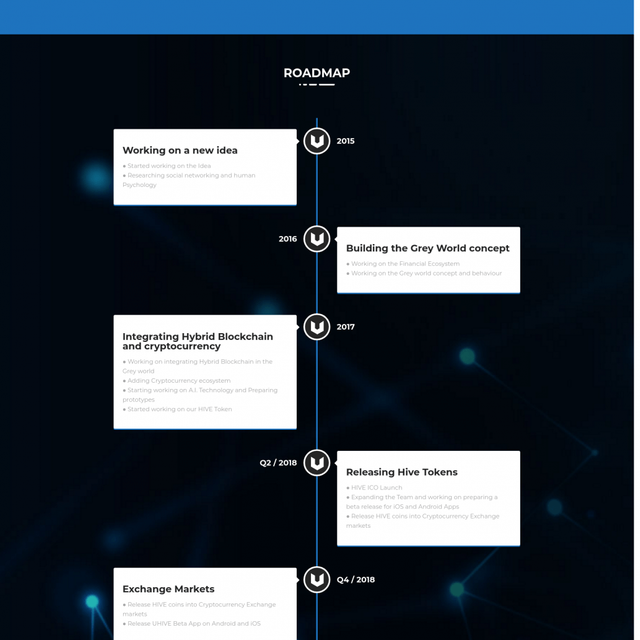 More details about the project, you can follow the links below:
Official website - https://www.uhive.life/
Telegrams - https://t.me/uhivesocial
Technical Document -
https://www.uhive.life/wp-content/uploads/UHIVE_Whitepaper.pdf
ANN - https://bitcointalk.org/index.php?topic=3248342.0
Twitter - https://twitter.com/UHIVEsocial
My username is Bitcointalk - ivanzabolotin
My ID https://bitcointalk.org/index.php?action=profile;u=2224323;sa=forumProfile
My telegram @Zabolotin
My MEW is 0x04Dc948863fE21b097b8752b115a1318a2a1952c