Luke Stokes of eosDAC and Steem Witness Interviewed by @Hilarski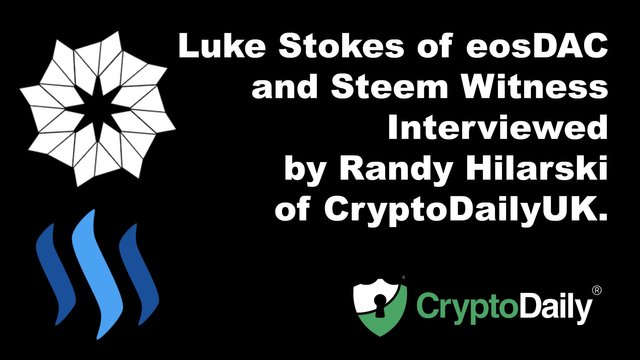 Luke Stokes is a founding member of The Community-Owned eos Block Producer and DAC Enabler, eosDAC. He is also a Steem witness for the Steem blockchain. He also happens to be the witness that I have voted for since I began my Steem journey in 2016. Luke graduated from UPENN with a degree in Computer Science Engineering. He also was one of the founders of Foxycart.com now Foxy.io a SaaS eCommerce solution which processed over a Billion Dollars in value from 2007-2018.
Luke and I became friends shortly after the launch of Steemit. We have attended all three SteemFests together and I have grown to rely on Luke for his knowledge of Blockchain and especially DPOS (Delegated Proof of Stake) models.
My Interview with Luke Stokes of eosDAC
We discuss DAC's Decentralized Autonomous Communities/Organizations/Companies and how they can help the world. The blockchain tech is empowering communities to disrupt companies, over time we will see these communities challenging larger organizations nurturing the concept of DACs.

What is eosDAC?
What does the EOSDAC token do?
EOSDAC tokens give the holders the ability to become an eosDAC registered member upon agreement of the constitution on the member client. The more tokens you have the greater benefits you may have.
Being an eosDAC member gives registered token holders the ability to vote for and elect Custodians to represent the token holder. Custodians will decide how to allocate the DAC's revenues through signing on-chain multi-sig worker proposals.
EOSDAC registered members and/or token holders may receive airdrops of projects that use the eosDAC "DAC FACTORY" to launch their own DACs with.
Registered EOSDAC token holders will be eligible to submit worker proposals to do paid work for eosDAC or EOS ecosystem.
Registered EOSDAC token holders may be entitled to distribution of profits if the elected Custodian board votes to do this.
eosDAC Vision
It is the vision of eosDAC that EOS.IO block production should be open for everyone to contribute and benefit. To realize this vision, eosDAC is an evolving Decentralised Autonomous Community (DAC) focused on EOS.IO Block Production serving the EOS communities worldwide. In doing this, eosDAC is creating the tools and smart contracts it needs to function. It will share these with the EOS communities to help other DACs thrive on the EOS.IO blockchains.
Find Luke Stokes:
https://twitter.com/lukestokes
https://lukestokes.info/
https://steemit.com/@lukestokes
Organizations Luke Stokes is Part of:
https://eosdac.io/
https://members.eosdac.io/
https://fio.foundation/