Hi Steemians!
As announced last weekend, I am interested more and more in the world of cryptocurrencies and in particular those in which I invested. BTS is one of them and I started doing the French translations of the "State Of The Network" (BSotN) by @SteemPower. It is a weekly rapport of the BitShares Network. You'll find in it the weekly news as well as statistics about the network and lots of charts showing how the blockchain is doing.
Today BitShares reaches a new record and surpasses Steem!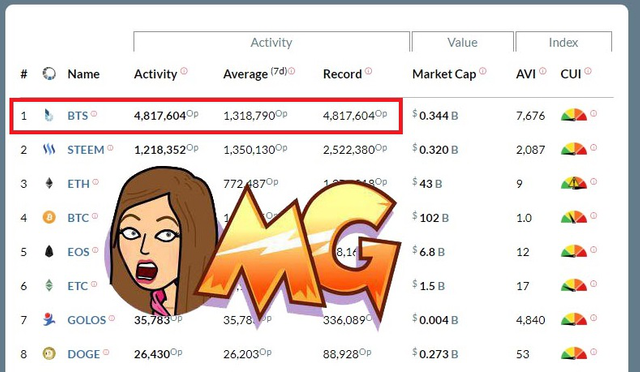 I wanted to know more about it and I interviewed @estefantt, the founder of blocktivity.info, the famous website about the most active blockchains. I invite you to consult it to have precise data on cryptocurrencies activity in reel time!
[Flamingirl]: BitShares blockchain average was hovering around 900k transactions by 24 hours (Tx/24h). Its record was 1.6 million and today we just hit 4.8 million. How would you explain the new BitShares record?
[Estefantt]: Hello FlaminGirl.
The new record is not due to a dramatic increase in utilization of the blockchain from the general public but from a user script that has generated lots of operations.
These operations are reel but only comes from an individual.
[Flamingirl]: Do you think this data should be kept?
[Estefantt]: I have thought about it quite a while and ask some opinions before setting my mind. I think it should be kept.
[Flamingirl]: What is the point of view of blocktivity on the value of these data?
[Estefantt]: When communities will stress test their blockchain or simply when one or several individuals test scripts, the activity resulting shouldn't be discarded.
It is a blockchain activity after all. Also, the weekly average doesn't change much during a rapid peak. You can keep an eye on what is happening globally.
I will also provide individual charts in the near future to track the activity. People will be able to investigate how these records have been set.
[Flamingirl]: Does blocktivity have projects in current development that you would share with the public?
[Estefantt]: Yes it does!
I won't disclose the full idea before I have time to get my mind fully around it but I am close to announcing it. I will keep people updated via this Telegram group, feel free to join :
https://t.me/joinchat/BdGiiBJMeTNlrwnImdqbJQ
[Flamingirl]: Would not the blocktivity logo be better represented by a pink flamingo?
[Estefantt]: That's a tough one!
Obviously, the pink flamingo is a majestic bird and would fit in most of the situations improving it to its apotheosis ... although in this very context, the above-named fellow is not the best pick for representing "block" nor "activity". It is with great sadness that I opted for the current momentary logo.
Thank you @estefantt for answering my questions. Your answers are very clear and your sense of humor is appreciated =). I' hope that like me, all my readers will see more clearly in this new record and perhaps be more interested in this cryptocurrency.
---
---
If you liked reading this article, feel free to FOLLOW ME, UPVOTE and RESTEEM! It's always pleasant =D. Thank you all for your support. See you soon!
Have a nice week-end my dear Steemians!

🎀 FlaminGirl 🎀 with love...