BUDDY;decentralized application automation platform.
Software engineering over time has tried unifying software development and software operation. Development Operations or DevOps for short is used for the automation and monitoring of every step involved in software construction (integration, testing, releasing, infrastructure management). DevOps basically involves the software development, operations and quality assurance.
Several companies make use of the DevOps to run several tests, and they are time consuming as they can take several hours a day from start to finish. In other to speed up the process, a complex infrastructure is constructed, which is not only costly, but requires maintenance at every given time.
Companies therefore spend a lot of resources maintaining their DevOps structure rather than the automation.
The million dollar question we are asking is ''how do we therefore cater for the need of these companies so they can focus on the automation and not DevOps infrastructure maintenance?"
The answer to the million dollar question, in a multi-billion sector is Buddy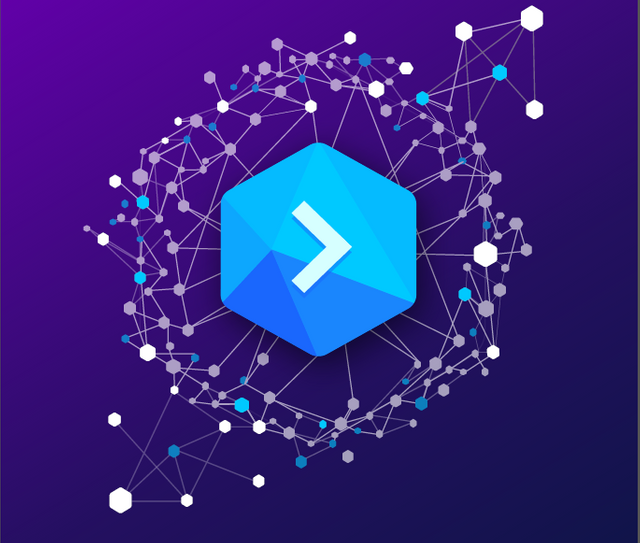 Buddy was established in 2015 and released in 2016 with the sole aim of helping developers or companies at large focus on development of software's and automation, and not waste funds and money developing and maintaining complex infrastructures as earlier stated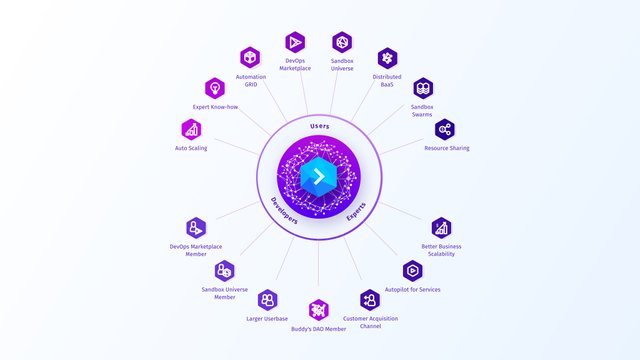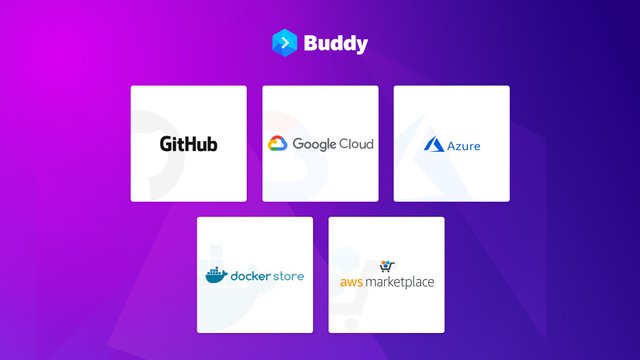 Buddy is partners with Google, Github, Microsoft and other key
Players in its quest to help developers deliver faster & better-quality
Products.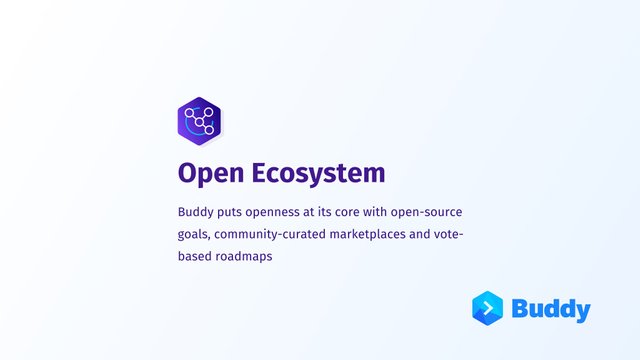 Buddy makes good use of the blockchain to make development faster, less expensive and easy. It attains this with a number of tools and ensures that software development is just a few clicks away.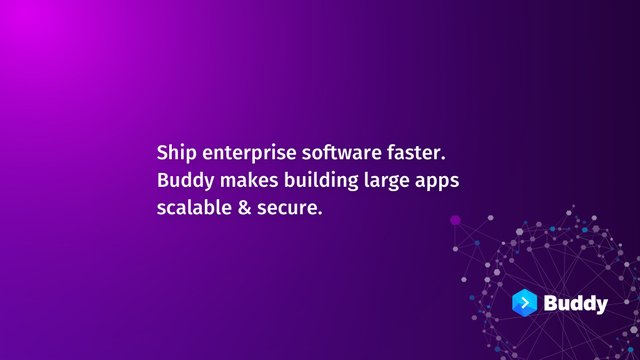 The development and deployment process just got a nitro boost, all thanks to Buddy. With Buddy, it will be faster and ensure that developers do not waste their time on maintenance and repeated processes. Think creativity with just clicks.
Buddy
aims to achieve this and many more via;
DevOps Marketplace
BuddyJust the same way the Playstore is to Google, Developers drop their apps, which have been verified. The apps can either be free, or paid for. In the DevOps marketplace, the scripts which are verified to prevent plagiarism, are paid for to use, or are free.

Buddy makes the market place open to third party developers. These third party developers can then provide their actions in the BUDDY platform, and then use this actions in their development processes. Buddy WhitePaper
Private Automation Grid
Buddy ensures that security is of utmost priority, and does this by ensuring that the user is in full control of the process, (users can choose if they want to use their own bare-metal infrastructure, a private cloud, or IaaS) and makes use of trusted services like Google Cloud for example to end processes that are no longer of use.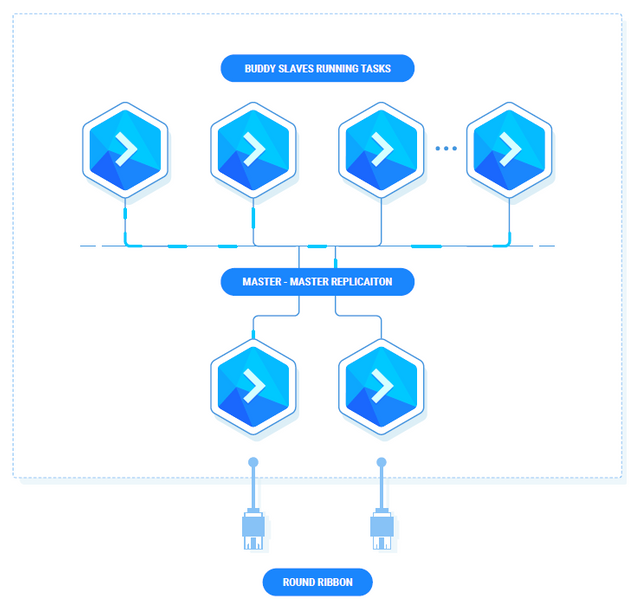 When Buddy instances are created, their roles are automatically decided. The first two are 'master-master' replication, and the next instance will be used as a replication to run more pipelines in parallel.
Shared Automation Grid
When the necessary resources needed by a user are not available to run a required instance, other users with these resources get to run the instances.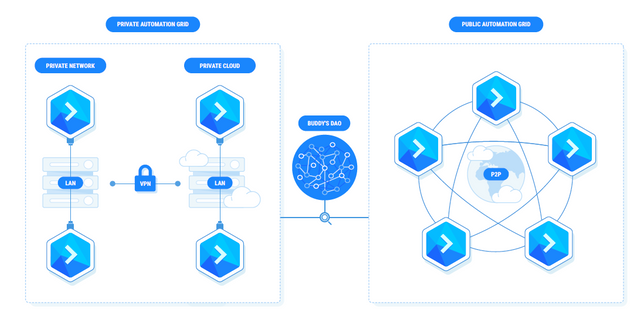 Private instances can be used to develop an application, and is tested by several other users. The results waste no time in forthcoming. This basically shows the relationship between Private Automation Grid and Shared Automation Grid.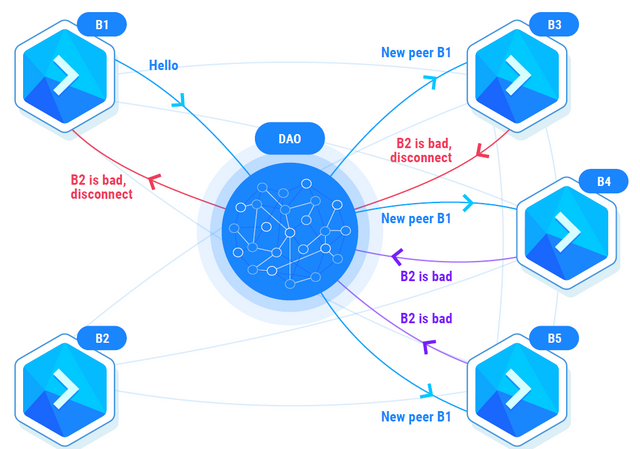 Dishonest or broken peers can be reported to Buddy for immediate action. This can either be as a result of technical issues or abuse.
The Compute Unit
The same way we pay our electricity bills, and are assigned specific units for the amount we paid for, the Compute Unit is fundamental of the Shared Automation Grid. When renting out the units to users who request them in exchange for Buddy tokens, the sellers and buyers set the minimum and maximum prices respectively, while agreeing on a time schedule.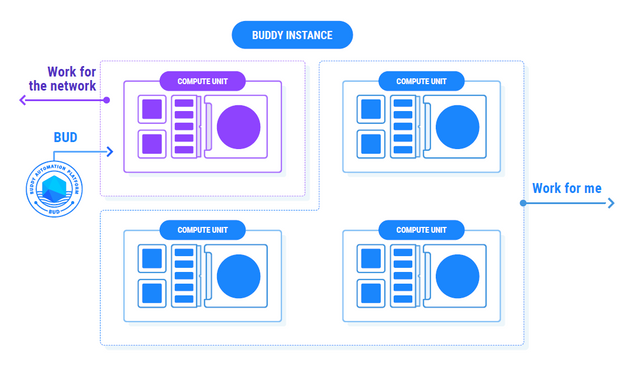 A 3-layer parrallelism system is created , and this divides pipelines and their actions into separate jobs, known as tasks that can be run simultaneously, so as to create a strong demand for Buddy's Compute unit, encourage usage of additional resources from private networks, and help the users deliver faster.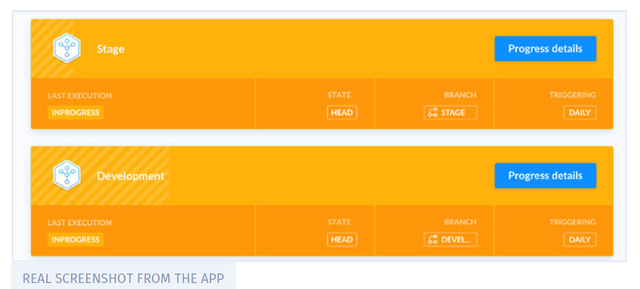 project level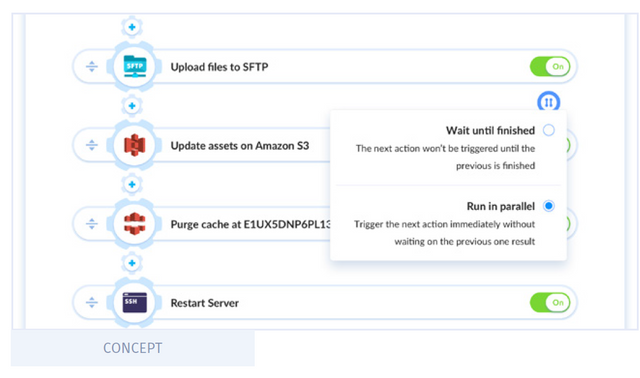 Pipeline level

Action level
The specification of a Compute unit is 2 vCPUs, 2GB of RAM and 4GB of SSD storage.
BUDDY whitepaper
BlockchainOps
Blockchain Developers stand to gain, as Buddy simplifies the task, and gives them the ability to design automation pipelines with ready-to-go-actions, like compiling and deployment for example.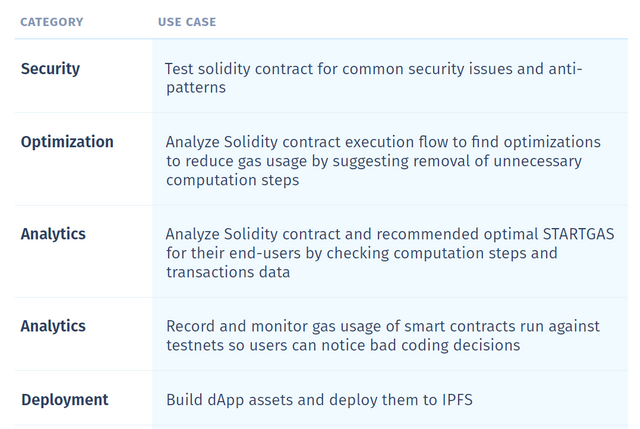 dAppOS
These are 'test sites' for app developments. They are blockchain based logics that are a mix of front-end and back end stacks, and can be extended to other services like Redis or Mongo.
dAppOS can be used as;
•a development , staging or preview environment
•a training tool, as programmers focus on training and not trying to prepare their environment because BUDDYS got it covered.
•a template universe, which is a marketplace created by 3rd party developers.
•swarms via the Shared Automation Grid to spin thousands of dAppOS across the globe to execute tasks only for the time required.
Buddymakes the blockchain a service that is readily available, as a user can create a blockchain of any type with just a click.
BUD Token
The BUD token, based on Etherum creates a decentralized economy that unites Developers, Experts and users to ensure transparency, security, utility.
Use Case 1
Mr Festus is a developer for a reputable company, and is tasked with developing specific softwares. He saves a lot of time on this project by employing automation scripts.
Use Case 2
Miss Sheila just learnt how to program, and decided she needed to make money from her skill by developing scripts which she uploaded on the marketplace. This way, she earned a lot.
In conclusion, Buddy ensures automation development and deployment for developers and the blockchain to ensure that valuable time that would in time past would have been used in repetitive tasks are used in the creation of new softwares, supporting creativity while reducing time and resources expended, ensuring the users are in full control, is easy to use, and requires very little resources to run. This in return ensures that free and premium apps are available and hence more money in an ever growing sector.
For more information on Buddy
Buddy website
Buddy WhitePaper
Buddy OnePager
Buddy Token Sale
Buddy YouTube
Buddy BitcoinTalk
Buddy Facebook
Buddy Telegram
Buddy Linkedin
Buddy Twitter
Buddy Medium
Buddy Github
Twitter link:https://twitter.com/eghe0921/status/1024385837872631813?s=19
This is an originalworks sponsored writing contest
buddytwitter
buddy2018