EMX Analysis
Before you can understand what EMX is and offers, you have to know what "Derivatives" , "Options" and "Futures" are.
Derivatives: A derivative is a financial security with a value that is reliant upon or derived from an underlying asset or group of assets; a benchmark. The derivative itself is a contract between two or more parties and the derivative derives its price from fluctuations in the underlying asset. Options & Futures are TYPES of derivatives.
Options & Futures: A futures contract—also known as simply a futures—is an agreement between two parties for the purchase and delivery of an asset at an agreed upon price at a future date while an options contract is similar to a futures contract in that it is an agreement between two parties to buy or sell an asset at a predetermined future date for a specific price. The key difference between options and futures is that with an option the buyer is not obligated to exercise their agreement to buy or sell. It is an opportunity only; not an obligation—futures are obligations.
Founded in 2017 (Formerly Evermarkets), EMX.com is the first institutional-grade crypto derivatives exchange to bridge cryptocurrency markets with traditional equity and commodity futures markets by opening access to the global derivatives markets - not just cryptocurrency, but also equities, commodities, and forex currencies while using Bitcoin as collateral. EMX aims to provide a fair, transparent and secure market, which will enable efficient and cost-effective trading for all participants.
PROBLEMS, FEATURES & TECHNOLOGY
Problems EMX will be addressing includes but is not limited to:####
Limited Products: There are limited products available on the major exchanges. Most exchanges don't even offer the ability for traders to take a position against a cryptocurrency.
Basic & Unreliable: Exchanges lack institutional-grade features and infrastructure. This Leads to shortfalls in security, outages and long latency times.
Inefficient & Costly: To trade futures contracts crypto traders have to convert to fiat. With assets scattered across multiple exchanges, costs can quickly add up.
Notable Features of EMX
Worldwide Futures Markets: Trade gold, Euro, crude oil, S&P500 index futures and swaps with up to 100X leverage, along with cryptocurrency markets.
Cross Margin: Enjoy greater peace of mind with EMX's cross-margin feature, which automatically utilizes all available funds in your total account balance with your open positions to help prevent liquidation. This ensures that you'll never be blindsided and keeps your leveraged positions running smoothly without any stress on your end.
Best maker rebates: Get rewarded for providing liquidity to the exchange. EMX offers a 0.03% maker rebate on maker orders. Compared to BitMEX (0.025%) and Deribit (0.02%), EMX is setting a new industry standard.
Fast Trade Mode: Traders can save time and trade faster by opening new positions directly from the chart and order book.
Advanced order types: EMX offers several order types, including: stop-loss orders, limit orders, reduce-only orders, with more on the way, including OCO orders and trailing stops. These order types allow traders to better manage risk, and can help prevent liquidations from happening.
No withdrawal fees: EMX doesn't charge any withdrawal fees.
Customizable interface: Drag, drop, and resize widgets on the screen, and apply hundreds of indicators and studies to the chart to suit your trading style and needs.
Up to 35% commissions on referrals: Refer traders and earn passive income with EMX's generous, unmatched Affiliate Program.
Market surveillance:EMX is self regulated and monitors the exchange for any dubious behavior; protecting you and your assets.
How EMX works
Futures contracts
The EMX exchange will include both traditional and cryptocurrency futures contracts. Futures on EMX should function largely the same as they do on traditional futures exchanges with a few exceptions. EMX will administer an auction-based matching model versus a central limit order book, and contract quantities traded may be fractional, while on traditional trading platforms, they are whole numbers.
Trading against margin
Traders will have the ability to hedge their posted collateral to achieve smaller haircuts (greater leverage). This hedging is done through shorting an ETH or EMX future for the initial margin amount.
Clearing and Risk
The clearing house is integral to risk management and exchange functionality. It is there to guarantee customer performance. EMX will initially operate a centralized clearing house to offer appropriate safeguards and standards. The clearing house will also be responsible for maintaining and distributing funds from the guaranty fund in the unlikely event of a default. There will also be additional safeguards to protect customer funds that will be outlined in the exchange rulebook.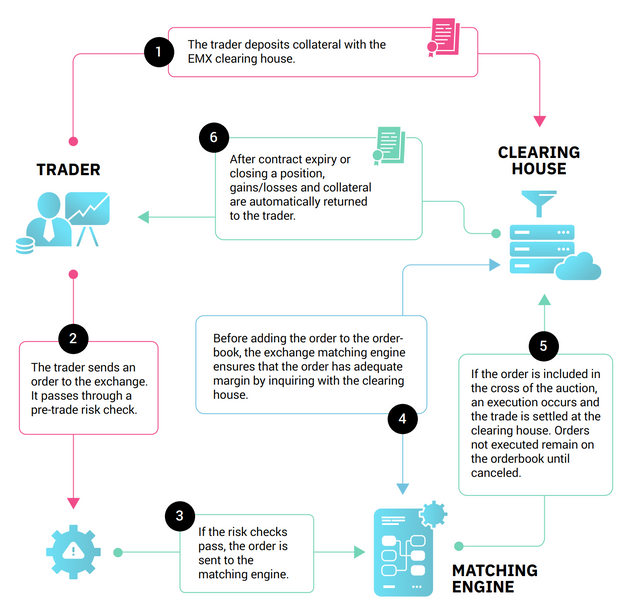 COMPARISON WITH COMPETITORS
EMX will be entering a very competitive space which, in my opinion, is reaching over saturation. It will be facing competition from established platforms such as Bitmex , Okex and Deribit and new entrants like Bybit , FTX adding to the competition. Luckily for EMX, they will be offering killer features and products that none of the others currently have at present such as access to markets like Equities, Commodities , Fiat currencies and of course Cryptocurrencies as well. Below is an infographic detailing some of the differences between EMX and other derivative platforms.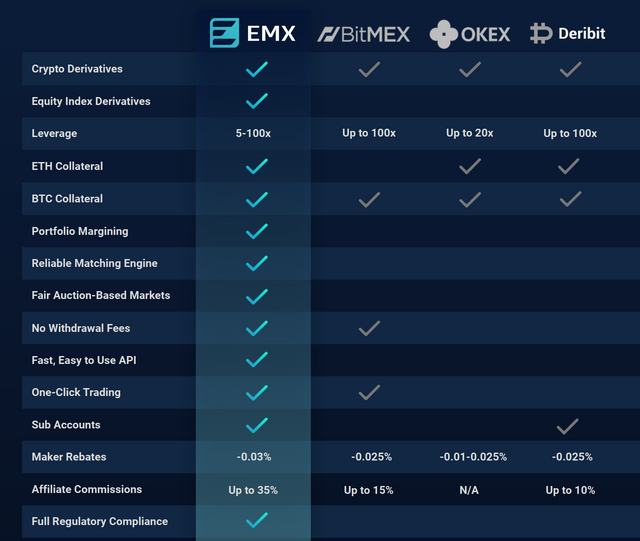 MVP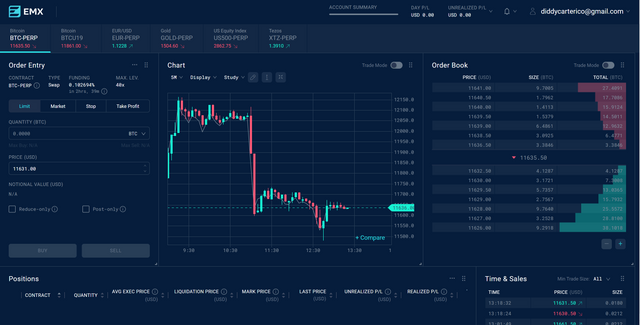 EMX already has a working product where you can leverage trade crypto already. Its super easy and fast to sign up and start using the platform. You can register using this LINK to try out their platform. Note: For a limited time, EMX is giving up to $50 trading bonus when you make your first deposit on EMX. That's basically a free $50 for just signing up and depositing funds to the exchange. Note: KYC is required to trade in the platform due to regulatory compliance.
Currently, you can access Bitcoin and US500 Equity Index Perpetual contracts in the platform . For those that don't know what perpetual contracts are, A perpetual swap contract is a futures contract with no expiry or settlement. This means you will be able to trade the contract in perpetuity as long as you don't get liquidated. Like futures contracts, perpetuals allow traders to speculate on the price of an asset, for example Bitcoin. You can long or short a position with leverage, to profit from the rise or decline of an asset's price. On EMX, the BTC and US500 perpetuals offer up to 50X leverage.
I must say the UI looks really sleek. IT is modern and super simple to use. They also have testnet demoplatform, where users can try trading without the need to deposit any funds. This is especially useful for those that have little experience in leverage trading.
IEO TOKEN METRICS / DISTRIBUTION
Ticker: EMX
IEO Exchange: TBD
Total Supply: 530,000,000
Token Price: $0.15
% of IEO Tokens sold: TBD
Initial Circulation: 106,000,000
Hardcap: $8,000,000 ($5M+ RAISED)
Country: BULGARIA
Unsold Tokens: BURNT
Total supply of EMX tokens will be distributed as follows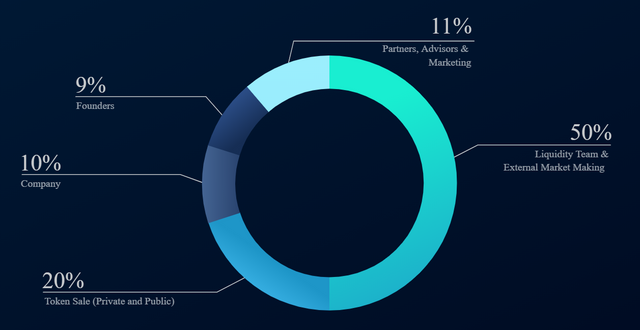 Total amount of money Raised will be used as follows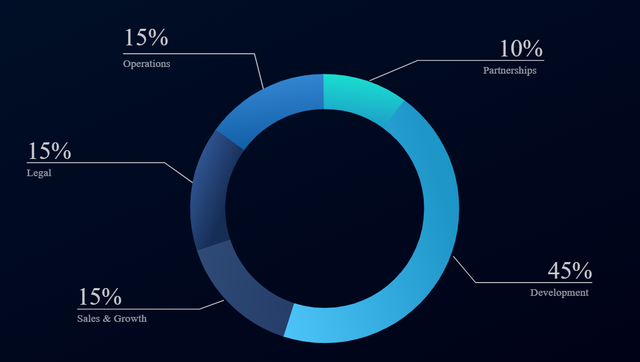 Vesting
IEO: None
Seed Sale: vested 2 to 6 months (<5% unlocked upfront)
Pre Sale: 10% unlock upfront and 6 months linear vesting
Founders: 4 year vesting, 1 year cliff
Token Use-cases
The EMX Token is the all-in-one coin for the EMX platform with use-cases such as:
Collateral: EMX token in addition to other currencies may be used as collateral on the exchange.
Governance: Vote on new features and listings, and get access to investment opportunities before anyone else.
Staking: Stake EMX tokens to the EMX insurance fund, and receive a percentage of liquidation fees every month.
Discounts: Earn generous fee discounts when you pay with the EMX Token
Leverage: Holding EMX tokens unlocks greater levels of leverage.
Rewards: Earn more in EMX trading competitions and access to exclusive incentives on the exchange.
ROADMAP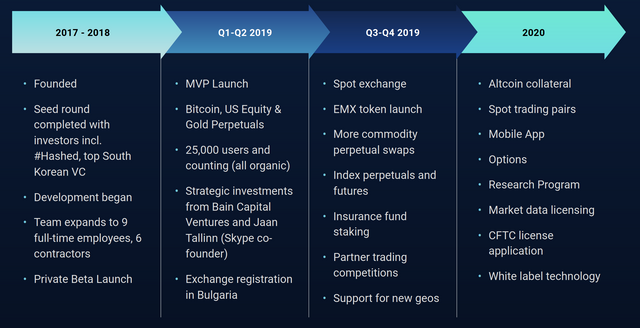 2017
2018
Seed round completed with investors, including #Hashed, top Korean VC
Private Beta Launch
Q1 2019
Strategic equity investments from Bain Capital Ventures and Jaan Tallinn (co-founder Skype)
Exchange registration in Bulgaria
Internal Market Maker goes online
Q2 2019
MVP Launch
Bitcoin, Equity and Gold Perpetual Swaps Launch
Testnet Trading Competition
Q3 2019
Spot Trading Launch
EMX Token Launch
Forex perpetual swaps launch
Additional altcoin contracts on the exchange
Insurance fund staking
2020&Onwards
Altcoin collateral
Additional commodity contracts on the exchange
Spot trading pairs
IEO launchpad
Mobile app
Options
CFTC license application to operate in the US
PARTNERS & INVESTORS

EMX has received strategic investments from top VC firms as Bain Capital and #Hashed and Starwin Capital.
Hashed is a global, early stage venture fund focused on backing founders who are pioneering the future of blockchain and cryptocurrency. Hashed is based in Seoul and San Francisco. Investments have included EMX, EOS, Ontology, Carry Protocol, ICON, Cosmos, Quantstamp, Contents Protocol, Qtum, Multivac, Terra, and others. The fund grew from $600K to $250 Million in 18 months back in 2018.
Bain Capital Ventures partners with disruptive founders to accelerate their ideas to market. The firm invests from seed to growth in startups driving transformation across industries, from infrastructure software and security to logistics and e-commerce to finance, crypto and healthcare IT. The firm has helped launch and commercialize more than 240 companies, including DocuSign, Jet.com, Kiva Systems, Lime, LinkedIn, Rapid7, Redis Labs, Recent crypto investments include decentralized finance (DeFi) projects Maker and Compound, decentralized derivatives markets UMA & dYdX.
EMX also have strong partnerships with leading companies in both the Blockchain and non-blockchain space such as:
Bitgo, custodial provider
Blind, South Korean professionals app
O'Melveny & Myers LLP, top law firm in USA
TEAM

Jim Bai – Cofounder of EMX. 9 years at Citigroup & Graham Capital where he Managed $1B+ futures and options book.
CRAIG AUSTIN – Cofounder of EMX. 12 years at Microsoft & AQR Capital ($208B Hedge fund) where he Led asset allocation research engineering at AQR
JIM FALVEY – Chief Regulatory Officer & General Counsel at EMX.. Former General Counsel for ICE, EurexUS, RJ O'Brien, and Green Key Technologies.
SOHYUNG KANG - VP, Growth at EMX. 13 years in marketing and digital media, at HBO, DIRECTV and Viacom. Director of Marketing Production at HBO, leading campaigns for Game of Thrones and Westworld.
MAIN ADVISORS

Simon Kim – CEO of #Hashed, leading South Korean VC. Founder of Knowre, education technology company
Jerald David - 20 years in finance and exchanges. Chief Administrative Officer, GreenX. Director of Venture Management, CME Group.
Kevin Guo - Founder & Co-CEO of Dianrong.com, leading Chinese P2P lending platform. Chairman of Starwin Capital, fintech investment fund.
Howard Chao - 35+ year career in law and technology investment. Principal at Doon Capital, emphasizing U.S./China synergies.
FINAL THOUGHTS
I REALLY like the exchange and its concept. I like the fact that I can use BItcoin as collateral to trade futures of not just other cryptocurrencies, but equities and commodities.
As long as EMX has liquidity, the platform will keep growing with more and more users coming in to use it which means they will a very profitable company in the near future. Exchanges make a lot of money in the various fees they charge.
EMX has no deposit or withdrawal fees. This is the first exchange that I have seen to offer no withdrawal fees.
The team and advisors are solid and are more than capable to fully deliver on the roadmap and take the platform towards mass adoption in not just the crypto space but in traditional space as well.
Users will be able to make money by staking their EMX tokens to the insurance fund will gives monthly rebates. This gives an incentive for Tokensale participants to hold their tokens instead of sell it when trading starts.
-The UI of the platform is super user friendly and easy to get used to. I think this is a major advantage for EMX.
The softcap of $5m has already been reached so the project has secured enough funding to deliver the complete product and with opresale and public sale coming soon, they are sure to hit their hard cap.
Finally; they already have a product where you can currently trade and try out the platform before token sale is even completed. This is a major win for EMX.
EMX SOCIAL LINKS
Disclaimer
This analysis is based on information that is currently publicly available in the White Paper, Website and Team . The above information is not financial investment advice. Please do your own research before making investment decisions. This information is for educational purposes only. I will be investing in EMX personally.
Follow DiddycarterICO for more crypto content
Spreadsheet: https://bit.ly/2JcUIws
Telegram Channel: https://t.me/diddycarterico
Discord: https://discord.gg/jTzYpJc
Twitter: https://twitter.com/diddycarterico
LinkedIn: https://www.linkedin.com/in/diddy-carter-35894869