When it comes to security in the world of cryptocurrency, we all know we should be very careful when it comes to protecting our accounts, passwords, private keys, etc. With data leaks, phishing scams, hackers and all manner of cyber insecurity, the last thing you want is someone accessing your crypto accounts and draining your wallets. Coinbase is certainly no exception and they make sure you know it. You can't even log in without a verification code of some sort after you put in your 38 character password.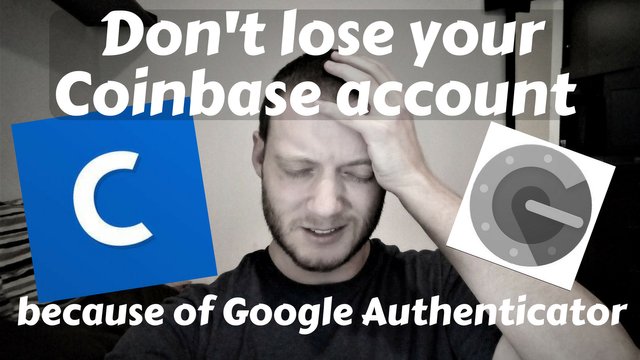 2-Factor Authentication
Coinbase (and everyone else that uses it) strongly suggests that you use a 2-factor authentication (2FA) to sign into your account, such as the Google Authenticator app, which provides a code to your smart phone to make sure it is really you signing into the account. I'm sure most of you reading this already have a 2FA set up for your Coinbase, but if you don't, do that right now. Here is the FAQ on that if you need more info.
What many people don't realize is that if you are using Google Authenticator for Coinbase and you lose your phone or it gets stolen or it breaks... you can't sign into your Coinbase account anymore. Your account is linked to that phone because of the Google Authenticator app and the only way to disable that is to have your phone with you. So then your account becomes unusable because you can't sign into it. Well THAT sucks, doesn't it?
What you NEED to do before you lose your account FOREVER
There is but ONE solution to the problem of losing your device with the Authenticator app: the SECRET SEED CODE. When you add your Coinbase account to your Authenticator app, it gives you a bar code to scan. Along with that bar code is a 16-digit alphanumeric code that you need to write down and/or print off and duplicate and then keep somewhere safe (like with your Steemit keys). Again, if you ever do lose/break your phone, this code will be the only way to access your Coinbase account again.
So if you are currently using Google Authenticator for your Coinbase, GET THAT SECRET SEED CODE. You can get it by logging into your Coinbase account and clicking on SETTINGS and then SECURITY. You can then click on "Regenerate Secret Key" under Two-Factor Authentication. Type in your current code from the Google Auth app and there you have it. Write it down. Twice. Or more. Keep it safe.
When you get a new phone, just download the Google Authenticator app and push the red plus sign (+) then click on "Enter a provided key". It will ask for the account name (Coinbase) and your key and that's when you put in the Secret Seed that you wrote down and kept safe. Now you can access your account again! Yippee!
What if I don't save the Secret Seed?
Now, if you're like me and didn't know all this before it was too late, there is a last resort solution. My phone got stolen while I was in Mexico City. Here's the story if you want to hear it:

Because I didn't know about the Secret Seed Code, I couldn't recover my Coinbase account. I went in circles on their Support website trying to look for a solution. The only thing I could do was contact their support team to let them know my situation.

From Coinbase's Support site
I tried writing them emails but they kept sending the wrong information because they assumed I still had my phone number even though I specifically said that I lost my phone number too. So I finally ended up calling their support line. Yes, on the telephone. I was not expecting a short wait time or even a very helpful human on the other end, but to my surprise, that's exactly what I got. I spoke to a representative named Virginia and I told her my situation and that I'd gotten poor responses through email. She listened to me and told me that really the only thing that could be done in my situation is to create another Coinbase account with a different email and then request to have the funds in the other account transferred into the new one. Well, it's not ideal, but it beats losing everything I had stored in my old account all because some chump thugs saw my white skin and thought I'd be a good pickpocket target.
But don't let it get to that point. Make sure your Secret Seed Code is written down and that you can get to it if you ever lose your phone.
I hope this helps someone avoid a disaster. Be sure to RESTEEM this post so more eyes can see it and avoid making my mistake.
Tell me, did you know about the Secret Seed Code for Google Authenticator? Because I sure missed it when I first started using it.