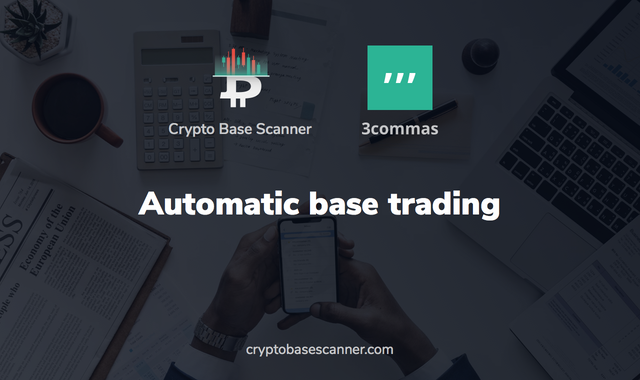 Crypto Base Scanner and 3commas Trading Bot have recently made a significant development in their users' overall cryptocurrency trading experience by deciding to team up and offer a platform where clients can simultaneously use both tools to grow their cryptocurrency investments.
Cryptocurrency trading is an extremely fast-paced industry where traders can easily miss out on the potentials of joining a profitable market once they lose track of sudden price fluctuations or fail to immediately analyze chart movements. Manual observations and analyses of the activities, trends, and developments in specific coin markets and the general cryptocurrency exchanges can be very difficult, time-consuming, and stressful. That's why it is truly wonderful to see the invention of certain tools and witness the development of applications that help traders manage their digital coin portfolios and track their trades.
3commas Trading Bot is currently being used by more than 22,000 cryptocurrency traders with a trade volume of more than $6 million per day. That is expected to increase as more investors get into the cryptocurrency market.
The trading bot company provides smart tools where traders can minimize their risks, exponentially grow their profits, and manage their portfolios across multiple exchanges without having to deal with the daily hustle and bustle of the very dynamic crypto market. It uses an intelligently designed interface where multiple bots can automatically trade on the possible listed exchanges according to your preferences for anticipated percentage gain, trailing stop, and other customizable SmartTrade settings.
Crypto Base Scanner, on the other hand, is an innovative application that uses unique algorithms to accurately analyze the cryptocurrency markets and identify bases in real time. It has been launched to the public in the latter part of 2017 and is now used by hundreds of traders worldwide. Since its inception, a lot of enhancements to its features and modifications to its algorithms have already been implemented in order to help users get optimum results from the system.
The CBS application basically helps you find the best crypto markets using the QFL strategy. Its algorithms work to identify respected support levels which could serve as your basis on whether or not to enter a particular market. It further allows you to customize your accounts according to your preferred drop percentage from base levels and be notified accordingly. The decision when to buy or sell a specific coin will still ultimately depend on you. Therefore, trade happens manually with Crypto Base Scanner.
Because of the new collaboration with 3commas Trading Bot, it is expected that Crypto Base Scanner's clients will gain more confidence in their trades and earn higher returns on investments. Clients can now use both features simultaneously and take advantage of the services of each other. That only means that you get the benefits of both applications because of their collaboration.
Trading experts and innovators see this partnership as truly powerful in delivering excellent results. You could customize both your CBS and 3commas Trading Bot account settings in order to reflect your desired trading strategy. By doing this, you allow CBS to see the bases on which the bot would act on. Instead of manually analyzing the market using the QFL strategy, you could just simply set the parameters accordingly and let the trading bot do the work for you.
Taking advantage of this collaboration could ultimately free you from the time-consuming and stressful crypto market. Instead of spending an entire day looking at unpredictable charts and being highly emotional as you see ups and downs, you could just let the CBS algorithms and the trading bots take the burden from your shoulders. With this, you get to maximize the scientifically designed technology to build your portfolio and increase your crypto assets.
When two active innovators work together to provide great services, we can only expect to see the best results. Days are definitely just getting more exciting as further developments happen to Crypto Base Scanner!