The best cryptocurrency exchange platform: ONAM

Index.
Introduction.
Challenges & Our Solutions.
ONAM ICO.
3.1. ICO Schedule and Token Sale Details.
3.2. Token Utility.
3.4. Token Buyback.
3.5. Token Allocation.
Exchange Fees.
Exchange UI Preview.
Regulatory Compliance.
Enterprise Grade Security.
ONAM use case.
Team Members.
9.1. Advisors.
Conclusion.

Introduction
Since the beginning of 2018, cryptographic currency markets have advanced towards a market limit of one trillion dollars and this surprised most unsuspecting exchanges. However, in its current state, the rigid infrastructures that use most of the exchanges will not be able to handle the real massive adoption in the future, which will lead to closures of new clients or the abandonment of joint projects.
It is a cryptocurrency exchange platform which presents a platform that complies with current and future regulations established by the SEC and other regulatory bodies, as well as offering the latest and greatest in security, scalability, transparency, customer service, liquidity and fulfillment.
1.1. Characteristics of ONAM:
- Advanced ordertypes such asTrailing Stops,Take Profit, Iceberg Orders, Fill or Kill, GoodTill Cancelled, One Cancels Other along with industry standard Limit Order, Market Order and Stop-Limit options offered on our platform will help customers in preserving their profits and assist them in becoming more successful in their day-to-day trading activities.
- Access to regulatory compliant Margin Trading will allow our users to pay a small percentage fee on borrowed funds in exchangefor larger buying power.
- A responsive Modular UI we have designed allows our users to customize their trading page to make it sufficient for their needs. Our modern, responsive UI solves shortcomings and design flaws of existing popular exchanges and their apps.
- Trade Assistant powered by Machine Learning provides Trade Alerts and Signals. ONAM Trade Assistant will limit risks based on account balance, current positions, and the unique risk tolerance of each individual trader, thus increasing profitability and aiding our traders to stay profitable.
- Auto-Trading and trading strategy backtesting allows our customers to create trading bots based on their own strategy with the indicators they prefer, or to simply use the ready-made strategies created by the expert traders on our platíorm.
- Customers can use our social media and market sentiment analysis tool powered by machine learning for ultra-fast sentiment analysis of the market conditions to make better trading decisions and stay a few steps ahead of traders using other platíorms.
- The institutional grade market scanning tool is powered by Machine Learning. Market scanner is a vital component in any successful day traders career. Successful day trading involves trading the most volatile assets in the market. Our market scanning tool will allow our customers to find coins and tokens to trade based on the specific criteria they input. lt will help them focus on those trades sooner rather than spend hours scanning the market manually.
- Advanced charting with the technical analysis tools that we provide will help our customers chart any given asset within our platform without the need to leave our exchange or spend extra funds on third-party charting tools.
- Push Notifications are an integral part of any given app. Most apps use push notifications to keep their users updated. However, cryptocurrency trading platforms are still lagging in this aspect. We want to make sure that you are alerted immediately when your order fills or new coinsltokens are listed, as well as other real-time activities on your account or ONAM exchange.
- OTCTrading as part of our platform will facilitate buying and selling of assets for institutional investors and large traders within our ecosystem, without adding to the volatility of the market. By employing trustless smart contracts, our platform will act as an escrow to ensure smooth swap of funds and assets.
- FIX Server for our lnstitutional traders.
- Advanced and Custom APls.
- Affiliate Program.
2. Challenges & Our Solutions.
| Challenges | & | Our Solutions |
| --- | --- | --- |
| Unsafe exchanges and Security breaches. Cryptocurrency exchanges have been the targets of various hacking groups beginning in 2011, and since then security concerns have only grown with each new breach. In 2017 alone crypto exchanges lost over $266 million dollars to security breaches and in the first half of 2018 major exchanges have already suffered losses in the excess of $731 million dollars to various security breaches. Security experts predict even larger scale attacks, thefts, and fraud as cryptocurrencies become more mainstream in the coming years. | & | Intrusion Detection powered by ML. The cybersecurity challenge never ends. Even as we secure certain attack vectors, cybercriminals find new means of entry. Without continuous monitoring and real-time visibility, threats are often detected too late and the damage can be costly. Taking into consideration how security breaches affect market sentiment, we have made security our priority, and our developers have taken this security first attitude in building our platform. We are dedicated to making security the core competency of our platform and are committed to mandatory quarterly 3rd party security audits. We have developed our own proprietary Advanced Threat Prevention and Intrusion Detection powered by machine learning to secure our platform. With the help of machine learning technologies, we will be able to detect any irregular activities and our Advanced Threat Prevention system will flag any potential problems in real-time, preventing breaches before it is too late. |
| Scalability limits other exchanges face. Current cryptocurrency exchanges a re not engineered to keep up with the upcoming growth of the market and will struggle in the future. Many exchanges have been running close to maximum capacity due to the vast increase in numbers of traders investing in cryptocurrencies, and no one expected the market to grow so quickly. Late 2017 and early 2018 brought a massive influx of new traders and investors entering the market. This exposed how outdated and rigid the current exchanges have become and highlighted the limitations in scaling. As a consequence, this overloaded the exchange matching engines during peak trading times, halting user registrations2 for weeks at a time by some of the largest cryptocurrency exchanges added to the already volatile nature of the still fragile yet booming market. | & | ONAM Exchange Scalability. Our exchange is built with scaling in mind, engineering our platform around the belief that "if the scaling is not fast, then it is just too slow" . Many exchange matching engines cannot handle more than one or two million transactions per second. ONAM's platform easily outperforms them all. Our engineering team has delivered a much needed quality solution capable of withstanding heavy load and compliant with all current and future strict government regulations to the market. We are proud of our ultra-high performance and our versatile matching engine capable of processing in the excess of 10 million transactions per second with latencies as low as 40 nanoseconds. This was accomplished by utilizing GoLang programming language designed by Google which was specifically created for computationally intense server applications. |
| Market Manipulation. The United States DOJ opening a criminal investigation into cryptocurrency market manipulations alone is irrefutable proof of large-scale market manipulations occurring within the cryptocurrency trading industry. Cryptocurrency exchanges are riddled with market manipulation techniques from spoofing, wash-trading, momentum ignition to pump and dump. These practices take advantage of novice and seasoned traders alike and would not be tolerated in traditional, regulated markets. In the volatile, unpredictable, and heavily manipulated crypto market, a lack of regulations makes it even more difficult to gain the trust of the masses or for large institutional investors to enter the market. | & | Real-time Trade Surveillance. Utilizing machine learning technology, our Real-Time Market Surveillance, Supervision and Compliance system monitors for suspicious trading activity. Our system analyzes pre-trade and post-trade data to identify suspicious activity such as unusually large trades, pass-through trades, wash trades, spoofing, layering, stuffing, hammering, front-running, and momentum ignition. The ability to monitor for each of these allows us to generate Suspicious Activity Reports for the regulators in compliance with both current and future regulations. We plan to lead by example and make the cornerstone of our philosophy to suppress and eliminate market manipulation techniques to ensure safety and fairness of market conditions. |
| Lackluster customer Support. Other platforms have taken a lackluster approach in offering customer support to their users. For over six months we conducted a survey of customers from the top five exchanges. Customer support was one of the main concerns raised. Some users reported waiting weeks for submitted support tickets to be addressed, even in urgent cases like loss of funds, account lockouts, and 2FA resets. | & | Customer first Our. project is also grounded in service, and we are dedicated to providing the best support in the industry. We aim to offer 24/7/365 Live Chats in multiple languages and commit to addressing the most common issues within the first 15 minutes of a support ticket being submitted. We also commit to offering phone support within the first 6 months of full launch to make sure no issue goes unresolved. |
ICO soft cap is set at $2,500,000 (Two and a Half Million US Dollars) and a hard cap of $15,600,000 (Fifteen Million and Six Hundred Thousand US Dollars).
Crowdsale participants must pass AML and KYC verification process to be able to claim their tokens. Tokens will not be released until this process is completed by the participant.

Source
3.1 ICO Schedule and Token Sale Details.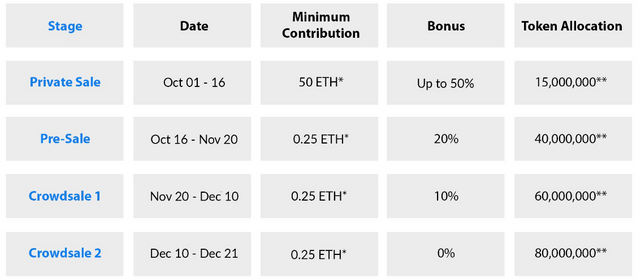 Source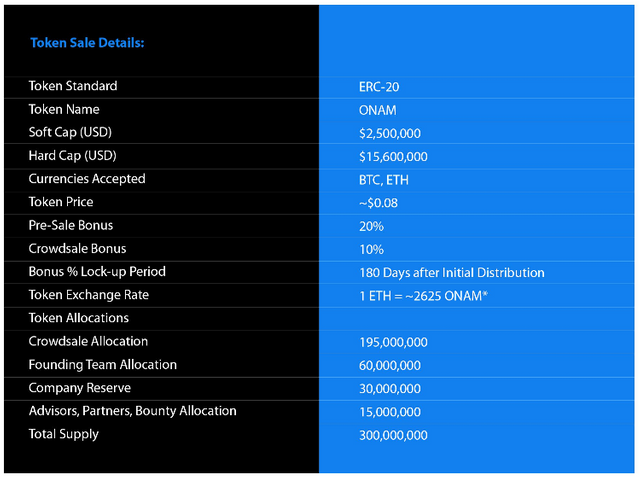 Source
3.2 Token Utility.
3.4 Token Buyback.
3.5 Token Allocation.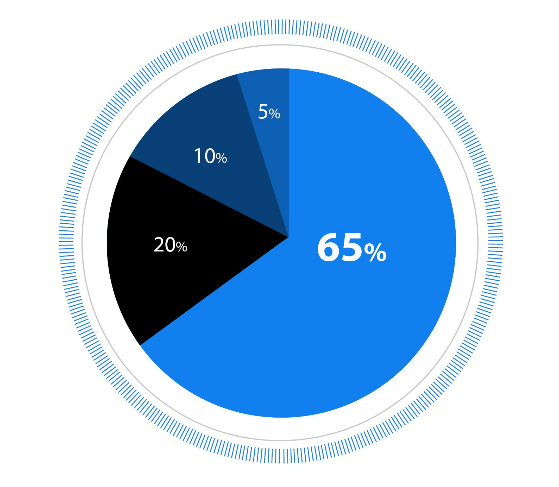 Source
Remaining 35% will be distributed as follows:
20% - 50% Team shares will be withdrawable after six months of full launch and remaining 50% will bewithdrawable after one year, to ensure that the ONAM team is motivated to develop and grow the platíorm.

10% allocated to ONAM Emergency Reserve for market liquidity and unforeseen legal expenses associated with compliance, licensing, and other related expenses.

5% for Bounty, Advisors, and Strategic Partners.
3.6 Token Sale Funds Allocation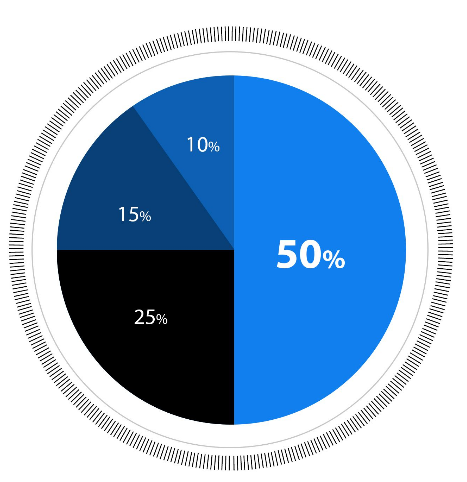 Source
50% of ICO proceeds wiII be used towards Development of the ONAM Platform, further R&D, dev recruitment, system maintenance, and upgrades, further scaling of the platform and establishing the full framework before launch.

25% of the ICO proceeds will be used for Marketing, PR, Platform education and Community outreach programs to help us grow our user base.

15% of ICO proceeds will be used for day to day Operations of the company including but not limited to office expenses, staff salaries, travel expenses, etc.

10% of the ICO proceeds will be used for al1 Legal expenses associated with our platform including licensing, compliance costs associated with the expansion of the platform in different regions, registrations, etc.
4. Exchange Fees.

Source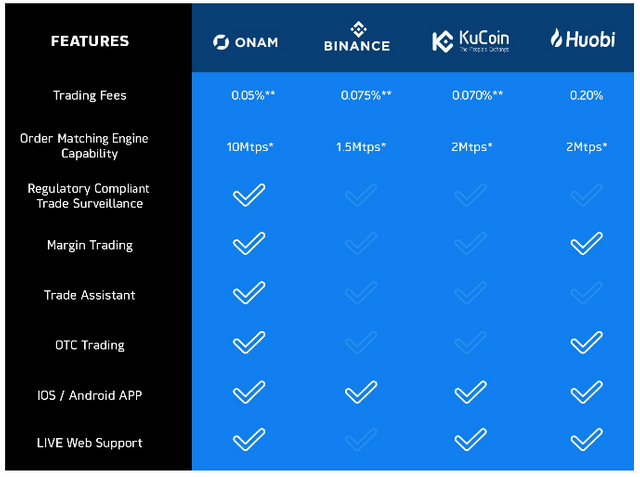 Source
5. Exchange UI Preview.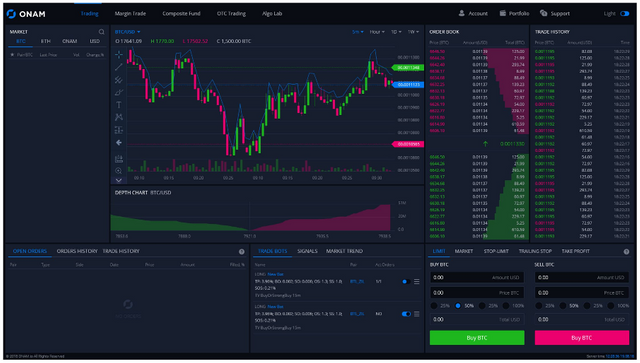 Source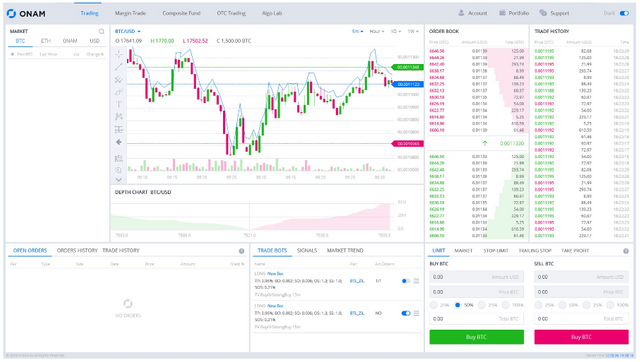 Source
6. Regulatory Compliance.
We are dedicated to working with Regulatory bodies in the United States and other jurisdictions to ensure we stay compliant and take every measure available to us to promote the sustainability and legitimacy of our platform. Starting with our ICO we commit to full transparency and full regulatory compliance to avoid any legal issues during and after our ICO.
7. Enterprise Grade Security.
8.ONAM use case .
Ben is an old-fashioned value investor who heard about Bitcoin when he was a dime, but refused to buy because of his experience in the legacy financial system. For conservative reasons, Ben missed the Bitcoin boom.
However, the ICO market was born now and new opportunities arose where others had passed.
Ben's philosophy had been based on a prudent division between stocks and bonds to ensure that his net worth always grew while not losing exposure to new technologies and lucrative industries. Bitcoin, after being too radical for him to invest originally, was now much more expensive. Ben also knew that the dust had not yet settled in the industry as a whole, and wanted to speculate on the optimism of the climate, as well as on the prospects of the protocols already in place, such as Bitcoin and Ethereum.
Most of Ben's stock fund was placed on composite indices that were divided among the best players in a full market that he chose. Unfortunately, their account and Berkshire Hathaway did not have access to the ICO market due to lack of technical expertise. Unable to interact with any blockchain, Ben almost resigned himself to not buying any position in some of the blockchain projects tested as Bitcoin, Ethereum, Litecoin and NEO. The management of the technological aspect would have been problematic for Ben on his own. Multiple accounts and passwords are hard to track and costly to lose.
Now, Ben can log on to his platform and simply take a prefabricated composite index of all the major players in the market and own part of his cryptocurrency. You can use your newsletter to make your own smaller index if you like it.
9. Team Members.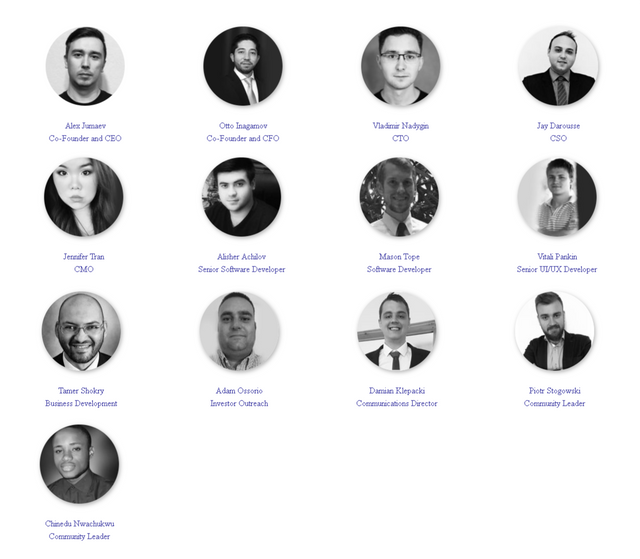 Source
9.1 Advisors.

Source
Conclusion.
In addition, during the Initial Currency Offer (ICO) phase, the Reg S and Reg D Securities Act exemptions established by the SEC of the United States will be used during our ICO. Compliance with the SEC's massive sales regulations will allow the ICO to be carried out in a legal manner and will avoid cease and desist orders and the citations that many ICOs have faced in recent times.
More Information & Resources:
ONAM Website
ONAM WhitePaper
ONAM Telegram
ONAM Reddit
ONAM Medium
ONAM LinkedIn
ONAM Instagram
ONAM Twitter
ONAM Bitcointalk

To participate in this @originalworks sponsored writing contest, please click here.
Twitter Bonus Post:
https://mobile.twitter.com/Kathee_21/status/1062496907803721728
onamtwitter
onam2018