OnePageX: The Best Cryptocurrency Exchanger ever made

source
Index:
1.Introduction
2.OnePageX
2.1.Vision and Future of OnePageX
2.2.OnePageX Registration? No needed
3.Benefits of OnePageX
4.How to use OnePageX
5.Integrate OnePageX to your Website with OneBox Widget
6.OnePageX Use Case
7.Conclusion
8.Information and Resources

1.Introduction
A cryptocurrency is a virtual currency with which you can make different changes of goods and services through electronic transactions without the need for intermediaries. Unlike traditional money, cryptocurrencies are not controlled by any banking entity and their value is determined by the trust of users, that is, the more people use cryptocurrencies, the more value they will have in the digital market.
To be able to change cryptocurrencies to the local currency of each user, what we call today "cryptocurrency exchanger" that allows through web pages to make this trading reliable. That is why we can find a variety of "cryptocurrency exchange houses" but, many users have several problems when completing the requirements to access these websites due to the complexity at the time of registering to open a session only when the requirements are approved, something that can take hours even days, therefore we present a "cryptocurrency exchanger" that does not need registration, is effective, simple and with a great selection of cryptocurrencies:
OnePageX
.

OnePageX
is an online cryptocurrency to cryptocurrency converter.
OnePageX
made the most simple but effective cryptocurrency exchanger without any registration needed, thats why everybody wants to use this incredible converter and you can do it right now by clicking here:
https://onepagex.com/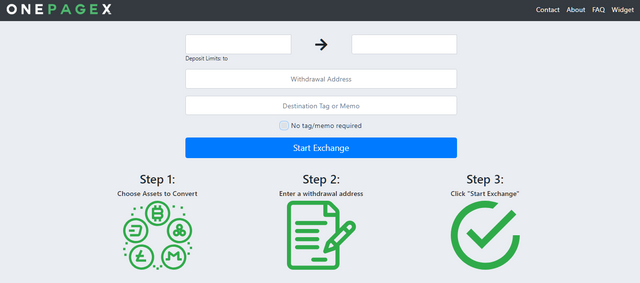 source
2.1.Vision and Future of OnePageX
The
OnePageX
vision is "to enable trading most cryptocurrencies with a simple interface".
The great OnePageX team is working hard to bring more improvements to the platform and thus continue to add funding assets to give users a larger selection than is already provided. "Plans for the future include an implementation for STEEM".
2.2.OnePageX Registration? No needed
The knowing cryptocurrency exchangers today has one particulary thing: you have to do a full registration to do all the exchanges for every cryptocurrency, making this step a little bit difficult for some people but, there's an exchanger that makes this step more simple: OnePageX. This new cryptocurrency exchanger make's everyting more fast, clean and easy for every person who needs to exchange their cyptocurrency, this is why
OnePageX
is the best exchanger ever made, because you don't need a registration to exchange your tokens, How easy is this?!

OnePageX
has various benefits we can describe next: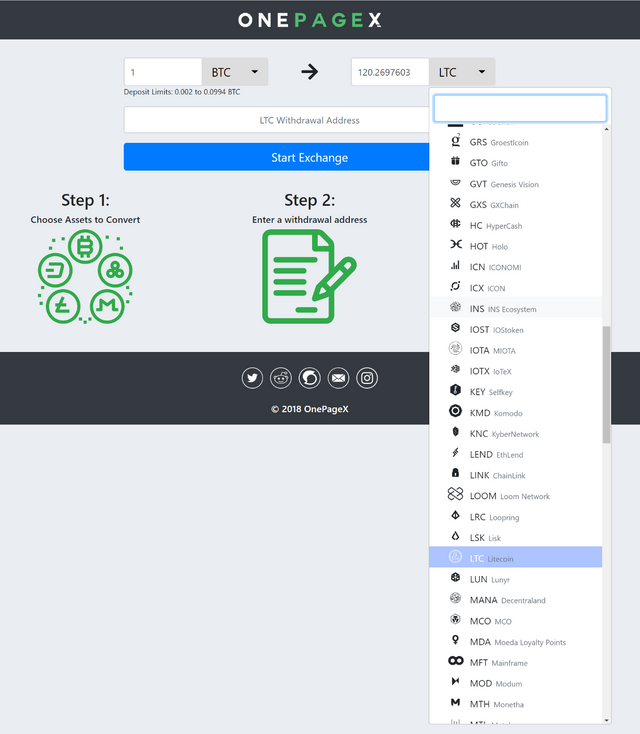 source

OnePageX
is the easiest to use out of any cryptocurrency exchanges.
1. Pick an asset to convert to.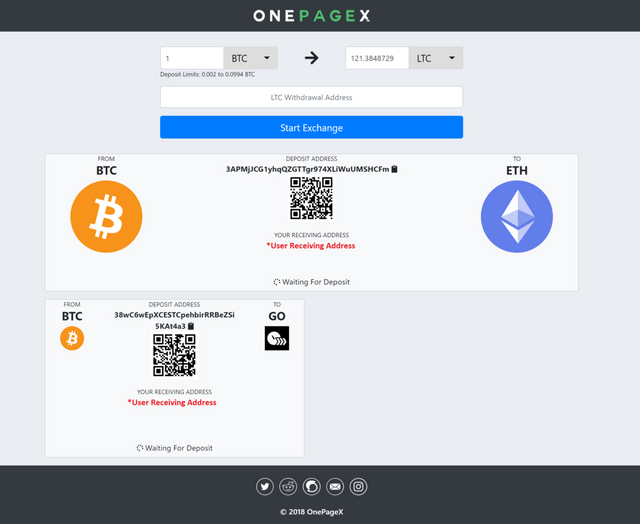 source
2. Enter a withdrawal address.

source
3. Click "Start Exchange" and wait for the two confirmations

source

source
4. A card will appear with a deposit address. Simply deposit to that address and you are done.

source

https://onepagex.com/onebox/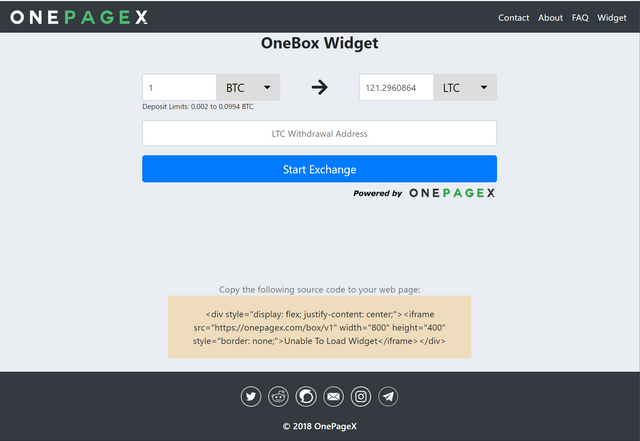 source

OnePageX
and it turns out she loved it! It is a simple, easy and fast exchanger and, best of all, it does not require registration. Now Katy is constantly using
OnePageX
and there is no exchanger that can keep her away from it!

7.Conclusion
OnePageX
despite being new in the world of cryptocurrencies, has a great advantage that no exchanger has, the ability to make transactions with few fees (only 0.5%) which makes it extremely effective.
OnePageX
is the simple cryptocurrency exchanger with a wide selection of cryptocurrencies.
OnePageX
is practical, simple and does not require registration to be able to perform cryptocurrency exchanges, which makes it essential for those who find it complicated and tedious to comply with all the requirements that exchangers require to "enable a session per user".

8.Information and Resources

To Participate in this @originalworks soponsored writing contest, please click here.
Twitter Bonus Post:
https://mobile.twitter.com/Kathee_21/status/1054923097369993217
onepagextwitter
onepagex2018