ADSactly Spotlight on Cryptocoins -- BitcoinZ/BTCZ -- 8th feature "private" coins
Spotlight on Cryptocoins -- BitcoinZ/BTCZ -- 8th feature "private" coins
Hello Steemians
In this series of articles I want to put a spotlight on a specific cryptocurrency and write about the details in all these aspects:
Aim of the currency

Technical details

Market position

Forecast
The cryptocurrency in focus currently will be one of the so-called "private" coins. Coins that create the possibility to be more or less in private while doing transactions. How private you are is one of the main questions to be answered in this articles.
In this 8th article of the series, the spotlight will be on BitcoinZ.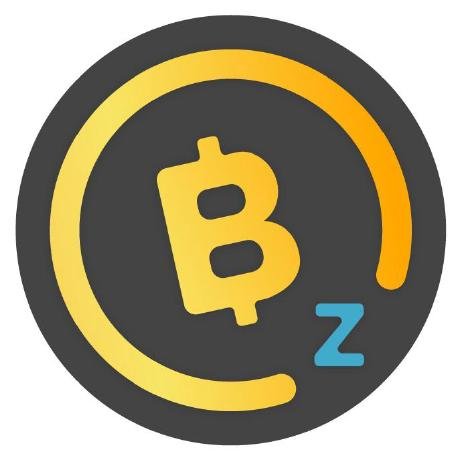 PictureSource
Aim of the Currency
What is this currency about? What does it do differently than the rest?
Where is the unique selling point and at what audience is this coin targeted?
All that questions and more will be answered in the following paragraph.
BitcoinZ is one of the smaller players on the private coins' market and is also a new kid on the block. It has been founded on September 9th, 2017 by an anonymous developer. It is based on the ZCash Core and brings on ZkSnarks for completely anonymous transactions.
BitcoinZ is a pure PoW Coin using the Equihash algorithm, in trying to keep this coin ASIC resistant.
Technical Details
BitcoinZ has wallets that support Linux, Mac, and Windows as well as a mobile app for Android devices, the source code for them is completely visible on Github.
BitcoinZ is a pure PoW coin using the Equihash algorithm (like ZCash, Hush...) for improved resistance against ASIC computation. The developers are also ready to switch this to another algorithm if ASICs for Equihash would be on the market.
Maximum number of coins is 21 Billion just like Bitcoin has, Block Time is 2.5 Minutes with 2MB Blocks
Privacy of transaction is achieved using Zk-SNARKs, just like ZCash or ZClassic. The coin itself advertises with the sentence, ZClassic spirit, ZCash Core, Bitcoin Fundamentals.
There was no ICO, no premine and there are no dev taxes. Fair and decentralized distribution is a very important value for this coin and the community.
Please see Whattomine.com if you are interested in probable mining revenues, but take care the coin is currently not on the official list.
Market Position
At the time of writing this article (01/21/2018), BitcoinZ is placed 471th in market capitalization, with the total value of $12.678.297 USD. The 24h Volume was $185.620 which is a high number compared to the last month.
The decentralized team around BitcoinZ is very active on all social media platforms, especially on twitter.
January is always a very turbulent month for cryptocurrencies, BitcoinZ is no difference there. The coin had its all-time high on January 9th with 0.027 Dollar per BTCZ, afterwards, it went down to 0.008 and now is back up with 0.013, which is the initial value the coin had beginning of January.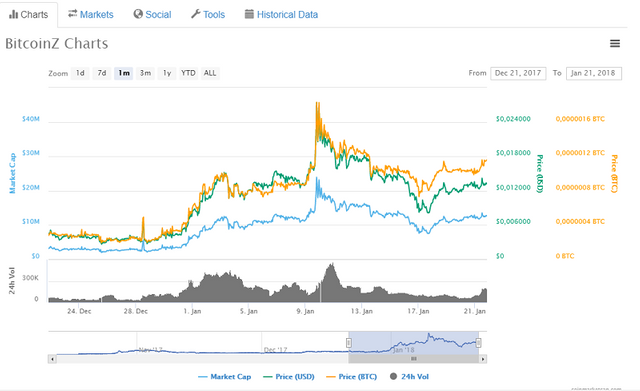 GraphSource
If we are looking back one year into the past we see that BitcoinZ had a spike in BTC Value in October*, because of the listing of BTCZ on different exchanges. The activity on the market has recently grown a lot, it seems the coin is getting known within the community more.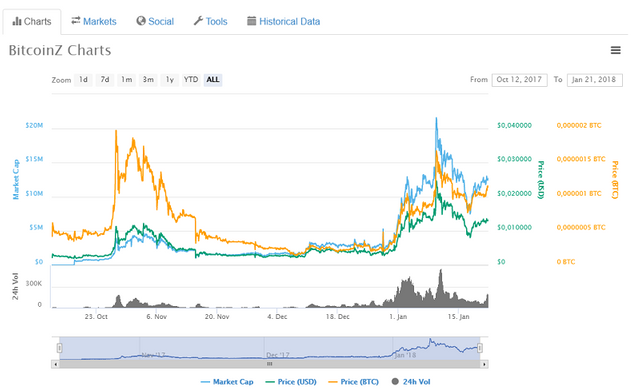 GraphSource
Forecast
Just like all the other private coins BitcoinZ for sure has a valid point in trying to keep the privacy of the sender and receiver.
BitcoinZ is a very young cryptocurrency not listed on many exchanges currently. If the team can manage to get listed on some of the bigger ones, there will for sure be a nice raise in price.
Technically this coin is currently nothing new. Nevertheless, the market for such coins is for sure a given.
They are working currently on a lot of things, especially the masquerading technology will for sure be a boost for the coin. The Roadmap of the coin can be found here.
Conclusion
BitcoinZ is keeping your transaction details hidden by using Zk-SNARKs, IP privacy is currently not guaranteed, you would need to setup a TOR by yourself.
BitcoinZ is developed by a decentralized community, is completely open source and can be altered following votes that can be cast on the website.
Last but not least there are also some drawbacks and they should not be unmentioned:
Pure PoW coin, can be seen as a waste of electricity.
Privacy of transaction has been also viewed with criticism.
Community-based coins can be seen as not flexible.
Authored by: @jedigeiss

Interested in joining us? Come join our Discord server at:
https://discord.gg/gXMH3qu
!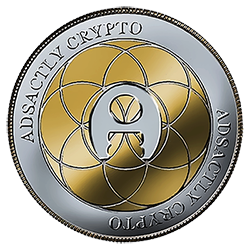 Vote @adsactly-witness for Steem witness! Go to:
https://steemit.com/~witnesses
In the bottom of the page type: adsactly-witness and press vote.

Use small letters and no "@" sign. Or, click here to vote directly!
Thank you!
---