Spotlight on Cryptocoins -- Bitcoin Private/BTCP -- 13th feature "private" coins


In this series of articles I want to put a spotlight on a specific cryptocurrency and write about the details in all these aspects:
Aim of the currency

Technical details

Market position

Forecast
The cryptocurrency in focus currently will be one of the so-called "private" coins. Coins that create the possibility to be more or less in private while doing transactions. How private you are is one of the main questions to be answered in this articles.
In this 13th article of the series, the spotlight will be on Bitcoin Private.




PictureSource
Aim of the Currency
What is this currency about? What does it do differently than the rest?
Where is the unique selling point and at what audience is this coin targeted?
All that questions and more will be answered in the following paragraph.
Bitcoin Private or BTCP is a quite new cryptocurrency that features some quite unique properties.
It is built up as a Hardfork of two different cryptocurrencies, Bitcoin and ZClassic.
The Hardfork has taken place on February 28th, 2018 and Mainnet went live on March 3rd.
These are the block numbers at the time the snapshot has been taken

So, if you had any BTC or ZCL in your wallets you may be able to receive the new BTCP as well. The ratio has been 1:1.
BTCP is a PoW (Proof of Work) Coin, which means that this coin can be mined.
The privacy mechanism has been taken over from ZCL, both currencies are using zK-Snarks to encrypt the details of a transaction including sender, receiver and amount.
Technical Details
BTCP has Full-Node wallets that support Linux, Mac, and Windows.
It also features the possibility to create a paper wallet and for usage on a mobile device, you can use the coinomi wallet.
Bitcoin Private is a PoW coin utilizing the Equihash algorithm, just like ZCash or Zencash.
This algorithm can be run very well on modern graphics cards and is quite resistant to ASIC computation. This helps secure the coin against centralization.
There is no master node-mechanism in place.
The current number of circulating coins is a high 20.435.504 BTCP, this is ultimately the result of the chosen strategy to fork-merge two blockchains. This means that after the merge only 700,000 BTCP where left to be mined, this number has already been reduced by 135,000 in the last months.
The team around BTCP is currently coming up with ideas how to evade low hash rates after the last coin has been mined, those ideas include for instance the removal of unmoved coins from before the fork.
Total supply is 21 million.
The block Time is 2,5 Minutes with a 2Mb block-size, making it as fast as Bitcoin Gold but features the double block-size.
Privacy of transaction has two different levels of Bitcoin Private.
Transparent is like the names say a transaction that is completely public.
Shielded uses zk-SNARKs to encrypt the data, making it impossible for anyone not part of the transaction to see the details.
Market Position
At the time of writing this article (05/28/2018), BTCP is placed 37th in market capitalization, with the total value of $460.160.605 USD. The 24h Volume was $1.057.310 USD which is a rather high number compared to the last month.
The last weeks and months have been quite a bumpy ride with cryptocurrencies, the trend for BTCP is no different and goes sideways currently. The all-time high was reached on March 12th with over 80 USD per BTCP.
Since then the price has been losing ground, stopped by two short pumps in middle of April, in the recent decline of cryptos that is going on since a week or so BTCP is really doing very well in comparison to some other major cryptocurrencies and has gained 9 places in the TOP 50 List (from Rank 46 to Rank 37).
So while others have declined quite heavily in price BTCP has been even gaining at price.
Currently, BTCP is traded for 22,51 USD, having a plus of 7.77% today.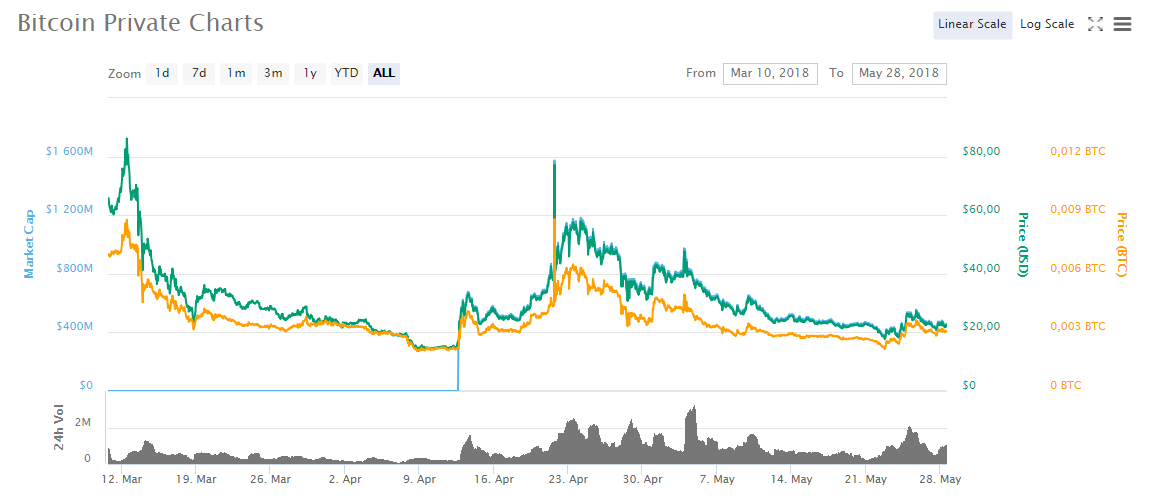 GraphSource
Forecast
Just like all the other private coins Bitcoin Private for sure has a valid point in trying to keep the privacy of the sender and receiver.
BTCP is not listed on many exchanges currently, the biggest exchanges are currently HitBTC, Nanex and Tradesatoshi (measured on volume)
Technically this coin goes new ways having merged two chains together into one, but as we have seen this did not only bring positive results.
BTCP is basing most of its developments on the help of a huge team of open source contributors and it seems it helps a lot in having a good velocity within the project.
In April they already have delivered 4 functional updates and are about to bring on a major refactor task. This Task will be the change of the codebase from ZEC code (3 years behind current Bitcoin core) to the current Bitcoin codebase.
The main and most important functional enhancements on the short-term roadmap are the following:
TOR integration
Merchant platform
Simplify mining (one-click Miner)
Finish the rebase of BTCP and release new core code
Following the roadmap a bit further there are very interesting topics like developing a new proof of work algorithm or turning the shielded transactions into the default for the whole blockchain.
If the team can deliver these new features and software like they are planning to, the price for sure will go up as well.
For instance, the TOR integration would for sure elevate the security and privacy to a new level and increase the interest of the market in BTCP heavily.
The complete Roadmap of the coin can be found here.
Conclusion
BTCP features normal transparent transactions as well as shielded and therefore private ones.
The team puts the focus on fair distribution, having had no premine and no founders reward included.
The 1:1 distribution within the merged fork with BTC and ZCL has, on the other hand, already reduced free, undistributed and therefore mineable coins to 600k.
The team has proven to be very capable of setting new functionalities to production. Currently, the core team is consisting of over 70 developers and engineers.
On Github, there are already 369 different people having developed code for Bitcoin Private and in total over 11,000 commits of new code have been made.
Last but not least there are also some drawbacks and they should not be unmentioned:
Proof-of-Work coin can be seen as a waste of electrical energy.
Privacy of transaction has been also viewed with criticism.
The coin is driven by the community, which also can be seen as inflexible and not always rational.

Interested in joining us? Come join our Discord server at:
https://discord.gg/gXMH3qu
!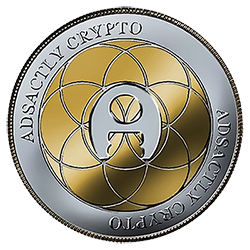 Vote @adsactly-witness for Steem witness! Go to:
https://steemit.com/~witnesses
In the bottom of the page type: adsactly-witness and press vote.

Use small letters and no "@" sign. Or, click here to vote directly!
Thank you!
---