Hi Everybody,
I want to share with you some details of the project I currently work on.
I always dreamt of providing good return to investors all over the world with minimum extra costs that some times kill profit and enthusiasm.
Knowledgeable people know that costs will stay forever - we can never get rid of it. We always will have lawyers, marketing expenses, SEO, commissions, licenses and many other parties that take away investors' money. I don't want to say it is bad or good. It's a fact.
I believe blockchain technology will disrupt it and bring new understanding of security and verification of information and, of course, cost saving.
Well I am happy with even a small benefit that I can give to investors.
We are a real estate company in the US, and we are among the first in the industry to embrace the blockchain technology.
Currently we work on the project that allows you to invest in US real estate using the tools built on blockchain.
The core of the project is promissory note made on Ethereum.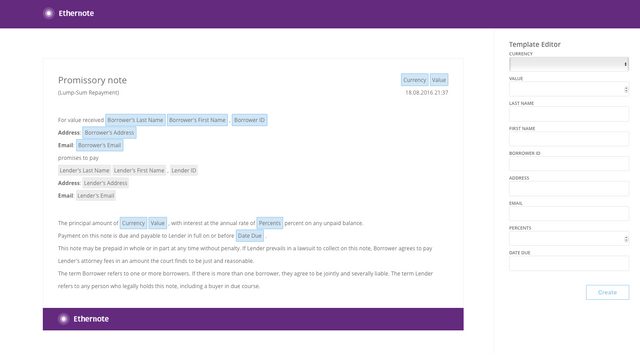 It is an open-source app you can use right now https://ethernote.herokuapp.com You can surf it.
In short that means that you can invest in one click in US real estate with as little as $300 in debt, using promissory note on blockchain and electronic signature.
---
BENEFITS
Why Real Estate?
diversification into conservative investment product
No Investor Fee
no fees, no agents or brokers or crowdfunding platforms
Higher return
direct investments into our US real estate portfolio, no middlemen, min extra costs, no fiat money transfer's fee
Liquidity
fast release and refund
---
WHAT WE OFFER
Our real estate company offers opportunity to invest in debt in US real estate market with any amount starting from $500 (BTC) with up to 17% fixed annual interest rate. We offer debt investments in the form of promissory notes structured as follows:
Minimum amount - $500 or 1 BTC

Maximum amount - $20 000 or 20 BTC

Monthly or cumulative interest pay out

Transfers in BTC or ETH (exchange rates as of the date of payment)

Promissory note is made on blockchain and all transactions' data is stored on blockchain

Investments go directly to the company that owns and manages real estate portfolio

No fees, no agents or brokers, no crowdfunding platforms
How does that sound to you so far?
Updates coming soon...