Making blockchain history: Bitcore (BTX) is currently writing blocks with over 3000 kB of data!
A new record
Bitcore is currently creating approx. 5'000'000 transactions in only a couple of days to fill all the public keys from the last snapshot with 50% BTX.
Please refere to this article if you want more info about the bitcoin blockchain snapshot created on 2nd of November 2017:
https://steemit.com/crypto-news/@xwerk/bitcore-btx-guide-the-2nd-snapshot-for-btc-hodlers-free-btx-or-how-it-works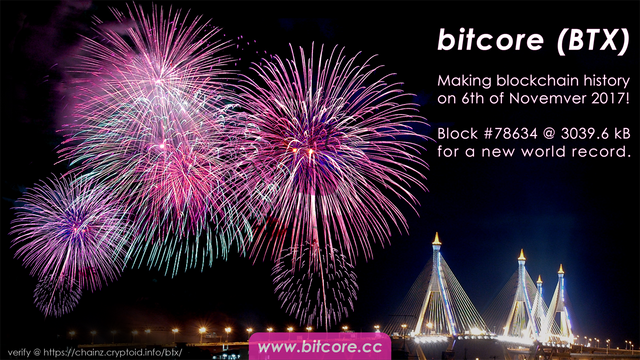 These blocks are definitly much larger than any of the blocks created for the Bitcoin chain ( max. 1 MB per block) and are probably record-breaking regarding any live-chain running today!
Additional Info
If you want to learn more about Bitcore, check out some of these links:
Resources
Tutorials
News
Follow me @xwerk for news and updates on BTX, Bitcoin, other cryptocurrencies and art projects.