Buy STEEMHOUSE Tokens to take advantage of share drops, contests, or even trade them for cool swag!
STEEMHOUSE Tokens fuel the future of a real-world business, offering fresh opportunities to creatives & entrepreneurs!
Our utility token was created as a means of fundraising our makerspace startup, but will be accepted as a form of payment for any of our products or services! The Steem House will not only be a physical business that caters to creatives and entrepreneurs, but also a blockchain business, bringing many of the same opportunities to creatives around the world!

Just by holding our token, you're eligible for awesome giveaways and promotional events, and the more you have, the more you benefit! When our physical space is open, The Steem House will be devoting part of our real-world income to support new initiatives, buying large amounts of tokens from growing endeavors like our own, that we will be share dropping among holders. The first share drop is scheduled for August 1st, so you've still got time to stack some STEEMHOUSE to get a bigger drop!
Aside from the benefits of holding our token, STEEMHOUSE will also be used inside out physical makerspace, and online!

In the house,
anyone with access to our physical space will be able to use STEEMHOUSE tokens to pay for things like monthly membership dues or day passes, workshop/class admission, or even materials for their next project! Anything we charge for will be payable with USD, STEEM/SBD, or STEEMHOUSE!
Online,
you can already use our tokens to purchase raffles tickets for cool giveaways that we run fairly regularly, and we plan to conduct many more, and varied events, like prize raffles, silent auctions, creative competitions, and more!
Many of our educational classes and workshops will also be accessable to anyone in the world by creating a system of teleconferences and live streams. You'll be able to trade STEEMHOUSE Tokens either for a ticket to a scheduled class/workshop, or even get one-on-one training in all sorts of trades and skills!
If that weren't enough, we will soon be opening our 'Maker Mall', where you can spend STEEMHOUSE Tokens on one of a kind handcrafted art, knick knacks, decor, sculptures, electronics, clothes, or anything else made inside our space, or purchased from our fellow Steemians.
Speaking of which...
If you or someone you know makes things, and would like to sell them to other Steemians, let us know! We will start listing products and services on our website, and you'll be able to choose whether you want to sell for USD, STEEM/SBD, or even STEEMHOUSE Tokens!
We're going to be looking for all sorts of different things to put in our mall, and they don't necessarily have to be physical objects. If you offer a writing or graphic service on Steemit, you can list that service with us, and receive STEEMHOUSE Tokens for your work!

You can purchase tokens directly from the open market for bitshares, or you can buy them manually from us! The latter is preferred, as not all the Tokens in the open market are coming from The Steem House. Many of those orders are placed by third parties who have already acquired tokens, and are way below our intended price point, though that may be a good way to scoop some up for cheap since people are willing to sell so low. At the time of writing, the lowest asking price is around 0.09 BTS per STEEMHOUSE.
To purchase tokens manually for STEEM or SBD, send any size transfer to @thesteemhouse with a memo that reads:

STEEMHOUSE Tokens [your bitshares username]

If you do not see the Tokens deposited into your wallet within 12 hours, either comment below, or join our discord server and get in touch with @thatsweeneyguy so he can verify and transfer. You will receive 25 STEEMHOUSE per USD worth of STEEM or SBD you transfer.
USD conversions will be made according to the value of STEEM/SBD at the time of transfer.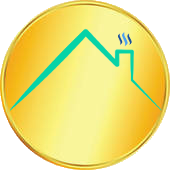 Buy in bulk, and get an increasing bonus!
Bonuses only applicable to manual purchases made with STEEM/SBD.
Spend at least 25 STEEM/SBD, and receive 10% extra!

Spend at least 50 STEEM/SBD, and receive 25% extra!

Spend at least 100 STEEM/SBD, and receive 50% extra!

Spend 150 STEEM/SBD, and receive double what you pay for!

All purchases made with STEEM/SBD will earn the buyer one free ticket for our next prize raffle.
Let's get this show on the road!
Help fund our startup, and watch an idea on the blockchain become a thriving business that spreads creativity throughout the world! We're looking to raise about $30,000 USD to make this happen, which is fairly modest when you think about what we're doing. We plan to start nice and slow, giving ourselves plenty of room to grow into something amazing for all of us. A business like this could put STEEM in front of countless new people, and we all know what that does for our most beloved crypto...
For those who would like to know a bit more about how we plan to achieve success, we have created what's known as a "business model canvas" which shows just about every aspect of our business model, all on one page.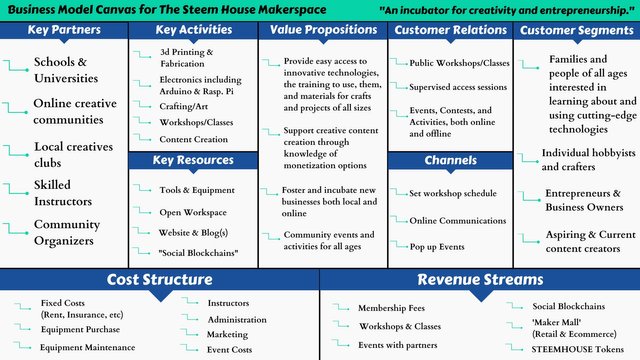 Or read our whitepaper for a more detailed explanation of our project.