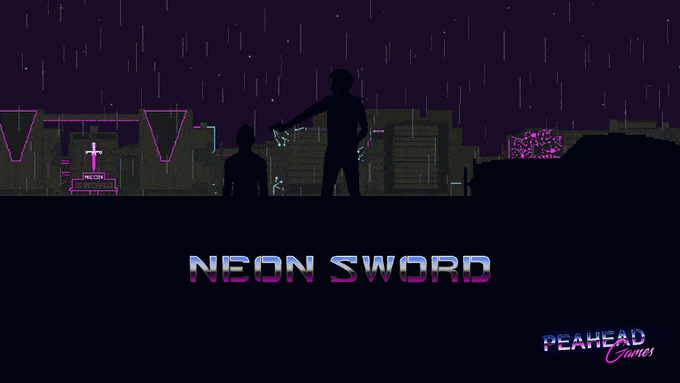 I have some great news to share. For the last few months I have been a member of the writing and voice-acting teams for a game development company called PeaHead Games. The game Neon Sword was initiated in 2012 and has been in full-scale development since 2016 and has now reached a point where we are ready to finalise it.
CEO of PeaHead Games, Japes Hirons, has proceeded with launching the Kickstarter campaign for Neon Sword. I am very excited about this game, since I am busy writing short stories featuring the background of the game and factions for the website. Also, I have been given permission to write some novels based on the game, which is something I really love doing (as you can see by my Silent Hill novels).
Here is the Kickstarted video, so you can see what our game is like:
Neon Sword is an open world 3rd person top down action roleplay game with elements of business simulation. The non-linear story has multiple choices that effect the world around you leading you down many paths; the person you become is shaped by your decisions made within the game.
What I love about the game is that it has factions, some criminal, an enticing world background story that was deeply developed by PeaHead Games, and that there is a business management aspect to the game. Not only will you enjoy the action and intrigue of the game, but you actually get to grow your own corporation in Quaid City!
Neon Sword will be coming out on PC initially, with the promise of console releases thereafter. Please have a look at the Kickstarter page and help us to reach our goal of having our game published. If unable to, please be so kind as to Resteem this page share far and wide. Every bit helps.
You can read more about our game on:
---
Please support my work by subscribing for FREE to one of the following:



---
@shadowolfdg is a

SteemPunk and Steemit article Mentor for @schoolofminnows
Member of @teamsouthafrica
Post of the Day Award - @adsactly
Official Promoter for @tpot -- join our discord channel

---
Kind regards
Shaun M Jooste
Joint-Owner: AIR Entertainment (https://airentertainment.biz)
Director: Celenic Earth Publications (https://celenicearthpublications.wordpress.com)
Author, Screenwriter, Gamewriter, Journalist (https://celenicearth.wordpress.com)